What is a sweater? A sweater is a piece of clothing, typically with long sleeves, made of knitted or crocheted material that covers the upper part of the body. A sweater is either a pullover or a cardigan.
Can a sweater be made of woven fabric? Sorry, we don't think so. However, they can have woven trim such as woven collars, cuffs, etc.
Cuddle up in style with women's sweaters. Shop at your favorite retailers for a selection of oversized, off the shoulder and many other styles of women's sweaters. Grab a cardigan for date night when the restaurant is a little chilly and a tunic sweater for lounging around. Fill up your wardrobe with a classic staple or trendy new styles.
When the temperature drops a bit, you're going to want a comfy light weight cardigan or pullover, but when the temperature really drops in a big way, you'll want to wear a heavy wool sweater. Learn more about the benefits of wool. Wool makes for a fabulous sweater.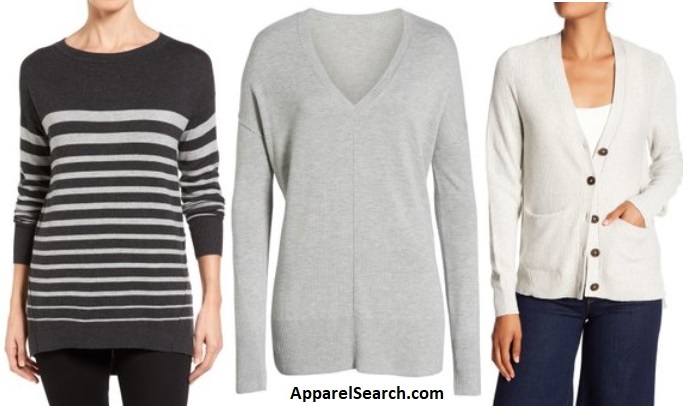 You can search sweaters by color in our fashion by color section:
You may find the following pages to be of interest:
Probably a good idea to also learn about cable knits which are often used to make knitted sweaters.
Apparel Search is a leading guide to fashion, style, clothing, glam and all things relevant to apparel. We hope that you find this Women's Sweaters page to be helpful.
What ever you are wearing, is in fashion.
If you want to be even more stylish, you should wear your favorite favorite Women's sweater today.
Women's Clothes Directory: