Welcome to the worlds greatest guide to Women's Blue Sweaters.
A sweater is a garment intended to cover the torso and arms. In the United Kingdom this garment is often referred to as a jumper. Sweaters are either a pullover or a cardigan. The cardigans open at the front while pullovers do not.
Women's sweaters had traditionally been made of wool, but in modern times they can be made from a wide assortment of textile fiber options.
Learn the benefits of wool on our fashion blog. This will help you better understand why wool is a popular fiber for sweaters.
Regardless of the fiber or fabric, you can find a wide assortment of sweater color options. Blue is obviously one of the options. In the market you can find a wide assortment of blue color sweaters for women.
Surveys in the US and Europe show that blue is the color most commonly associated with harmony, faithfulness, confidence, distance, infinity, the imagination, cold, and sometimes with sadness. In US and European public opinion polls it is the most popular color, chosen by almost half of both men and women as their favorite color.
Blue is one of the three primary colors of pigments in painting and traditional color theory, as well as in the RGB color model. It lies between violet and green on the spectrum of visible light. The eye perceives blue when observing light with a dominant wavelength between approximately 450 and 495 nanometers. Most blues contain a slight mixture of other colors; azure contains some green, while ultramarine contains some violet.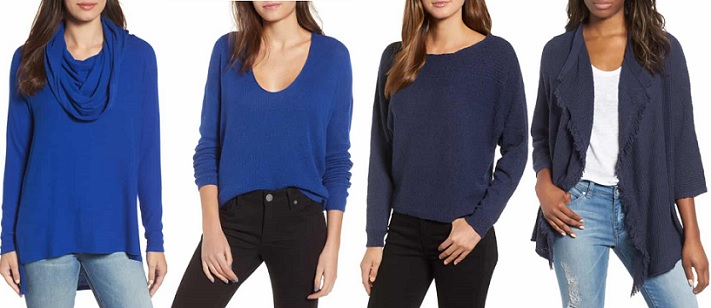 Do you have a favorite sweater color? Blue is a popular sweater option. Possibly this color will now become your favorite if it is not already.
Check out more about women's sweaters.
Apparel Search is a leading guide to fashion, style, clothing, glam and all things relevant to apparel. We hope that you find this women's blue sweater page to be helpful.
What ever style of top you are wearing is in fashion.
If you want to be even more stylish, you should wear your favorite blue sweaters.

Thank you for using the Apparel Search website.