Welcome to the worlds greatest guide to Women's Brown Sweaters.
A sweater is a garment intended to cover the torso and arms. In the United Kingdom this garment is often referred to as a jumper. Sweaters are either a pullover or a cardigan. The cardigans open at the front while pullovers do not.
Women's sweaters had traditionally been made of wool, but in modern times they can be made from a wide assortment of textile fiber options.
Learn the benefits of wool on our fashion blog. This will help you better understand why wool is a popular fiber for sweaters.
Regardless of the fiber or fabric, you can find a wide assortment of sweater color options. Brown is obviously one of the options. In the market you can find a wide assortment of brown color sweaters for women.
Brown is a composite color. In the CMYK color model used in printing or painting, brown is made by combining red, black, and yellow, or red, yellow, and blue. In the RGB color model used to project colors onto television screens and computer monitors, brown is made by combining red and green, in specific proportions. The brown color is seen widely in human hair color, eye color and skin pigmentation. Brown is the color of lovely dark wood or rich soil. This color comes in a wide variety of shades.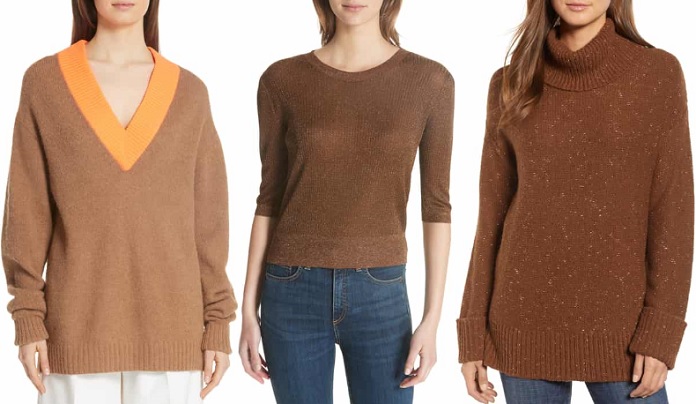 Do you have a favorite sweater color? Brown is a popular sweater option. Possibly this color will now be your favorite.
Sweaters come in v-neck, round neck, turtleneck, as well as with many other stylistic options.
Check out more about women's sweaters.
Apparel Search is a leading guide to fashion, style, clothing, glam and all things relevant to apparel. We hope that you find this women's brown sweater page to be helpful.
What ever style of top you are wearing is in fashion.
If you want to be even more stylish, you should wear your favorite brown sweaters.

Thank you for using the Apparel Search website.