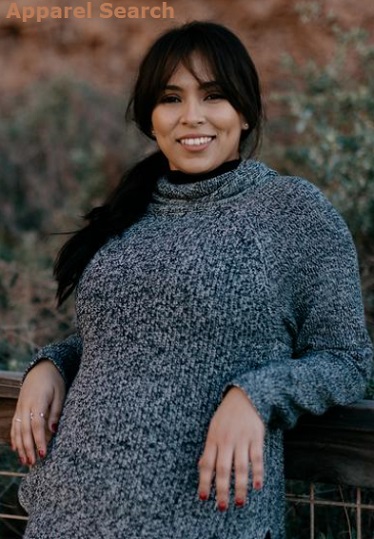 Welcome to the women's sweater store directory on Apparel Search. Warm up—and stand out—in this season's cozy, vibrantly colored sweaters. You will find a wide assortment of versatile styles for the busy season ahead. If you know additional retailers that sell sweaters for women, please let us know.
Women's Sweater Store Guide
Find fabulous retailers featuring ridiculously cozy textures, feminine details and dressed-up shapes. Whether you're shopping for cute sweaters, or warm sweaters & cozy sweaters for the cooler weather, some of these boutiques or department stores will have the softest styles you'll love.

Buckle: Find women's sweaters & cardigans. Buckle provides its guests with an entire collection of women's sweaters and cardigans from some of its top brands. Find women's sweaters from your favorite brands including BKE, BKE Boutique, Daytrip and more. Shop cardigans, pullover, and v-neck sweaters for women at Buckle today.
---

Dillard's Women's Sweaters: Find a great selection of women's sweaters, shrugs and cardigans at Dillard's. Offered in the latest styles and materials from shrugs, cardigans, v-neck sweaters and boleros Dillard's has you covered.
---

Fresh Produce Sportswear: Fresh Produce designs, manufactures and markets a leading women's and children's lifestyle brand of clothing. In women's apparel, the Fresh Produce brand is known for its original prints, vibrant color and stylish, comfortable clothing, all designed and created by CEO, Mary Ellen Vernon. For nearly three decades, Fresh Produce has delighted women with beautiful clothing that is primarily made in the USA. The heart of the Fresh Produce is rooted in the positive impact of color. They love color and want their customers to light up the room in their clothes. From casual tops and feminine dresses to decorative scarves and stylish pants, Fresh Produce is dedicated to creating feel-good clothes women want to wear every day. The coastal-inspired colors and broad assortment of easy-to-wear pieces are flattering and comfortable on all shapes and sizes and are available in Extra Fresh plus sizes as well as children's styles. The comfortable fabrics, fit and style reflect carefree ease.
Women's Shirt Retailer
Women's Sweater Retailer
Women's Jacket Retailer
Children's Clothing Retailer
---

Nordstrom: Shopping for sweaters for women? Nordstrom has the styles you seek, from classic cardigan sweaters and turtleneck sweaters to elegant off-the-shoulder styles and dramatic cowl necks. We offer irresistible (and affordable!) cashmere sweaters—and you can always count on Nordstrom for a plentiful offering of women's plus-size options.
You can also find women's sweaters at Nordstrom Rack. Is it cold in here? Keep warm with Nordstrom Rack's selection of sweaters for women. Shop today for great deals on your favorite brands.
---

Pringle Cashmere Clothing (Scotland): Pringle Cashmere Clothing provides cashmere clothing and accessories for women, men and children. Pringle is the iconic brand founded in 1815 at the birthplace of the Scottish Knitwear industry. From the beginning technical innovation has led to the creation of knitwear as outerwear it became one of the first luxury knitwear manufacturers in the world, having expanded throughout Europe, the US and Asia during the 19th and 20th Centuries. Address: Pringle Cashmere Clothing, Glebe Mill, Noble Place, Hawick, TD9 9QE Scotland, Phone +44 (0) 1450 360200 E-mail webstore@pringlescotland.com
Women's Clothing Retailer
Women's Sweater Retailer
Women's Skirt Retailer
Women's Outerwear Retailer
---

Sun Valley Alpaca Company: The Women's Alpaca Cardigan Collection at Sun Valley Alpaca Co. offers a carefully curated selection of soft, lightweight looks from classic to contemporary. These luxurious pieces add natural sophistication to any outfit and keep you breathably cozy without overheating. From full-zip moto jackets to scrumptiously bulky belted cardis and everything in between, the Women's Alpaca Cardigan Collection at Sun Valley Alpaca Co. has the perfect layering piece for you. Alpaca fibers are hypoallergenic and super-soft, so you'll never have that itchy woolen feel. And these amazing fibers are hollow inside to help regulate your body temperature in any environment, so you won't get overheated during your busy day.
---

Ugly Christmas Sweater: Ugly Christmas Sweater retailer. Includes the latest trends including NFL, light up, tacky and Hanukkah sweaters. Los Angeles Address: 100 W Broadway, Glendale, CA 91210 Phone: 323-285-3777 E-mail: info@ucsla.com Contact: Chris LA-area
It may be a good time to Shop for Women's Sweaters.
Shop petite & plus sizes.

Thank you for using the Apparel Search website.