If you are planning to purchase clothing or fashion accessories for Christmas, you may want to buy the clothing on sale. Some times Santa prefers to bring toys instead of clothing. Therefore, if you plan to do some of your own shopping, you may want to shop during the holiday shopping sales promotion events.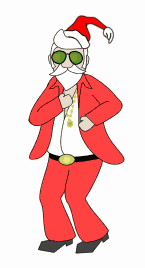 Learn more about holiday sales events for Christmas.
What makes a Christmas Sweater Itch?
Why do Santa's Elves All Wear the Same Shoes?
Why Does Santa Claus Wear Black Boots?
Santa's Workshop Inspection Report 2008