It is OK to drink a cocktail in any type of dress, but not any dress can be a cocktail dress.
A cocktail is an alcoholic drink consisting of a spirit or several spirits mixed with other ingredients, such as fruit juice, lemonade, or cream.
What is a cocktail dress? A cocktail dress is an elegant dress suitable for semiformal social occasions, falling to just below or just above the knee. The length, style, fabric, colors, etc., can vary. Ideally, the cocktail dress length ends at or above the knee (or a bit below). They are not full length dresses.
Below you will find some of the party dress etiquette tips from the past and present. Make sure you dress appropriately to your next cocktail party.
Cocktail attire is the standard dress code for parties and evening functions. High heels at such occasions are typically a must. Don't forget to accessories with jewelry or a bag. Find pieces that are chic, classy, or attention grabbing.
Historically, the American cocktail dress could be anything from a "little black dress" to a floral-printed dress or a plain, short evening gown, as long as it was worn with accessories. These might be earrings, pearl necklaces, bracelets, or brooches (stylish in the 1950s). Shoes were usually high heels, but evening satin sandals were also common and could be dyed to match the color of the dress.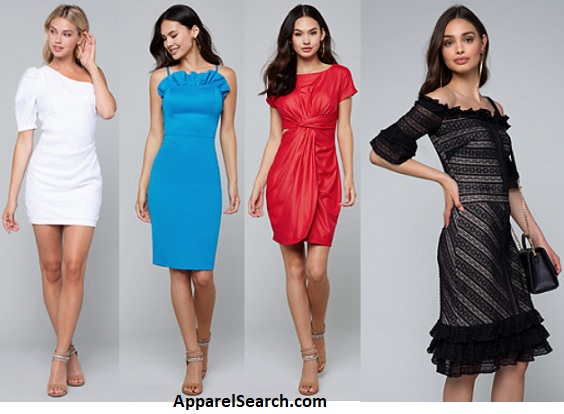 After World War I, the idea of the "working woman" became popular. Since 1929, it was more common to see women in a social atmosphere. With the help of liberation organizations, the idea of a "modern woman" began to rise, and soon the "drinking woman" could be seen in business settings. Companies increasingly hosted cocktail parties to have an entertaining environment for employees and customers to mingle. These parties usually began after 5:00 P.M. Since guests are expected to walk around and meet people, clothes made for these occasions are often functional and comfortable. A cocktail dress could be worn to any event in the late afternoon as long as the accessories matched the time of day. This practical and fashionable garment became a popular uniform for progressive elite women in the 1920s. American clients wanted a single dress that could be modified to fit several times of the day with the use of accessories.
During the 1920s, French couture's clientele consisted mainly of American department stores that reproduced French designs and promoted French designers. This caused French designers to create dresses to appeal to American buyers. Since cocktail parties originated in the United States, French designers created their own version of a cocktail dress. With the increasing feasibility and popularity of air travel, French cocktail dresses became popular globally. As French women traveled to wealthy resort cities, the designs of their cocktail dresses spread among the American elite. French style valued simplicity and elegance in their designs while American style valued functionality and efficiency.
As cocktail parties became more high-end, the attire became subject to stricter guidelines, which allowed people to easily differentiate between the different identities at the party, the organizer, hostess, and wife.
In 1948, Christian Dior labeled this business-casual dress with the term "cocktail dress". This allowed department store to advertise specifically "cocktail" garments and accessories, increasing the growth of fashion stores.
Cocktail or Party dresses are still popular terms used in modern day fashion.
While special events are always exciting, deciding what to wear to them can be stressful, especially when dress codes are involved.
What's a cocktail party without fabulous cocktail dresses? Stand out in sexy sequins, lace, cutouts & more party dresses. Shop at your favorite retailer or online to find the perfect dress for any occasion, in every imaginable size, print, and color option.

You may have interest in viewing our holiday party dress page in our fashion product influence section.
Return to the Women's Clothes Directory C main page.
Thank you for using the Apparel Search website.