The one that "you" like is the perfect one. Choose your garment based on your own sense of style. You are perfect in all that you do. Enjoy your clothes, and enjoy your evening.
Apparel Search is a leading guide to fashion, style, clothing, glam and all things relevant to apparel. We hope that you find this prom dress page to be helpful.
In the United States, a promenade dance, most commonly called a prom, is a semi-formal (black tie) dance or gathering of high school students. This event is typically held near the end of the senior year or junior year of high school. The senior prom is held for seniors (students in the last year of high school). The junior prom is for high school students that are in their second to last year of high school.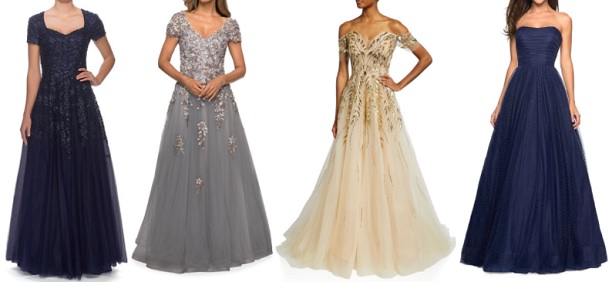 Proms figure greatly in popular culture and are major events among high school students. If you don't believe us watch Pretty in Pink. Selecting a perfect dress is very important to many young ladies getting ready to attend this special evening.
Although the world has been changing, the historical tradition has been that high school girls wear prom dresses and high school boys wear tuxedos to the prom. Obviously, the rule is not written in stone and has flexibility. However, if you have question you should consult with your school regarding the appropriate dress code.
Girls wear traditional ladies' dresses or evening gowns and often adorn themselves with jewelry such as earrings and a necklace. Jumpsuits, suits & other apparel may be potentially be substituted for a dress. However, the dresses are most common traditional prom fashion.
Girls also wear a corsage, given to them by their dates, and girls give boys matching boutonnières to be worn on their lapels. Some couples opt to match their dates dress color to their tie or suit.
Is their a difference between a junior prom dress & senior prom dress?
In our opinion their is no difference between clothing worn to a senior verse junior prom. However, some people may disagree. We have read that some unique differences include junior prom dresses having a ball gown or princess vibe, while senior prom dresses tend to be more sophisticated and sleeker. Sort of makes sense, but not sure if fully accurate as each person selects their prom dress based on personal preference.
Prom dresses come in a wide variety of styles, colors, fabrics, and price ranges. You may have to visit several boutiques before your find your perfect selection.
Make your special night one to remember with the dress of your dreams, whether it's short, long or even a ball gown.
You can shop for the best prom dresses at your favorite fashion boutique or department store.
Nordstrom
Neiman Marcus
David's Bridal
Macy's
From minis to ball gowns, you will surely find the perfect style for you. In addition to visiting local retail stores you can find trending prom dresses fit for a queen by searching online and checking for trends on social media.
A few terms we think you may want to research further.
Cocktail Dress
Trumpet Gown
Grecian Gown
Side Slit Gown
Slit gown
One-Shoulder
Plunge Neck
Deep V-neck
Strappy Satin Ballgown
Strappy Back Cocktail Dress
Tiered Ruffle
Cutout Ballgown
A-line Gown
Ruched Stretch Jersey
Metallic Organza Gown
Crepe Ballgown
Off the Shoulder
Sequin Gown
Flare Party Dress
Sparkle Lace
Mermaid Gown
Learn more about women's gowns.
Learn more about prom dresses from our fashion influence section.
What ever style of clothing you are wearing today is in fashion. Keep in mind, you don't need to find the best prom dress, you need to find the one that is "best for you".
If you already have your dress for the prom selected, you may wish to check out the prom shoes guide.
By the way, it is perfectly fine to go to the prom alone. You don't need a date to have a good time.
Have you seen our Fashion Designer Directory section?

Research additional clothing categories that start with the letter "P" from our Women's Clothing Directory P.
Don't worry about what other people think about your dress or shoes. If you like what you are wearing, it is perfect. Enjoy your evening.