Apparel Search is a leading guide to fashion, style, clothing, glam and all things relevant to apparel. We hope that you find this Gowns page to be helpful.
A gown is a long dress, typically having a close-fitting bodice and a flared or flowing skirt, worn on formal occasions. A gown can refer to several different items such as a judges gown or graduation gown. However, on this page we are discussing dress gowns. A women's gown is a woman's dress, especially a formal, or especially fancy dress. They can be worn to special occasions such as weddings, proms, the opera, etc.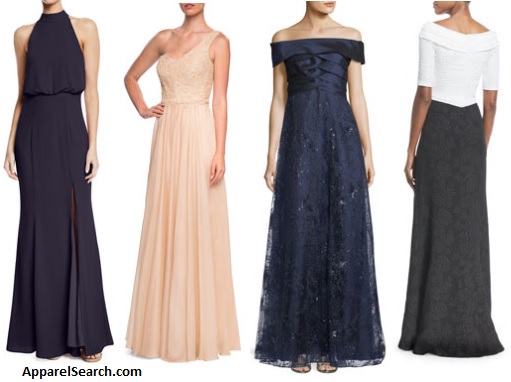 Ball Gown - A ball gown, ballgown or gown is a type of evening gown worn to a ball or a formal event. Most versions are cut off the shoulder with a low décolletage, exposed arms, and long bouffant styled skirts.
Décolletage is a term used in woman's fashion referring to the upper part of a woman's torso, comprising her neck, shoulders, back and upper chest, that is exposed by the neckline of her clothing. The term is most commonly used in Western female fashions and is most commonly applied to a neckline that reveals or emphasizes cleavage. Low-cut necklines are a feature of ball gowns & evening gowns.
The first forms of the 21st century term "Debutante ball" or "Cotillion" emerged in the mid 19th century with what was called a "coming out ball". These events were meant to show off the women who were now of marriageable age. Traditionally the debutantes will wear all white, but with varying styles of dress.[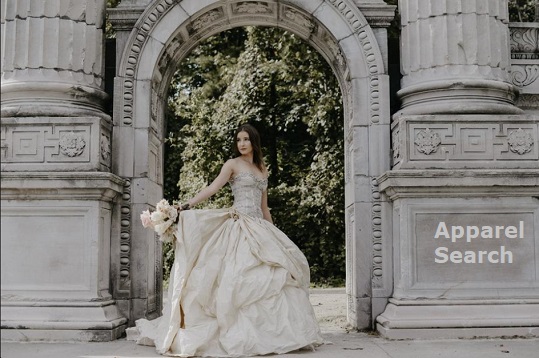 Wedding Gown - A wedding dress or wedding/bridal gown is the clothing worn by a bride during a wedding ceremony. Color, style and ceremonial importance of the gown can depend on the religion and culture of the wedding participants. In Western cultures, brides often choose white wedding dress, which was made popular by Queen Victoria in the 19th century. In eastern cultures, brides often choose red to symbolize auspiciousness.
Evening Gown - An evening gown, evening dress or gown is a long flowing[further explanation needed] women's dress usually worn to formal occasions. The drop ranges from ballerina (mid-calf to just above the ankles), tea (above the ankles), to full-length. Evening gowns are usually made of luxurious fabrics such as chiffon, velvet, satin, organza, etc. Silk is a popular fiber for many evening gowns. Although the terms are used interchangeably, ball gowns and evening gowns differ in that a ball gown will always have a full skirt and a fitted bodice, while an evening gown can be any silhouette—sheath, mermaid, A-line, or trumpet shaped—and may have an empire or dropped waist.
A few additional terms you may want to research further.
Trumpet Gown
Grecian Gown
Side Slit Gown
Slit gown
One-Shoulder
Plunge Neck
Deep V-neck
Strappy Satin Ballgown
Strappy Back
Tiered Ruffle
Cutout Ballgown
A-line Gown
Metallic Organza Gown
Crepe Ballgown
Off the Shoulder
Sequin Gown
Sparkle Lace
Mermaid Gown
Gown are often worn to the prom. They are a type of prom dress.
Other types of gowns would include a nightgown, coronation gown, hospital gown, tea gown, etc.
Probably a good idea to also research retro gowns if you like classic looks from the past.
What ever type of gown you plan to wear most likely looks wonderful.
If you want to be even more stylish, you should wear your favorite gowns.

Women's Clothes Directory:

Women's Clothing Directory G
Have you seen our Fashion Designer Directory section?
You may find the following sections of our fashion industry website to be of interest.
Thank you for taking time out of your busy day to learn more about ladies gowns here on Apparel Search.