What do you want to know about bridal fashion? Are you looking for information about bridal fashion designers or wedding gown trends?
Welcome to the worlds greatest guide to Bridal Fashion.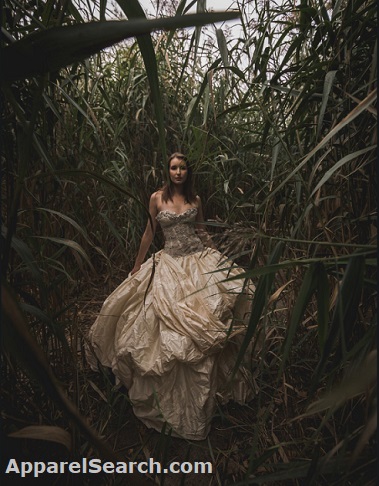 Does fashion include shoes and accessories? Yes, here at Apparel Search, we believe that it does. Therefore, bridal fashion would be clothing, shoes, or accessories worn to a wedding. The word "bridal" means of or concerning a bride or a wedding. Below you will find a few key items that fall under the umbrella of bridal fashion.
A "white wedding" is a traditional formal or semi-formal wedding originating in Britain. The term originates from the white color of the wedding dress, which first became popular with Victorian era elites after Queen Victoria wore a white lace dress at her wedding. However, the term now also encapsulates the entire Western wedding routine, especially in the Christian religious tradition, which generally includes a ceremony during which the marriage begins, followed by a reception.
In other cultures, "white" is not necessarily the common color.
Many people are involved with a wedding, but the absolute most important person of the day is most definitely the "Bride". If you disagree, we are sorry but you are incorrect. This is why the wedding dress gets the most attention.

Wedding ceremony participants, also referred to as the wedding party, are the people that participate directly in the wedding ceremony itself. Depending on the location, religion, and style of the wedding, this group may include only the individual people that are marrying, or it may include one or more brides, grooms (or bridegrooms), persons of honor, bridespersons, best persons, groomsmen, flower girls, pages, and ringbearers. A woman's wedding party consists of only those on her side of the wedding party. Those on a groom's side are called his groom's party.
The clothing, shoes and accessories worn by the various participants would be considered bridal fashion.
You may also find interest in bridal gown blog posts.
Thank you for using the Apparel Search website.