Welcome to the worlds greatest guide to Bridal Gloves. Are you actually looking for information about bridal gloves?
A wedding is a ceremony where two people or a couple are united in marriage. The brides outfit often consists of bridal gloves.
A glove is a covering for the hand worn for protection against cold or dirt and typically having separate parts for each finger and the thumb. Bridal wedding gloves come in various designs, fabrics & colors. Lace & satin in the color white are popular choices. Long gloves and short gloves are both options for a bride to consider.
Satin is a weave that typically has a glossy surface and a dull back. A satin fabric tends to have a high luster due to the high number of floats on the fabric. Their are various types of satin such as antique satin, charmeuse, double faced, faconne, duchess satin, etc.
Lace is a delicate fabric made of yarn or thread in an open weblike pattern, made by machine or by hand. Originally linen, silk, gold, or silver threads were used. Now lace is often made with cotton thread, although linen and silk threads are still available. Manufactured lace may be made of synthetic fiber.
Opera gloves continue to be popular accessories for bridal, prom, debutante, and quinceañera gowns and at very formal ballroom dances. Ladies' evening gloves or opera gloves are a type of formal glove that reaches beyond the elbow. Ladies' gloves for formal and semi-formal wear come in three lengths for women: wrist, elbow, and opera or full-length (over the elbow, usually reaching to the biceps but sometimes to the full length of the arm). Satin and stretch satin materials are extremely popular, and there are mass-produced varieties as well.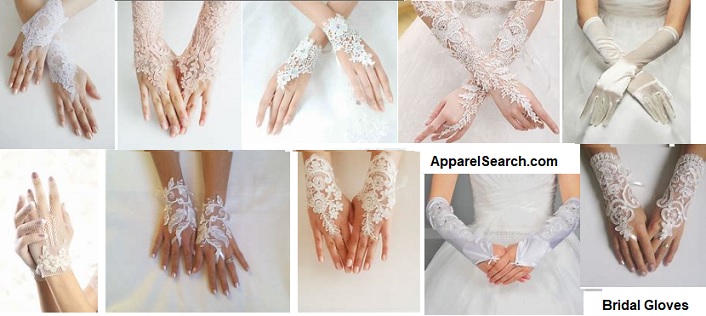 Learn more about gloves in our fashion influence section. This is certainly a product to understand.
Apparel Search is a leading guide to fashion, style, clothing, glam and all things relevant to apparel. We hope that you find this wedding glove page to be helpful.
You may also find interest in learning about the following wedding day fashion.

Thank you for using the Apparel Search website.