Welcome to the worlds greatest guide to Wedding Gowns. Are you actually looking to learn more about wedding gowns? Well, we hope you are because the reality is that you have found our page on the subject.
Is their a difference between a dress & a gown? This can be a bit tricky. A gown is a type of dress and a dress can be a gown... Oh, is that right. The difference between a dress and a gown is partly one of semantics and personal preference of terminology. However, they technically do have differences. Although the word dress & gown are often used interchangeably, in the opinion of Apparel Search, they are not the same. The word "gown" tends to refer to more formal garments, like those worn for weddings, proms or balls. A "dress" can be any one-piece garment with a skirt of any length, and can be either formal or informal. In our opinion, a wedding dress could be worn by anyone going to a wedding. The wedding gown should be only worn by the bride.
A wedding gown or bridal gown is the dress worn by the bride during a wedding ceremony.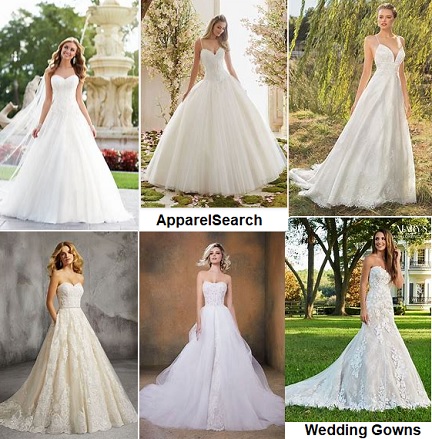 The color, style and ceremonial importance of the brides gown can depend on the religion and culture of the wedding participants. In Western cultures, the wedding dress is most commonly white but not always.
You may find the following links to be of interest:
Learn more about bridal fashion.
You can also see the bridal gowns guide.
Have you seen our Fashion Designer Directory section?

Apparel Search is a leading guide to fashion, style, clothing, glam and all things relevant to apparel. We hope that you find this Wedding Gown page to be helpful.
What ever you are wearing to the wedding is a perfect choice.
If you want to be even more stylish, you should wear your favorite Wedding Gown.