Apparel Search is a leading guide to fashion, style, clothing, glam and all things relevant to apparel. We hope that you find this Mother of the Bride Dress page to be helpful.
If "you" are the mother of the bride, congratulations. And, we agree that the mother of the bride is the most important person in the wedding (if you are the bride, we are kidding about that last remark).
A mother is the female parent of a child. Mothers are women who inhabit or perform the role of bearing some relation to their children, who may or may not be their biological offspring. The bride is a woman on her wedding day or just before and after the event.
In the retail market you can find mother of the bride dresses in a wide range of colors, designs, styles & sizes. If you do enough research, you can find a nice selection for almost any budget. At some bridal shops you can search for fabulous dresses or gowns by price, color, fabric, length, and neckline to find a mother of the bride dresses to match any wedding theme.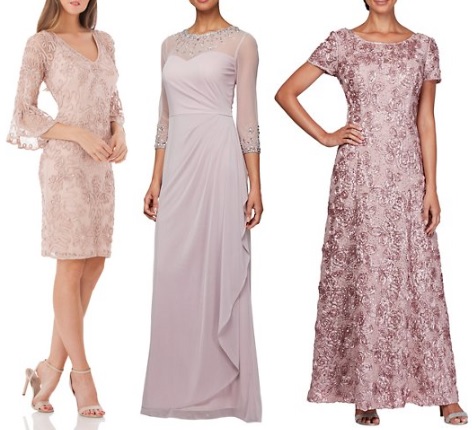 Note: try not to look better than the bride.
What ever you are wearing to the special event is perfect. If you want to be even more stylish, you should wear this years best Mother of the Bride Dress. Do you want us to tell you the very best option?

Learn more about bridal gowns.