What is an empire dress? Did you know that all empire dresses are produced in the Empire State (New York). Just kidding.
The empire silhouette is predominantly defined by its waistline, which is positioned directly beneath the bust.
The Empire silhouette, Empire line, Empire waist or just Empire is a style in clothing in which the dress has a fitted bodice ending just below the bust, giving a high-waisted appearance, and a gathered skirt which is long and loosely fitting but skims the body rather than being supported by voluminous petticoats.
A dress (also known as a frock or a gown) is a garment consisting of a skirt with an attached bodice (or a matching bodice giving the effect of a one-piece garment).
A bodice is an article of clothing for women and girls, covering the body from the neck to the waist.
In historical usage, particularly in Victorian and early 20th century fashion, a bodice indicates the upper part of a dress that was constructed in two parts (i.e., with separate skirt and bodice), but of matching or coordinating fabric with the intention of wearing the two parts as a unit. In dressmaking, the term waist (sometimes given as "dress waist" to distinguish it from a shirtwaist) was also used.
Bodice continues in use to refer to the upper portion (minus the sleeves) of a one- or two-piece dress. The bodice of a dress was called the corsage in the 19th century.
While the style goes back to the late 18th century, the term "Empire silhouette" arose over a century later in early 20th-century Britain; here the word empire refers to the period of the First French Empire; Napoleon's first Empress Joséphine de Beauharnais was influential in popularizing the style around Europe.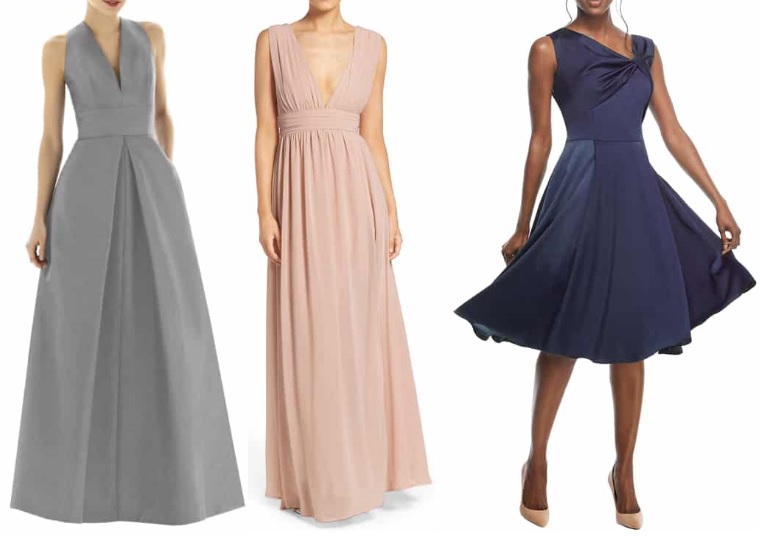 The high-waisted cut of the dress was also applied to outer garments, such as the pelisse. The Empire silhouette contributed to making clothes of the 1795–1820 period generally less confining and cumbersome than high-fashion clothes of the earlier 18th and later 19th centuries.
The 1960s saw a revival of the style, possibly reflecting the less strict social mores of the era, similar to when the unconstricting 1920s "flapper" styles replaced the heavy corsetry of the early 1900s.

Thank you for using the Apparel Search website.