Welcome to the worlds greatest guide to Printed Dresses. Are you actually looking for Printed Dresses? Well, we hope you are because the reality is that you have found our printed dress page.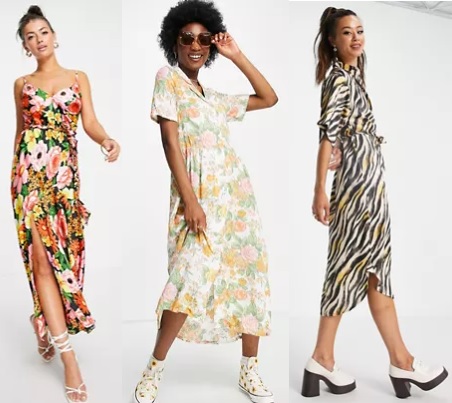 In this women's clothing section of the Apparel Search directory, you will find all sorts of interesting information regarding dresses with fashionable print designs.
If you are going for a relaxed chic look, going with a bold print may be the way to go. Or you can go with a statement print for an edgy style option. Boutiques will have plenty of options for you to pick the perfect print to match your mood.
Textile printing is the process of applying color to fabric in definite patterns or designs. The fabric can then be sewing into glorious garments such as a women's dress.
Printed dresses come in a wide variety of shapes (silhouettes), colors & patterns.
Long dresses or short dresses and everything in between can come with trendy print designs.
Make a statement with a fabulous floral design, polka dots, or animal print dress.
Learn about different print designs for clothing & fabrics.
You can shop for trendy clothing at retailers such as ASOS, Nordstrom, Neiman Marcus, etc.
You may want to visit the women's animal print shirt page where you can learn about leopard print tops, zebra print clothing and more.
Learn about fashion dresses in our summary section.

What ever you are wearing, is in fashion.
Have you seen our Fashion Designer Directory section?
If you want to be even more stylish, you should wear your favorite printed dress today.
You might find the following sections of Apparel Search to be of interest for further reading & review:
Find the latest printed dresses for women that best fits your style & personality.