Apparel Search is a leading guide to fashion, style, clothing, glam and all things relevant to apparel. We hope that you find this Women's Leopard Print Tops page to be helpful.
A women's top is a garment covering the upper part of the body and often worn with a skirt, pant, or shorts. A shirt, sweater, sweatshirts, etc., would each be considered a type of top. The leopard is large cat closely related to the lion, tiger, and jaguar. The fur of the leopard has a fabulous pattern that can be emulated by printing fabric.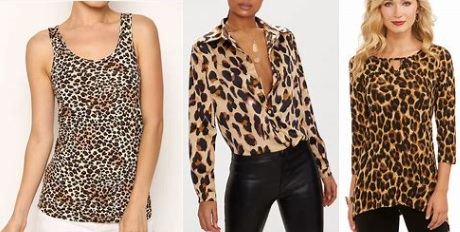 The leopard print is a classic for many fashion items including tops.
Blending nature with fashion, the leopard print is a classic for sure. The leopard print can almost be considered a neutral. The design when used for ladies tops has varying shades of brown and black, which allows it to be paired well with a variety of pants or skirts. The leopard print has silently remained every woman's secret wardrobe weapon for quite some time.
What ever animal print you are wearing, is most likely in fashion. If you want to be even more stylish, you should wear your favorite Women's leopard print tops.
You may also have interest in learning about leopard print dresses.