What is a dress? Cool as a summer breeze when made with cotton. A dress is a one-piece garment for a woman or girl that covers the body and extends down over the legs.
A dress is a garment consisting of a skirt with an attached bodice (or a matching bodice giving the effect of a one-piece garment). It consists of a top piece that covers the torso and hangs down over the legs. A dress can be any one-piece garment containing a skirt of any length. Dresses can be formal or informal.
The hemlines and necklines of dresses vary depending on the fashion of the time period and the modesty or personal taste of the wearer. Dresses come in a wide variety of shapes & sizes.
Dress Lengths: Long dress, maxi, midi, knee length, mini, micro, etc.
The neckline is the top edge of a garment that surrounds the neck. Dresses can have a wide assortment of options. Options include, square neck, v-neck, plunging neck, sweetheart necklines, keyhole necklines, etc.
They obviously come in a wide variety of fabrics & colors as well. In addition to solid colors, you will find many stylish print options. Cotton is a soft, fluffy staple fiber. The fiber is most often spun into yarn or thread and used to make a soft, breathable fabrics for manufacturing dresses and other types of clothing.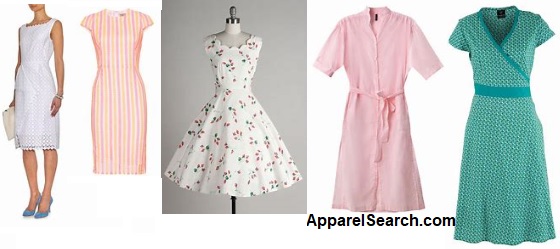 Other terms for dress would be a frock or gown.
Learn about the benefits of cotton fashion.
Apparel Search is a leading guide to fashion, style, clothing, glam and all things relevant to apparel. We hope that you find this Women's Cotton Dresses page to be helpful.
What ever you are wearing, is in fashion.
If you want to be even more stylish, you should wear your Women's Cotton Dresses.
Stripes and ruching make for easy, versatile summer dresses. Toss in a bit of cotton, and you have the perfect summer dress.

Thank you for using the Apparel Search website.