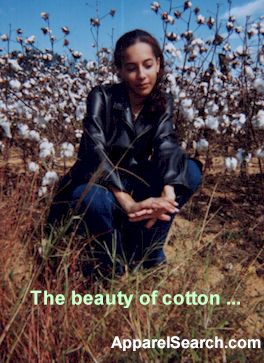 Welcome to the cotton fiber directory section of the Apparel Search website. In this section, you will find educational information and links to resources relevant to cotton fibers. If you work in the apparel industry or simply have an interest in cotton textiles, this is the area for you.
If you know of additional information or links that regard to Cotton, please Contact Us and we will add the information to these pages.

If you work for a company that supplies cotton textile products, you can use the add your company link at the bottom of this page to create a listing on the Apparel Search cotton directory pages.
Smart consumers and apparel manufacturers want to learn more about Cotton.
fiber Definitions - textile fibers
Below you can learn about international cotton resources:


Allied Cotton Mills (Pakistan): they are Ginners and Spinners of Raw Cotton Cotton yarn from Pakistan and are exporting both commodities to various parts of the world regularly. Presently they are importing Raw cotton for their group mills and have very excellent contacts with other Spinners in Pakistan Address: 606-X, St. No. 19, LCCHS, Defence, Lahore 54000 Pakistan Phone: 0092-42-5732781-5733763 or 0092-42-5895112-3 Fax: 0092-42-5732783-84 Email: sarim@lcci.org.pk Contact: Mohammad Atif, International Marketing
Manufacturer Item # 1: Raw Cotton
Manufacturer Item # 2: Cotton yarn
---

Bajwa Internation (Pvt.) Ltd. (Pakistan): Today, more than half of the fiber consumed around the world comprises of cotton. In the apparel and home fabric arenas, cotton maintains a dominant share. In recent year, Pakistan cotton production has achieved the peak figure of about 13.0 million bales, thus becoming the fourth largest cotton producing country in the world. It meets the full requirement of its growing textile industry while providing sufficient surplus for export. In this dynamic scenario Bajwa International (Pvt) Ltd. is a producer, trader, exporter and importer of various growths of raw cotton. It's a Pakistan based International trading house has very active business interests in transcontinental trading of commodities. Cotton and rice trade being its major areas of interest since these two are the important crops of Pakistan. The company brings to its business ventures an experience of around two decades. Bajwa International (Pvt) Ltd. own five huge Ginneries (all having double set of sawgins) in major crop areas of Sindh and Punjab, producing 200 thousand raw cotton bales yearly by its own sources. So it enjoys the title of largest cotton producer of Pakistan. Since they are the direct producers of raw cotton which enable them to gin cotton according to the buyer specific requirements at very competitive prices. Moreover in case of market fluctuation they will fulfill the contractual obligations for their commitments to deliver in bearish as well as bullish markets consistently. Bajwa group of companies also own a Spinning unit of 14000 spindles making 20, 30 and 52 count yarn under the name and style of Bajwa Spinning Mills situated in Hyderabad, Sindh. One huge Flour Mill, Lentils Mill and other import businesses are on the title of Bajwa group. Address: 607, Park Avenue, Shahra-e-Faisal Karachi Pakistan Phone: (92-21) 4537874 or 4537647 Fax: (92-21) 4538015 Fax: 4538015 Email: bajwaint@cyber.net.pk Contact: Mr. Muhammad Tariq
---

Barnhardt (USA): The cotton textile side of the company has broadened in scope since the beginning of the company, supplying cotton products to many new markets. The business that began by supplying cotton batting for cushioning material has developed into a major worldwide supplier of bleached cotton for medical, health and beauty aids, and nonwoven fabrics. Their original bleachery was built in 1929. Recognizing the growing demand for bleached cotton, Barnhardt constructed a new bleachery in 1979 and expanded it once again a decade later. Throughout its growth, Barnhardt's focus has always been -- and continues to be -- pointed toward the highest quality standards, customer commitment, and support of the local community. Manufacturers of hydro-peroxide bleached cotton fiber for the textile and nonwovens industries. Also, dental, medical and personal care products from cotton fiber.

Bremer Baumwollbrse: The Bremen Cotton Exchange
---

Compass Trading Corp. (Pakistan): one of the leading exporters of Raw Cotton from Pakistan serving all varieties of Pak Growth Cotton around the Globe. Their major exports are in Fareast and they have shipped out large quantities to Philippines, Indonesia, Thailand, Taiwan and Korea. They have fully developed network to select and supply quality Cotton right from the best cotton fields of the country. They are also having their own spinning Mill in Punjab comprising 25000 spindles. Currently manufacturing 30/1 and 38/1 Polyester Cotton yarn. If you are interested in Pak growth cotton, they are there to supply quality cotton for you. Address: 509-513, Uni Tower, I.I. Chundrigar Rd, Karachi, 74000 Pakistan Phone: 92-21-2416913-5 or 92-21-2436796 Fax: 92-21-2413151/24131715 Email: compass@super.net.pk Contact: Khalid Mir, Marketing Manager
Wholesale Item # 1: Raw Cotton
Manufacturer Item # 1: Cotton yarn
---

Cotton Council International: the international division of the National Cotton Council of America.
---

The Cotton Foundation: provides vision and leadership to the US cotton industry through research and education. The Cotton Foundation was created in 1955 as a 501(c)3 organization to give U.S. cotton's agribusiness allies opportunities to support the U.S. cotton industry over and above the products and services these firms provide. Membership includes banks, seed companies, chemical and equipment manufacturers, publishers and others whose success depends at least in part on U.S. cotton and who share a common concern for a healthy U.S. cotton industry.
---

Cotton Incorporated: research and promotion company for U.S. cotton in the domestic and world markets. Cotton Incorporated is a not-for-profit company providing the resources and research needed to help companies develop and market superior, innovative, and profitable cotton products. The company's efforts are focused across every area of the cotton life cycle from fiber through finished product.
---

Cotton on the Net: United Kingdom information resource for the world wide cotton community. Searchable database of products and companies, publications, news and forum for members
---

Cotton Outlook: United Kingdom news and indices of worldwide cotton marketing and prices. Public access area provides links to information, conversion tables, calendar of events and comprehensive glossary of terms. From Cotlook, Ltd.

---

Cotton at NC State
: portal to organized information on cotton. Has numerous links covering all issues of interest to producers and processors of cotton fiber.
---

Egedeniz Textile : they are one of the pioneers in Turkey for organic cotton and have been producing organic cotton products since 1993. They have contracted farmers for organic agriculture and then follow all processes through fiber, yarns, fabric and manufacturing of finished garments for many well known brands around the world. Their organic cotton is grown around Izmir region in Western Turkey where one of the best quality cotton in the world is grown. They are involved in all stages of the chain from growing the cotton until the end product. Organic cotton fabrics are dyed (low impact dyes) and finished mechanically according to certifying body's standards. They can name a few like Patagonia, Howies, Seasalt, Ahlens, Novotex etc as their clients for organic cotton products. They are also member of Organic Exchange and in addition to our 100 % organic cotton products, they can also produce organic cotton blends with conventional fibres. Certainly we produce also conventional cotton products in their own production line depending on their important brands around Europe. Address: 1420/3 sok No:18/5 Alsancak - IZMIR , TURKEY +90 232 4220004
---

Gdynia Cotton Association: professional corporation of cotton processing and trading companies, controllers, forwarders and scientific institutes
---

International Cotton Advisory Committee (ICAC): an association of governments having an interest in the production, export, import, and consumption of cotton. The Committee is the outgrowth of an international cotton meeting held in Washington, DC, in 1939. At that time, world stocks of cotton had reached nearly 25 million bales, more than half of which were located in the United States. In September 1939, the following 10 producing countries convened in Washington, DC: Brazil, British cotton exporting colonies, Egypt, French cotton exporting colonies, India, Mexico, Peru, Sudan, the USSR, and the United States, to discuss problems of overproduction, rising stocks and falling prices. The principal objective was to take concerted international action to avoid chaotic developments in the world cotton economy.
---

Le Merite Exports Pvt. Ltd · · they are pleased to introduce their company "Le Merite Exports Pvt. Ltd." as a manufacturer & exporter of 100% Cotton yarns & Raw Cotton from India. a) Manufacturing set up with latest machinery & Auto-coners from Murata & Savio b) Best raw material consumed to produce the top quality of Siro cleared, Contamination controlled combed & carded yarns c) They are Government recognized export house & exporting between 400-500 tons of cotton yarn every month from India d) Their company is ISO Certified & also has Oeko-Tex certification. e) Their company is exporting to more than 22 countries including Turkey & has more than 10 years of experience with more than 50 customers. Customer reference in your country can also be given. Address – 104 Marwah Complex, Saki Vihar Road, Saki Naka, Andheri – East, Mumbai – 72, India · Phone – 00 91 9819258526 · Fax – 00 91 22 66939205 · E-mail – yarn@lemeriteexports.com Contact: Ms. Namita Vishwakarma
yarn Manufacturer
Cotton Exporter
---

Journal of Cotton Science: The multidisciplinary, refereed Journal of Cotton Science contains articles that improve our understanding of cotton science. Publications may be compilations of original research, syntheses, reviews, or notes on original research or new techniques or equipment. All manuscripts, volunteered or invited, are submitted electronically and directed by the editor-in-chief to the appropriate associate editor for a double-blind peer review. The Journal of Cotton Science is published four times a year by The Cotton Foundation.
---

Liverpool Cotton Services
---

Los Alpes S.A.: They convert cotton clips into fiber and yarn. They sell clips, fiber and yarn
Address: 29 calle 3-65 zona 12 Col El Carmen Guatemala Phone: 502 636 4742 Fax: 502 636 4745
Email: losalpes@intelnet.net.gt Contact: Bob Cross/manager
Manufacturer Item # 1: yarn
Manufacturer Item # 2: fiber
Manufacturer Item # 3: clips
---

M/s Gokaldas Pragji Ginning & Pressing Factory (India): having ginning & pressing factory in India city Morvi since last 50 years. They have recently modernized their factory and have 32 dr ginns fully automatic pnematic system with pressing. They manufacture 25000 bales appro.18000 bales of short staple v-797 & 7000 bales of long staple shanker-6 quality cotton. Address: Guest House Road, Morvi Gujarat-363641 India Phone: 0282230347 or 0282222916 Fax: 0282230347 Email: gokaldasin@yahoo.co.in Contact: Ajit
Manufacturer Item # 1: raw cotton
---

Naturtex (Peru): Ecological Textile Products Naturtex manufactures eco-textiles on contract for private label companies and prepares annual collections of yarns, fabrics, and apparel under their trademarked names, Pakucho, Morrope, Native Cotton and Vicuna Cotton. Combining these unique capabilities, Naturtex has built a solid reputation for being a well connected and reliable contract manufacturer and exporter. They service some of the most demanding and complex international eco markets.
Organic Cotton

Organic Alpac
---

Plains Cotton Cooperative Association: the Plains Cotton Cooperative Associastion is a farmer
owned, cotton marketing and denim manufacturing cooperative headquartered in Lubbock, Texas. They are the world's largest producer and supplier of Texas-style cotton and their American Cotton Grower's (ACG) division is a major denim manufacturer renowned for innovative, high-fashion denim fabrics and customer service. Since its creation in 1953, PCCA has grown to become one of the largest handlers of U.S. cotton, marketing millions of bales annually. In addition to cotton marketing based in Lubbock, Texas, PCCA also owns a denim mill in Littlefield, Texas and cotton warehouse operations in Altus, Oklahoma, Liberal, Kansas and Sweetwater, Texas.
---

The Seam: the world's first truly online cotton marketplace, brings newfound marketing strength to businesses involved in cotton marketing. As a totally neutral business-to-business enterprise, The Seam will provide users access to a significantly larger pool of potential customers and suppliers in a completely secure electronic environment tailored for marketing and e-procurement services
---

Taris (Turkey): Taris is a conglomerate of four Unions established for the production and sales of cotton, Sultana raisins, dried figs, olive oil and their by products. Being the biggest of those four Unions and covering 1/8 of Turkey's total raw cotton production, Taris Union of Agricultural Cooperative Societies for the Sale of Cotton, produces Turkish Aegean Raw Cotton delivered by their member growers for shipment both in domestic and international markets. Their yarn has the first grade quality in Turkey using Aegean cotton. In the last years "TARIS" started to produce grey kn'tted fabric and has been the best in this field in a very short period. The types of their grey knitted fabric which is made of 100 % "TARIS"cotton yarn are: supreme, lakos, futter ribana carded or combed with lycra or not in different technical specifications. Address: 1492 Sk. No:14 Alsancak Izmir TR 35230 Turkey Phone: 00902324634267/ Ext:125 or 00902324634923/ Ext:125 Email: ucelik@taris.com.tr Contact: Mr.Ufuk CELIK
Manufacturer Item # 1: 100% Cotton yarn
Manufacturer Item # 2: Cotton fabric
Manufacturer Item # 3: Raw Cotton
Their Cooperatives Union consists of:
64.000 Member Growers
44 Cooperatives
29 Ginning Factories (27 for roller-ginning and 2 for saw-ginning)
1 Cotton Seed Refining Plant
1 Cotton yarn Spinning Mill
COTTON , COTTON yarn and GREY KNITTED fabric
Annually their production capacity is 12-15 thousand tons and they make production as per ISO 9002 standards. They export the cotton yarn to EU and especially to USA.

The regular types of their 100 % cotton yarn produced as below: (They can also make production according to the demands for special types.)
TYPE OF COTTON yarn
NE 7/1 OPEN END FOR WEAVING
NE 8/1 OPEN END FOR WEAVING
NE 10/1 OPEN END FOR WEAVING
NE 12/1 OPEN END FOR WEAVING
NE 16/1 OPEN END FOR WEAVING
NE 20/1 OPEN END FOR WEAVING
NE 24/1 OPEN END FOR WEAVING
NE 30/1 OPEN END FOR WEAVING
NE 6/1 CARDED FOR WEAVING
NE 8/1 CARDED FOR WEAVING
NE 10/1 CARDED FOR WEAVING & KNITTING
NE 12/1 CARDED FOR WEAVING & KNITTING
NE 16/1 CARDED FOR WEAVING & KNITTING
NE 20/1 CARDED FOR WEAVING
NE 24/1 CARDED FOR WEAVING
NE 30/1 CARDED FOR WEAVING
NE 20/2 CARDED FOR WEAVING (TPM 500)
NE 24/2 CARDED FOR WEAVING (TPM 550)
NE 30/2 CARDED FOR WEAVING (TPM 650)
NE 20/1 CARDED FOR KNITTING
NE 30/1 CARDED FOR KNITTING
NE 20/1 COMBED FOR KNITTING
NE 30/1 COMBED FOR KNITTING
NE 16/1 COMBED FOR WEAVING
NE 20/1 COMBED FOR WEAVING
NE 24/1 COMBED FOR WEAVING
NE 30/1 COMBED FOR WEAVING
NE 36/1 COMBED FOR WEAVING
NE 40/1 COMBED FOR WEAVING
NE 50/1 COMBED FOR WEAVING
---

USDA-AMS Cotton division: general information and background. The purpose of the Cotton R&P Program is to carry out an effective and continuous program of research and promotion in order to strengthen the competitive position of cotton by expanding domestic and foreign markets for cotton, improving fiber quality, and lowering costs of production. The program, including USDA administrative costs, is financed through producer and importer assessments, not taxpayer dollars. The Cotton Research and Promotion Order (pdf) authorizes the Cotton Board to administer the program under AMS supervision. The Order created the program under the authority of the Cotton Research and Promotion Act of 1966. The Cotton Board is responsible for carrying out an effective and continuous program of research and promotion in order to strengthen the competitive position of cotton by expanding domestic and foreign markets for cotton, improving fiber quality, and lowering costs of production. The program, including USDA administrative costs, is financed through producer and importer assessments, not taxpayer dollars.
---

V.P. Udyog Ltd.: Their company established in 1984, is one of the reputed manufacturer and exporter of exclusive Leather Products and Raw Cotton, based in Kolkata, India. Customer satisfaction is extremely important to them. Hence, great emphasis is put on the quality and design, each and every product is stringently scrutinized and then passed on for packing, to meet complete satisfaction of their customers. This being the reason for our successful penetration into the European & Asian market. Leather Product Line comprises of Men's & Ladies Wallets, Hand Bags, Folders, small leather products and also customized leather goods. Products are made in cow, buffalo, calf, goat and sheep leather. The variety of specification ranges from Drum Dyed, Vegetable Tanned, Aniline Milled Nappa, and Soft Nappa, to Natural Dry Milled, Printed Dry Milled and Oil Tanned or Oil Pull up, Buff Milled, Cow Antique. They also import Italian Leather as per buyer's choice. They also have a long career of export for Raw Cotton to Japan, enjoying a good reputation in their quality. Raw Cotton GAMP,GATP, J-34, Shankar, H4, H6, etc. Cotton Linter 1st Cut, 2nd Cut, 3rd Cut. Cotton Waste. Address: 4,synagogue street, 10th floor Kolkata 700001 India Phone: 91332425367 Fax: 91332429394 Email: vpudyog@cal.vsnl.net.in Contact: Vikash Jasarasaria
Manufacturer Item # 1: Raw Cotton
Manufacturer Item # 2: Cotton Waste
Manufacturer Item # 3: leather goods
Manufacturer Item # 4: Jute
Manufacturer Item # 5: Jute goods
If you do not find enough information in this section of our cotton fibers guide, you may wish to check the textile section or go back to the fiber directory main page for additional textile fiber choices.
Learn about women's cotton clothing.
Learn more by reading Cotton News.