Pretty sure that you already know the meaning of cotton. Just incase you forgot some of the key points regarding this fiber, you may want to read the benefits of cotton blog post on the Fashion Blog.
What is a drawstring?
A drawstring is a string, cord, twill tape or other string like item that has been inserted inside the seam of the material of a garment or a bag, which can be pulled to tighten or close it. Rather then being placed inside a seam the drawstring can also be laced through eyelets for use in controlling the fullness in garments. Drawstrings are often used on pants to control the size of the waist.
Pants (American English) or Trousers (British English) are an item of clothing worn from the waist to the ankles, covering both legs separately. They come in various lengths, styles, and fabrications. Many pants are made of cotton fiber or a cotton blend.
A drawstring pant is a type of pant that utilizes a draw string. The drawstring can be used at the waist and sometimes used at the ankles.
Sweatpants, athletic shorts, lounge pants, etc. often have drawstrings.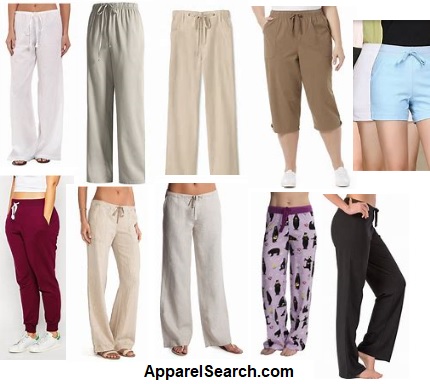 You will find many different drawstring pants & drawstring shorts in the market.
Learn about women's cotton drawstring shorts.
You can find this type of trouser at mass merchants, fine retailers, and everything clothing store in between.
If you are a designer or manufacturer, you may want to learn more about twill tape, as well as braids, tassels, & cords. Probably also not a bad idea to learn more about elastic and waistbands.

Learn about different types of pants in our fashion industry terminology section.