In this women's clothing section of the Apparel Search directory, you will find all sorts of interesting information regarding ladies cotton pants.
Cotton is a popular fiber for making trousers for several reasons. If you are not certain about the primary benefits of cotton, you may want to read the benefits of cotton blog post.
Cotton is a soft white fibrous substance that surrounds the seeds of a tropical and subtropical plant and is used as textile fiber and thread for sewing. Cotton can be either woven or knit into fabric. Both versions are appropriate for the manufacturing of pants.
Woven cotton fabric is often used for pants such as dress pants. Knit cotton fabric can be used for sweat pants and other types of pants as well. Knit will typically have a bit more stretch than a woven fabric.
A pant which can also be called a trouser is a garment worn on the lower half of the body. It is clearly different than a dress or skirt because each leg is covered separately by the fabric.
Pants are produced with a wide variety of fibers, colors, and styles. They can be long, short, and some where in between. Trousers have various design options including pockets, cuffs, zippers, buttons, embellishments, etc.
Below are a few examples of a few available variations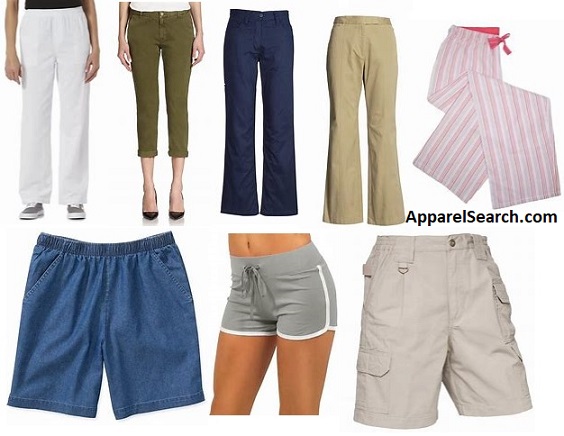 Apparel Search is a leading guide to fashion, style, clothing, glam and all things relevant to apparel. We hope that you find this Women's Cotton Pants page to be helpful.
What ever type of trouser you are wearing is in fashion.
You may also have interest in the following cotton pant categories.
Women's Cotton Flannel Lounge Pants
Women's Cotton Flannel Sleep Pants
Women's Cotton Drawstring Pants
You may want to also view the women's cotton maternity pants section (if you are pregnant or know someone that is).
If you want to be even more stylish, you should wear your Women's Cotton Pants.

If you work in the apparel industry, you may have an interest in learning more about cotton prices. That obviously has a big effect on the industry. Cotton prices effects manufacturing, wholesale, and retail pricing.
Thank you for using the Apparel Search website.