Are you actually looking for Women's Cotton Sweat Pants? Well, we hope you are because the reality is that you have found our page on the subject. In this section of the Apparel Search directory, you will find all sorts of interesting information regarding cotton sweat pants for ladies.
What are sweat pants? They are loose, warm trousers with an elasticized or drawstring waist, worn when exercising or as leisurewear. Sweatpants are a casual variety of soft trousers intended for comfort or athletic purposes, although they are now worn in many different situations.
Sweatpants are usually made from cotton or polyester, often of a heavy knit.
Cotton is a soft, fluffy staple fiber that grows in a boll. The fiber is most often spun into yarn or thread and used to make a soft, breathable textile. Cotton has numerous benefits that make it an appropriate fiber for women's sportswear.
They often have elastic in the waistband, drawstrings, and may or may not have pockets. Some sweatpants can also feature elasticized cuffs at the hem of the leg. Sweatpants are traditionally ash gray in color but are now available in most colors. Traditionally quite "baggy" and loose, sweatpants are now also available in more form-fitting shapes; moreover they have flexibility and comfort.
You can find this type of pants, with or without pockets and a wide variety of other stylistic options. They also come in a wide variety of colors.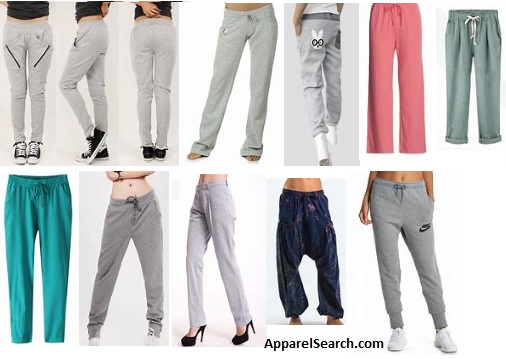 You may want to also learn about cotton running pants or cotton athletic pants.
Apparel Search is a leading guide to fashion, style, clothing, glam and all things relevant to apparel. We hope that you find this Women's Cotton Sweat Pants page to be helpful.
What ever you are wearing, is in fashion.
If you want to be even more stylish, you should wear your Women's Cotton Sweat Pants.
Learn about women's cotton fashion.

Thank you for using the Apparel Search website.