In this women's clothing section of the Apparel Search directory, you will find all sorts of interesting information regarding cotton running pants for women.
First question, "what are pants?". Well, if you are not wearing a dress or skirt, you are probably wearing them now. Maybe not. Pants are also called trousers. They have been worn as garments since ancient times. In summary, they are described as are an item of clothing worn typically from the waist to the ankles, covering both legs separately. When we say they are worn covering both legs separately that would be different than a skirt, dress, or robe that covers the wearers legs. The pant fabric would wrap around each leg.
Running is a method of terrestrial locomotion allowing humans to move rapidly on foot. We can run in just about any type of pant that allows enough room for our legs to obtain the proper motion. However, certain pants are better for running than others. An important aspect of fitness and exercise is comfort and range of motion.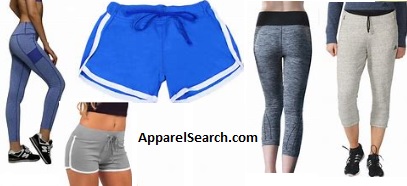 A variety of designs offer characteristics that do everything from keeping your muscles warm and dry to compressing your lower body.
Running pants come in a wide variety of styles.
Compression shorts or compression long pant.
Leggings
Tights are a kind of cloth garment, most often sheathing the body from the waist to the toe tips with a tight fit. Running tights can be worn to improve aerodynamics in comparison to loose fitting cloth.
Various fitness pants such as yoga pants can also be used for running.
Learn more about fitness pants.
Running pants can range from heavy to lightweight warm-up pants. For milder temperatures, you can find light pants that offer breathability with features such as mesh for ventilation. Some lightweight pants are suitable for warming up; they feature snaps or zippers down the sides so you can quickly take them off before a workout or race.
Depending on your adventure, the best running pants can help you run comfortably in all types of weather.
Although pants often go from the waist to the ankle, they obviously come in a wide variety of lengths. For example, capri pants and shorts don't reach the ankle.
Learn about different pant styles by visiting our types of pants page.
If you are interested in learning more about short pants, you may find the running shorts page in our fashion influence section to be of interest.
Cotton is a soft, fluffy staple fiber. The fiber is most often spun into yarn or thread and used to make a soft, breathable fabrics. The fabric is often used to produce a wide variety of apparel including robes. Cotton can feel soft & comfortable to the touch, and the organic nature makes it extremely breathable. Cotton can also help wick moisture away from the wearers body which is helpful during exercise. Learn about the many benefits of cotton fabrics on the Fashion Blog. It is important to note that some synthetic fibers wick moisture away even better. When selecting a running pant, you may want to consider a blended fabric with cotton and a synthetic fiber blend.
Breathing is important while running for oxygen but it is also important for fabric. Learn about breathable fabrics.

Learn more about women's cotton fashion.