Are you looking for trendy workout pants? Comfort and style are both clearly important.
Cotton is a fabulous fiber for clothing. Althleisure and athleticwear is a perfect candidate for this type of fabric.
You probably already know what pants are and we hope you are also familiar with cotton. If you are not aware of the benefits of cotton, you can view our benefits of cotton blog post. In summary, cotton is a soft, fluffy staple fiber. When turned into fabric it is soft, absorbent and breathable. Are you not sure what we mean by "breathable fabric"? Learn about breathable fabric in our apparel industry terminology section.
Cotton is inexpensive and extremely versatile, used in a variety of common clothing fabrics. The fiber can be used as 100% cotton or blended to make the following athletic pants for women.
Sweat Pants
Yoga Pants
Compression Pants
Cycling Pants
Running Shorts
Track pants
Gym Shorts
etc.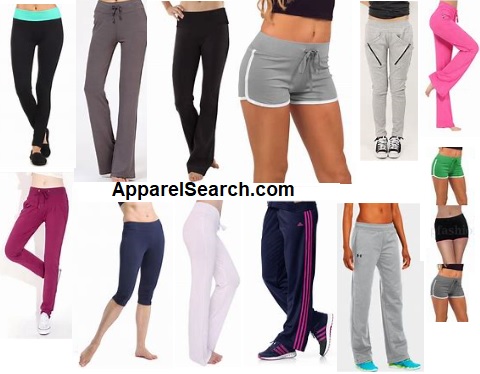 Cotton fibers dye very well so they offer vibrantly colored yarn. This means you can look stylish as well as stay comfortable will exercising.
Apparel Search is a leading guide to fashion, style, clothing, glam and all things relevant to apparel. Learn more about womenswear from the links below.
You may also need a pair of athletic shoes.
We hope that you have found enough women's cotton fashion to satisfy your needs.. If you are done with this section, you can return to the women's fashion guide for more choices. Or you can continue to learn about women's cotton fashion.
What ever fitness pant you are wearing today is most definitely in style.

Thank you for using the Apparel Search website. We hope that you find this women's cotton athletic pants page to be helpful.