In this women's clothing section of the Apparel Search directory, you will find all sorts of interesting information regarding women's gingham pants made of cotton.
The first step is figuring out what type of material we are talking about. So the question is, "what is gingham fabric?".
Gingham a cotton fabric, usually woven of two colored yarns in a checked or striped design.
Gingham is a medium-weight balanced plain-woven fabric made from dyed cotton or cotton-blend yarn. It is made of carded, medium or fine yarns, where the coloring is on the warp yarns and always along the grain (weft).
From the mid-18th century, when it was being produced in the mills of Manchester, England, it started to be woven into checked or plaid patterns (often blue and white). Checked gingham became more common over time, though striped gingham was still available in the late Victorian period.
Gingham fabric can be teamed up with a skinny, slightly cropped silhouette to create effortlessly chic pants.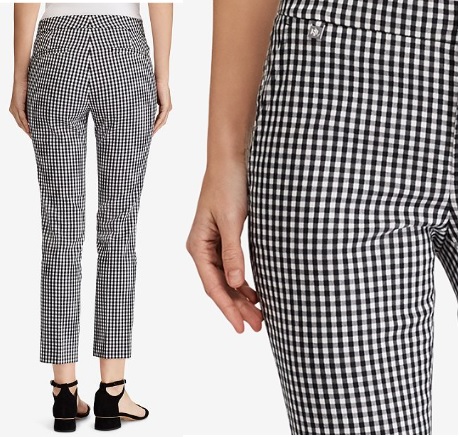 Gingham is one of those classic patterns that will always be around. This type of fabric can be manufactured into a wide assortment of pant silhouettes. You can find full length, cropped, loose fit, tight fitting pants, etc.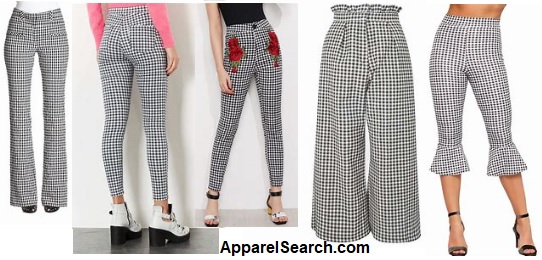 Yes, the fabric can be made in colors other than white and black.
Learn more about gingham fabric in the fabric definitions section.
Learn about the benefits of cotton to learn some of the reason it makes a great fabric for ladies trousers.
You can also learn more about other types of women's pants.

If you plan to further research gingham fabric, you may also want to learn about the following terminology.
Learn about additional types of pants in our clothing industry terminology section.
Thank you for using the Apparel Search website.