Shorts are short pants that reach only to the thighs or knees of the wearers legs.
Shorts are a garment worn over the pelvic area, circling the waist and splitting to cover the upper part of the legs, sometimes extending down to the knees but not covering the entire length of the leg. They are called "shorts" because they are a shortened version of long pants or trousers. Shorts are typically worn in warm weather or athletics.
The drawstring is a method to alter the waistline of the shorts. A drawstring (draw string, draw-string) is a string, cord, lace, or rope used to "draw" (gather, or shorten) fabric or other material. The ends of the drawstring may be tied to hold it in place (and/or simultaneously close an opening).
A drawstring may be threaded through a hem or casing (a continuous tube of material) or laced through holes, which may be lined with eyelets. It may also be laced through loops attached to the material, in the same way that belt loops are. A very wide, flat drawstring becomes a belt.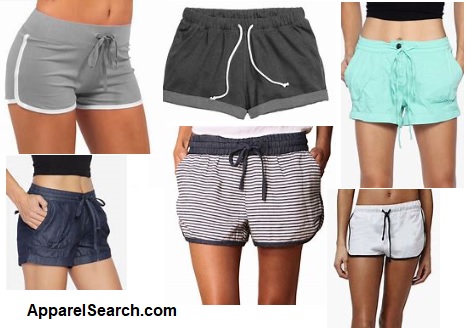 Cotton is a fab fiber for athletic, casual or dressy occasion short pants. Learn some of the benefits of cotton fiber fabric.
Learn about women's cotton drawstring pants.
By the way, if your shorts are falling down, please pull a little tighter on the drawstrings.
Learn more about other types of shorts.

Thank you for using the Apparel Search website.