In this women's clothing section of the Apparel Search directory, you will find all sorts of interesting information regarding Women's Cotton Shorts.
Shorts are short pants that reach only to the thighs or knees. This type of pant comes in a wide variety of styles. For example, cargo, bermuda, boardshorts, cut-offs, gym shorts, drawstring, denim shorts, cycling, etc. Some styles are more appropriate for cotton than others.
Learn more about shorts in our fashion products section.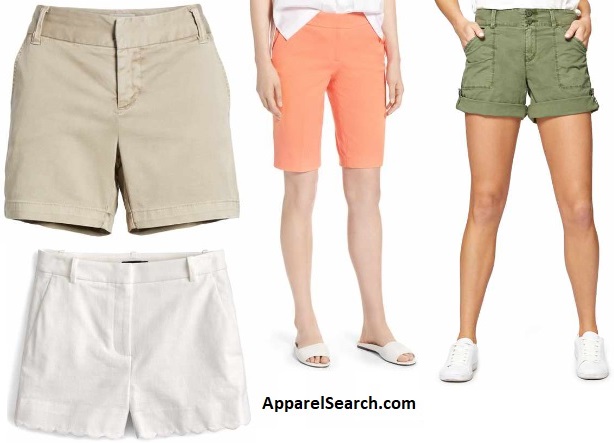 Cotton clothing is soft and easily stretches, making it a comfortable fabric to wear.
Cotton is any of various shrubby plants of the genus Gossypium, having showy flowers and grown for the soft white downy fibers. The fiber is most often spun into yarn or thread and used to make a soft, breathable textile.
Cotton shorts can be 100% cotton or blended with other fibers. Cotton can be blended with fibers such as polyester, linen, spandex, etc. It is blended with other fibers to provide additional benefits such as additional stretch, wicking, etc.
Shorts are a garment worn over the pelvic area, circling the waist and splitting to cover the upper part of the legs, sometimes extending down to the knees but not covering the entire length of the leg. They are called "shorts" because they are a shortened version of trousers, which cover the entire leg, but not the foot.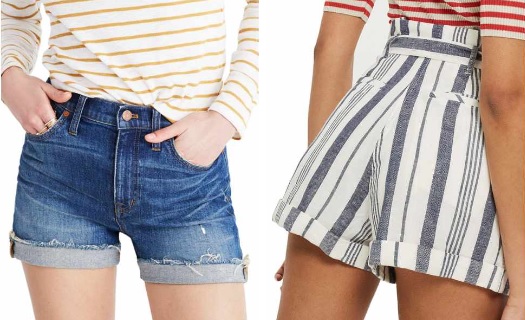 Learn more about running shorts from our fashion influence section.
Apparel Search is a leading guide to fashion, style, clothing, glam and all things relevant to apparel. We hope that you find this Women's Cotton Shorts page to be helpful.
What ever type of pant you are wearing today is in fashion.
Egyptian Cotton Shorts for Women
If you want to be even more stylish, you should wear your Women's Cotton Shorts.
By the way, you can cut up women's pants to turn them into shorts.
Learn more about cotton from the following links:
This page is not for short skirts nor is it for short dresses. This page is regarding short pants. Learn more about shorts.
Learn about other types of cotton apparel for women.

Thank you for using the Apparel Search website.