Board Shorts
What is the difference between a boardshort, surf trunk or jam? The short answer is that they are primarily the same. First they were called "Surf Trunks", then they were called "Boarshorts", and then some people started calling them "Jams". Regardless of what you call them, they are essentially swim shorts. By the way, they are also sometimes called "boardies" in Australia, and "baggies" in South Africa.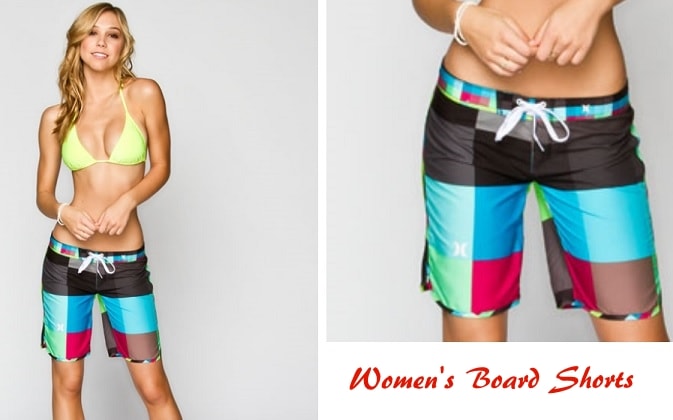 Boardshorts are a style of men's or women's swimwear. They are similar to short pants in silhouette. Shorts are a garment worn by both men and women over their pelvic area, circling the waist and splitting to cover the upper part of the legs, sometimes extending down to the knees but not covering the entire length of the leg. They are called "shorts" because they are a shortened version of trousers, which cover the entire leg. Shorts are typically worn in warm weather or in an environment where comfort and air flow are more important than the protection of the legs. The length and style of boardshorts are similar to shorts, but they have clear difference. For one, swimwear generally would not have a metal zipper like many shorts would. They typically have a Velcro closure rather than a zipper.
Distinguishing Characteristics of a Boardshort
Boardshorts do not have an elastic waist like many swim shorts do; instead they have a more rigid waistband which opens at the front, often with a velcro fly. The waistband is also held together at the front with a lace-up tie. This double fail-safe system is in order to ensure that the shorts cannot be pulled off the body by the force of the wave when a surfer is tumbled under water during a wipeout. Another common feature of authentic surfing boardshort design is a very small pocket sealed with velcro and vented with a grommet. This is designed to be a secure place to carry a car key, house key, or hotel key card while in the water. Boardshorts traditionally have no lining, unlike traditional swim shorts. Other than the waist which needs to be tight, board shorts are generally loose or baggy.
This style of swim shorts were originally developed for surfing. In recent years boardshorts have become a popular form of general beach wear and all-purpose summer wear. They are good for many different types of aquatic sports.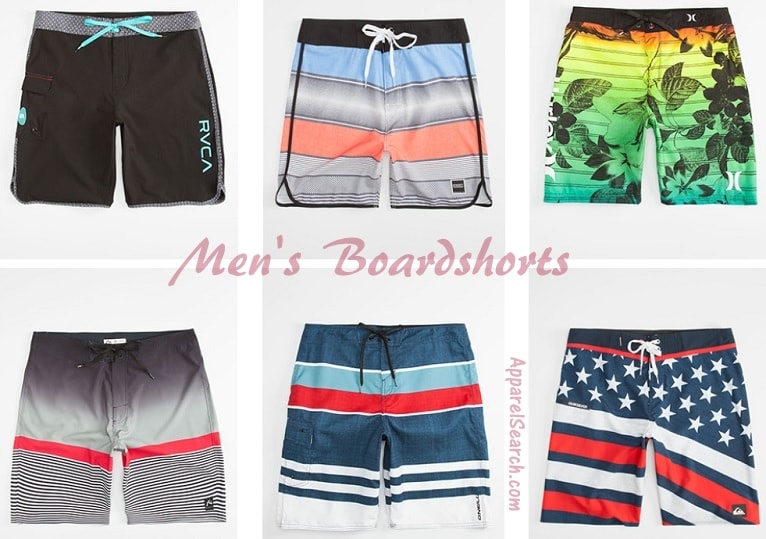 The name "boardshorts" is based on their use in aquatic sports that use a board, such as surfing.
Boardshorts are especially popular in North America. Obviously worn to the beaches in California as well as East Coast beaches where surfing is a possibility. Even though surfing does not readily take place in the middle of the country, board shorts are worn at lakes, rivers, ponds, and pools. Note: for those of you that are not good at geography, the USA does not have an ocean in the middle of the country. However enthusiastic people can still catch a wave in some rivers or possibly from being pulled by boats, etc. Even without waves, board shorts are trendy swim fashion.
The popularity of boardshorts spread beyond surfing especially as the skater punk fashion trend grew. In addition to skating, board shorts are worn for other warm weather sports such as volleyball, etc.
Types of Fabrics Used for Boardshorts
Let's keep in mind that boardshorts are technically swimwear so they are meant for wear in or around the water. Boardshorts are designed to be quick-drying, and are generally made from strong and smooth polyester or nylon material. They are durable and hold up to wear from contact with a surfboard, yet are comfortable and light-weight. They are well-adapted to use in various active watersports.
Boardshorts are normally longer than many shorts or form-fitting speedo styles of swimwear, and often (other than the waist which needs to be tight so they don't fall off when the wearer gets smashed and rolled by a wave) they have a loose or baggy appearance. The major reason for the extra length of the leg fabric is to protect the wearer's legs from the wax on the surfboard. For those of you that may not be familiar with surfing, please note that surfboards are covered with a layer of sticky wax, which allows the surfer to stand on the board without slipping off. This is great for staying up on the board, but the wax on the board can also rip leg hair off a surfer when sitting on the board waiting for waves. Long boardshorts cover the back of the leg when sitting on the board, preventing the wax from ripping out the leg hair. The length of boardshorts is also affected by fashion trends; the length can range from mid-thigh (old school) to below the knee, covering the entire knee.
Many designs of board shorts use vibrant color, striking patterns including Hawaiian floral images, and highlighted stitching; however not all boardshorts have these features.
One complaint about boardshorts has been the stitching at the inseam area which may rub directly against the wearer's skin. Many manufacturers have switched to a seamless design, or use welding or glue, rather than stitches. Although it is very common for boardshorts to be worn without underwear, some male wearers prefer to wear compression shorts, boxers, a jockstrap or briefs under the swimshorts. Some female surfers wear a swimsuit or bikini bottom under their boardshorts.
Here are a few of the popular boardshort brands, manufacturers, and retailers of interest:
Body Glove (Southern California) - Body Glove's history of innovation and love of the ocean challenges the company to make products fitting the needs of every waterman and waterwoman.
Birdwell Beach Britches (Southern California) - Founded in 1961 and based in Santa Ana, CA, Birdwell continues to hand-make high-quality boardshorts and other purpose-built apparel with roots in the surf.
Hurley - Hurley is an American multinational corporation that is engaged in the design, development, manufacturing, worldwide marketing and selling of surf apparel and accessories. The company is headquartered in Costa Mesa, California. Since 2002, Hurley has been owned by Nike, Inc.
Kanvas by Katin (Southern California) - Kanvas By Katin, founded in 1959, is located in Surfside, California and is one of the oldest surf shops in California. In the late 1950s, Nancy and Walter Katin were in the business of making canvas boat covers. Yet one day a young Corky Carroll came into the Katin's shop in Surfside, California, complaining of the difficulty in finding a pair of swim shorts durable enough to stand up to the then-new pastime of surfboard riding. Walter used his sewing machine and some of the sturdy boat canvas previously used for boat covers and created the first pair of Kanvas by Katin surf trunks.
Killer Dana (Southern California) - Featuring surf shirts, shorts, board shorts, trunks, jackets, hats and other surfing accessories.
O'Neill (Santa Cruz, California) - O'Neill Boardshorts and clothing from official US store, featuring the world famous O'Neill Hyperfreak and Superfreak Board Shorts.
Volcom (Southern California) - Find skate, swimwear, snowboarding clothes & more at Volcom - a creative modern lifestyle brand.
Billabong (Australia) - Sports wear and casual clothing manufacturer. Pro-active site takes a while to load, but is full of quality action movies about surf and snow board riding.
Quiksilver (Australia) - The World's leader in Surf & Snowboard Clothing, Outerwear & Accessories Since 1969.
Rip Curl (Australia) - Rip Curl is a major Australian designer, manufacturer, and retailer of surfing sportswear and accompanying products, and a major athletic sponsor. Rip Curl has become one of the largest board wear brands in Australia, Europe and South America, and is also active in North America and South Africa.
Ocean & Earth (Australia) - Ocean & Earth Mens & Ladies quality surf fashion reflecting, the waves we surf, the places we travel, the music we listen to and the art that inspires us.
Dunstan Surfwear (Sri Lanka) - At Dunstan Surfwear we create the most comfortable, handcrafted, customized board shorts and deliver them anywhere in the world.
Almost all swimsuit manufacturers and many fashion designer brands now produce boardshorts. Basically, clothing companies that cater to the swimwear market will often include boardshorts as an option in their swimwear collection.
There are even boardshort-specific retailers, which offer an assortment of boardshorts to the surfing, wakeboarding, water sport community.
If you plan on doing water sport activities such as surfing or boogieboarding, you may want to learn more about rash guards as well.
You may also want to learn more about Bermuda shorts & Hawaiian shirts for when you get out of the water.
Fashion Products Fashion Products A-F Fashion Products B
---
Return to the Influence Fashion home page.

Copyright 1999-2022 Apparel Search Company. All Rights Reserved.