Boxer Shorts
One of the most popular fashion relevant questions in recent history has been the question of "boxers or briefs?". For some reason it has even become a popular question to ask potential presidents of the United States. Can you believe that reporters have the nerve to ask a candidate if they wear boxer shorts or briefs? As if the question will help people form a decision about who is qualified or not qualified to become the president based on the undergarments they choose to wear. Well, maybe the line of questioning does have some merit.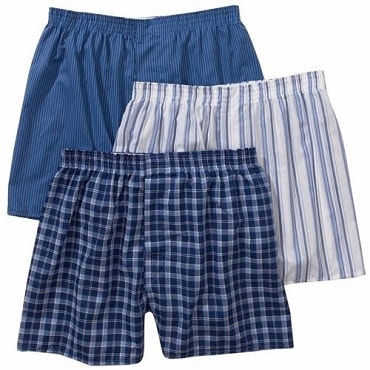 First of all, what is a boxer short?
Boxer shorts also referenced as boxers are a loose fitting type of undergarment typically worn by men. Yes, they are also worn by women. Boxer shorts provide greater mobility than other male undergarments or women's panties.
Boxers come in a variety of styles, colors, and fabrications. They can be solid colors, yarn dyed plaids, printed patterns, or graphic illustrations such as novelty prints. In addition to using an assortment of plain weave or textured fabrics, some garments are decorated by printing, embroidery, applique or other embellishments.
In regard to printing, various methods can be used. Silk screening with pigment prints, rotary printing, digital printing, etc. can be utilized. Reactive inks can also be utilized for a softer hand then some other types of ink qualities.
Some print designs can be complex and others can be as simple as polka dots or stripes.
Women wear men's boxers, but can also purchase them made in sizes specifically for women. Women's boxer shorts are made in the same fabrics as menswear and additional fabrications and trimming that may look better on women. The womenswear also gets a bit more creative in regard to the silhouette.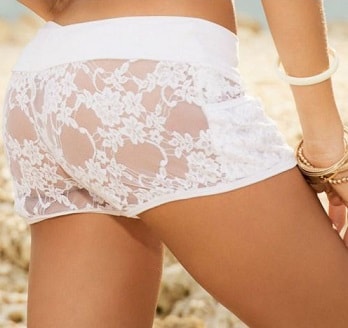 Women's Boxer short with an exposed tape draw string.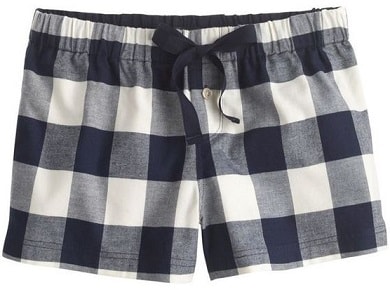 Here is a women's boxer short with a more creative flow to the leg openings.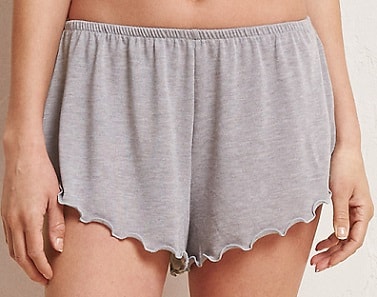 What is the difference between a boxer short and a brief?
Briefs are form fitting (tight) and boxer shorts are loose and longer. A boxer short silhouette is more like men's shorts and briefs have similarities to a women's panty (they have similarity by also major differences as well).
What happens when you mix a boxer with a brief?
Boxer briefs are a hybrid type of men's undergarment which are long in the leg, similar to boxer shorts, but tighter-fitting like briefs. Depending on the manufacturer, boxer briefs may also be spelled as one word: boxerbriefs. This type of underwear is sometimes called "trunks" in the United Kingdom, Australia and other locations. They are also referred to by some people at "tight boxers".
Are boxer shorts or briefs more popular?
This brings us back to the popular question of "which do you wear?". Jockey-style briefs beginning in the late 1930s had been more popular. Around 1947, boxer shorts started to gain in popularity. The two different models have battled back & forth for decades. In the 1990's the boxer short starting picking up steam but it is hard to name the style the ultimate champ. The two styles have varying ratios of sales performance over the years. It is clear that strong regional and generational preferences are at play. Apparel Search does not have official sales data for this year to confirm the actual champion. If you wanted an official answer, you will unfortunately not get the answer here today.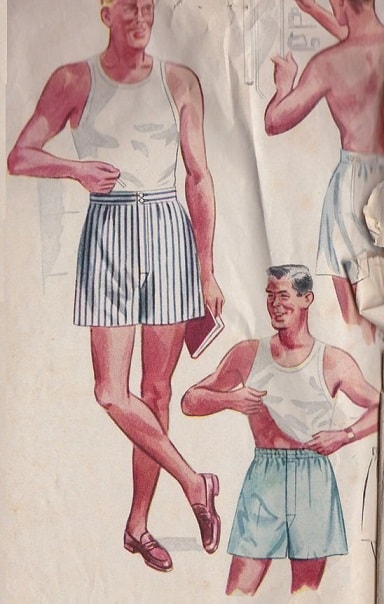 Do boxers wear boxer shorts or trunks?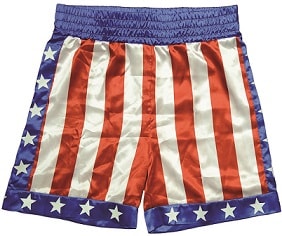 Boxing is a martial art and combat sport in which two people wearing protective gloves throw punches at each other for a predetermined set of time in a boxing ring. Both fighters typically wear different color boxing shorts or boxing trunks into the ring. The announcers typically distinguish between the two fighters base on the color of their trunks.
In 1925, Jacob Golomb, founder of Everlast, designed elastic-waist trunks to replace the leather-belted trunks then worn by boxers. These trunks, are now known as "boxer trunks". The boxing trunks are designed with elastic & stretch to provide unhindered leg movement because "fancy footwork" has always been very important for boxing.
Trunks are brief shorts, loose-fitting or tight, worn for sports, especially boxing, swimming, and track. Trunks are used to refer to swimwear and sometimes for underwear. The term can be used to refer to men's underpants with legs that reach mid-thigh, alternatively called boxers or boxer briefs (or possibly boxer trunks).
How can boxing be considered a fashionable sport? The sport of boxing is obviously fashionable because the fighters wear trendy colored boxing shorts and they wear gloves. They also tend to wear well embellished robes and shirts before entering the ring. After the fight ends, they often put on shirts to display brand advertising. Clearly the clothing worn is of importance.
Boxing shorts that are underwear are very different than boxer shorts worn by boxers for fights.
What other underwear is similar to boxer shorts?
As already discussed boxer briefs are similar in styling but are tight rather than loose. Kacchera (Punjabi: ਕਛੈਰਾ) or Kaccha (ਕਛਾ) are specially designed short, shalwar-like loose undergarments with a tie-knot ("naala" = drawstring) worn by baptized Sikhs. It is one of the five Sikh articles of faith called the Five Ks (ਪਂਜ ਕ੍ਕਾਰ), and was given as a "gift of love" by Guru Gobind Singh at the Baisakhi Amrit Sanskar in 1699. Kacchera have been worn by baptized Sikhs (Khalsa) since a mandatory religious commandment given by Guru Gobind Singh, the tenth Guru of Sikhism, in 1699. Both male and female Sikhs wear similar undergarments. This is one of five articles of faith—collectively called "Kakkars"—that form the external, visible symbols clearly and outwardly displaying one's commitment and dedication to the order (Hukam) of the tenth master. Kachera is a drawer type fastened by a fitted string round the waist, very often worn as an underwear.
Tap pants (worn typically by females) are a form of lingerie designed for women, also known as side-cut shorts or dance shorts, and are similar to French knickers in appearance. As the name implies, they are a type of shorts, in that they cover the pelvic area and the upper part of the upper legs. They have similarity to boxer shorts. Tap pants look much like track shorts, allow freedom of movement, and can be worn as an outer garment over other types of underwear (e.g., g-strings).
What fabrics are used for boxer shorts?
This type of underwear can be made with many varieties of fabric. Boxers can be made with woven fabrics or knit fabrics. If you are looking for comfort, we would suggest knit because the fabric has more stretch. However, many people find woven fabric to provide comfort as well. Plus some woven fabrics such as flannel can be warm and toasty on a cold winter night (you may want to also learn about flannel pajamas).
This type of underwear utilizes various fabrics & fiber contents including all cotton, cotton/polyester blends, jersey knits, silk, madras, flannel, microfiber, rib, waffle knit, etc.
Consider wicking, breathability, and antibacterial fabrics when manufacturing clothing such as underwear.
What components and construction is used to make boxer shorts?
The most critical elements of a boxer short is the fabric, elastic waistband, and sewing thread. They can be sewn with or without a front fly. The fly may have buttons, snaps or another closure element.
When using fabric with little stretch a "balloon seat" can be added to the garment construction. This is a generous panel of loosely-fitting fabric in the center rear of the shorts that is designed to accommodate the wearer's various movements, such as bending forward. Many sewing pattern designs for boxer shorts are made with a panel seat that has two seams running on the outer edges of the back seating area, creating a center rear panel.
The size specs for boxer shorts consider measurements such as front rise, back rise, waist measurements (waist extended & waist relaxed), fly length & width, leg opening, side seam, and hip measurements.
Boxer shorts have a few different styles and designs. The typical boxer short is made in either two or four panels. Boxer come in the following three different styles as well: center rear panel, gripper and yoke front.
Centre Rear Panel Boxer Shorts: A common sewing design used in the mass production of boxer shorts is a panel seat that has two seams running down the outer sides of the back seating area, which creates a center rear panel. These are also referenced as three panel boxer shorts.
Gripper Boxer Shorts: These boxer shorts have an elastic waistband similar to traditional boxer shorts, but they feature a series of snaps (typically three) on the fly and waistband meaning that they can open up completely.
Yoke front boxer shorts: This style is similar to gripper boxer shorts. The primary difference is the wide waistband yoke on these underwear types usually has three snaps to close it and the fly itself does not have a closing mechanism. Yoke front boxer shorts are available in two different styles according to their tying apparatus: The first style has a short piece of elastic on either side of the waistband that tightens up to the yoke to fit tightly around the waist. The second style of yoke front boxer shorts is 'tie sides' which have thin pieces of cloth located at each side of the waist yoke like shoe laces which are then tightened and knotted by the owner to provide a snug yet comfortable exact fit. Yoke front boxer shorts were popular during the Second World War when the rubber needed for elastic waistbands had to be used for military reasons.
Importing boxer shorts into the United States:
When importing it is important to keep in mind rules such as proper care labeling. Also, there are importing considerations to pricing evaluations such as the cost of duty to be paid to the government. The duty rates are based on garment gender, fabric, and other issues. You can learn more about duty relevant issues in our customs broker section. We suggest contacting a customs broker if you work in the fashion industry and plan on importing underwear into the USA.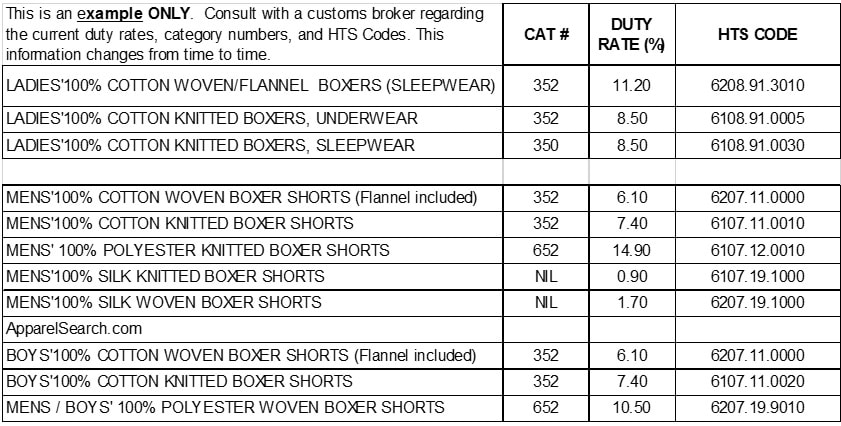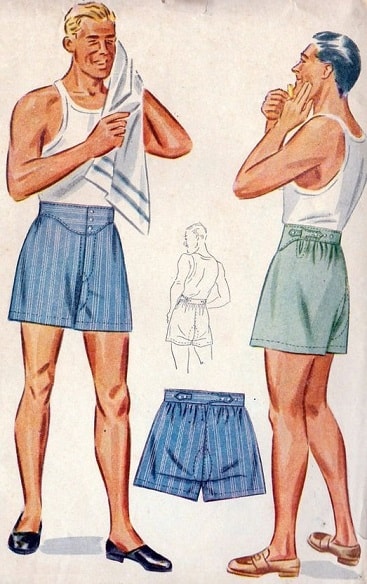 Interesting links of possible interest:
How to make boxer shorts (Sewing.com) - DIY Boxer Shorts.
Men's Boxer Shorts Sewing Tutorial
---
Fashion Products Fashion Products A-F Fashion Products B
---
Return to the Influence Fashion home page.

Copyright 1999-2023 Apparel Search Company. All Rights Reserved.