Boxer Briefs
Boxer briefs are a mix between boxer shorts and briefs. They are occasionally spelled "boxerbrief" (one word) and or sometimes referenced as trunks. However, in the United States, for clarity they should be called "boxer briefs" (plural) and "boxer brief" (singular).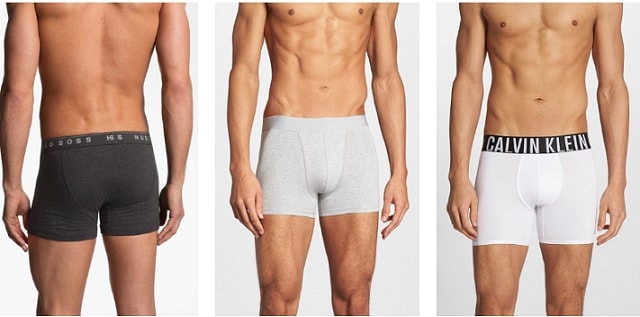 Briefs are tight fitting underwear.
Boxers are loose fitting underwear with legs similar to shorts.
Boxer briefs are a hybrid type of men's underwear which is similar to boxer shorts, but tighter-fitting like briefs. They are different than briefs because they are long in the leg. A typical brief would not have fabric covering portion of the leg.
Boxer briefs are commonly used for everyday use for various daily activities (simply another form of underwear). However, they are also very popular in athletics. The tight but not too tight fit provides a level of support as well as comfort during athletics. They are sometimes worn in association with a jockstrap for added support or protection when used with a cup.
The boxer brief design provides form-fitting coverage for the midsection from the waist to the thighs and are worn on the waist.

What fabric is used to make boxer briefs?
Boxer brief underwear is often made with knit fabric which offers some natural stretch. They can be made of various natural fibers such as cotton, and with synthetic fibers such as spandex. They are often a blended fabric combining both man-made and natural fibers such as a cotton & spandex blend. In addition to using certain fibers that offer stretch, they are often made with ribbed fabric that also can provide stretch. For example, they can be made of 100% cotton 1x1 rib fabric so that the garment has some stretch.
The construction of the boxer brief:
Boxer brief designs can have either a keyhole fly, button (snap) front, pouch, or no fly at all.
The waistband is usually a separate band of elastic material. It can be an exposed elastic or covered elastic (meaning the elastic can be covered by fabric). If using a covered elastic, it is often designed in a contrasting color to the cotton or other fabric material that comprises the rest of the boxer briefs. When using an exposed elastic band the waistband will often have the brand name of the garment printed on it.
There may be additional elastic sewn around the bottom end of the thigh portion of the garment (at the leg opening) to offer additional stretch. Some boxer briefs have stitching on the rear to outline the buttocks and avoid a central seam.
Similar to the brief, the boxer brief leaves less to the imagination then a boxer short would.
It has been said that boxer briefs gained in popularity after a print advertising campaign in 1992 featuring Mark Wahlberg (known at that time as Marky Mark). The advertising campaign was for Calvin Klein menswear which was being designed at that time by fashion designer John Varvatos.
Boxer briefs can be made with performance fabric with antimicrobial and anti-odor properties. Such boxer briefs are made with the goal to keep the wearer cool, dry, and fresh all day.
What happens when you mix a boxer with a brief?
You get some bad ass men's underwear.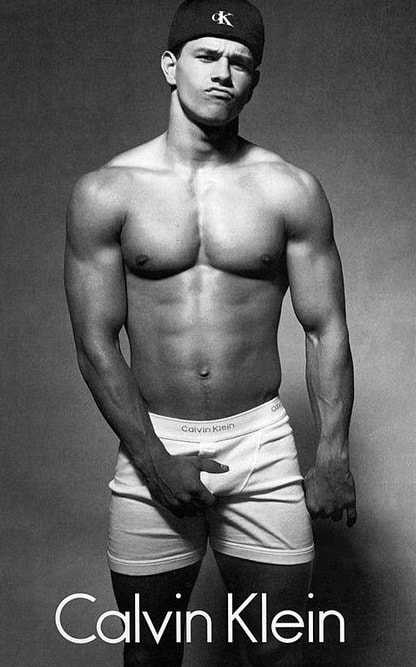 Mark Wahlberg in the Calvin Klein boxer brief advertisment.
You can possibly see more from the Underwear Blog Posts.
Boxer briefs are different then boyshorts.
Places to shop for boxer briefs: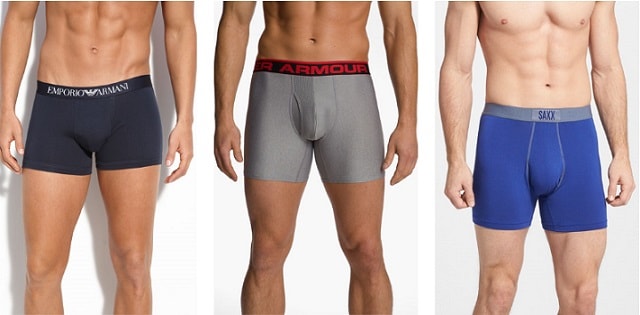 Learn more about underwear in our Underwear Glossary.
---
Fashion Products Fashion Products A-F Fashion Products B
---
Return to the Influence Fashion home page.

Copyright 1999-2023 Apparel Search Company. All Rights Reserved.