Rash Guard
Their are at least two different types of rash guards. One is primarily for water activities, and the other is for other sports. The majority of this page is regarding rash guards for water sports.
A rash guard is an article of clothing that offers protection from the sun and minor abrasions during certain water activities. The rash guards are generally light weight garments used for watersports but they can also be worn casually around a pool, lake, river, pond or beach. They can also be worn at water amusement parks (check with the particular park for rules about what can be worn on the rides).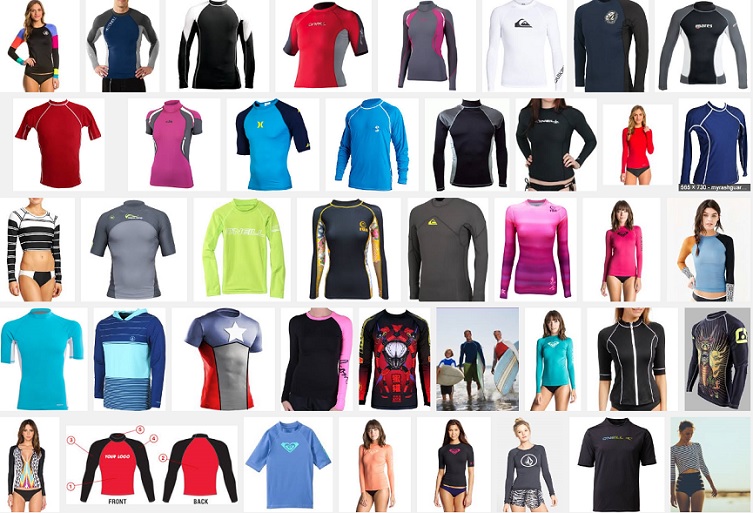 This type of apparel can also be referenced as a swim shirt, rash vest, rashys or rashie as well. It is a type of water wear that can technically be considered an athletic shirt. In addition to tops, rash guards can be bottoms or one piece garments as well. The lower body rash guards, which are similar to compression shorts can be worn under the surfers' boardshorts. This is beneficial for surfers that sit on the board while waiting to catch a wave.
A rash guard is often made of spandex, nylon, polyester, blended fabrics, etc.
The name rash guard reflects the fact that the shirt protects the wearer against rashes caused by abrasion, or by sunburn from extended exposure to the sun. These shirts can be worn by themselves, or under a wetsuit.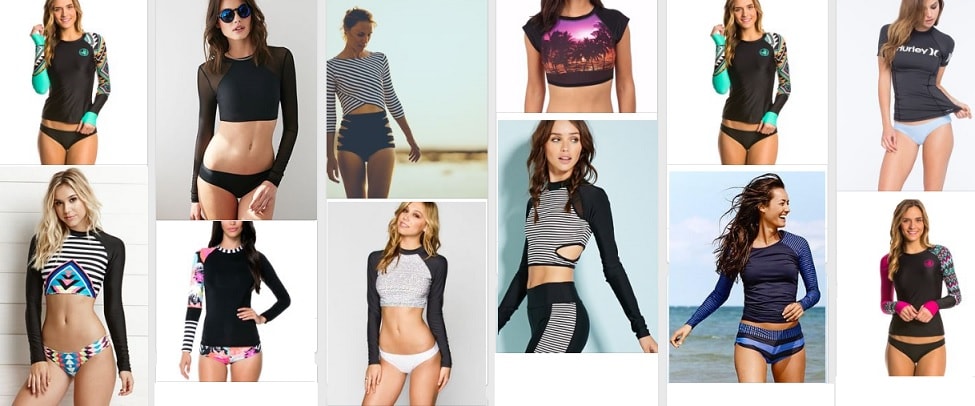 Protection from Surfboards and Sand:
Rash guards are most often worn in surfing when the weather is too warm for a wetsuit, and to prevent wax-based chafing from sliding on and off of the surf board, on either the torso, or the legs. A surfboard's wax holds sand from the beach that could rub against a surfer's torso while paddling out to the break, or legs while sitting atop one's board.
A rash guard possibly helps to prevent irritation caused by rapid impact with surface water and waves as well.
Protection from the Sun:
Sunlight includes rays of invisible ultraviolet (UV) radiation. Overexposure to UV rays can lead to sunburn, accelerated skin aging and skin cancer. Sunscreen and clothing offer our skin UV protection. All fabrics disrupt UV radiation to some degree (some better than others). Clothing that does the best job carries an Ultraviolet Protection Factor (UPF) rating from 15 (good) to 50+ (excellent).
Rash guards offer some protection from the sun (measured by its Ultraviolet Protection Factor). You would have to consult with the company or brand to determine if the garment has a particular UPF rating. Although all rash guards will provide some amount of sun protection, they amount of protection may vary by fabrication, garment silhouette, etc.
Do rash guards protect against shark bites?
Sorry, sharks have rather powerful jaws. Do NOT rely on a rash guard to protect against sharks.
This type of clothing can offer slight protection against jelly fish stings.
Are rash guards only for watersports?
Variations of the rash guard have made their way into many other sports including baseball, American football, water polo, Brazilian jiu-jitsu, and mixed martial arts. Athletes who wear rash guards when training in MMA often find themselves protected against minor cuts, mat burns, and potentially the spread of some diseases. Unfortunately the rash guards do not protect against getting kicked or punched in the face or having your arm broken by your opponent. Don't forget to tap, if you get yourself into trouble while doing MMA. Your rash guard will not save you from getting your face smashed.
How are rash guards manufactured?
Rash guards may include flatlock stitching. Flatlock stitching creates a seam where the seam allowances lies flat to the garment instead of hanging loose from it. It is made by adjusting the overlock or the thread overedge stitch. Flatlock stitching increases the strength of the garment for intense exercise or recreational activities. If you want to learn more about sewing and stitches, you can visit our sewing guide section.
Some rash guard tops are made with six panel construction. Six panel construction versus the conventional 4 panel tee shirt construction allows the user increased mobility wet or dry.
The combination of products used to construct a rash guard differ slightly depending on the designer. The use of nylon and spandex create a garment that is lightweight, quick drying, flexible, durable, naturally antibacterial and water wicking.
What is the difference between a rash guard and swim shirt?
Swim shirts are relatively new to the consumer market, but are growing in popularity. They are generally more loose fitting and casually worn than a rash guard that is specifically designed for surfing. Their primary purpose is to offer an alternative to sunscreen to protect the wearer's skin from the sun's UV radiation and possible skin cancer. Many swim shirts carry a UPF rating of 50+, which blocks out over 98% of the sun's harmful rays. However, you will need to carefully read the garment labeling or packaging to determine if the shirt has any special sun protective properties. All shirts will offer at least some protection from the sun rays. However, some swim shirts have more protection than others for various reasons. You can consult with brand manufacture if you have questions regarding the UPF rating.
Many people find that sunscreen isn't always enough because it is often not used properly and some have skin allergies or sensitivities to chemicals in sunscreens. Equally important, some types of sun screen can come off in water if you are at the beach, pool, etc. Even if you are wearing waterproof sunscreen, it will come off eventually.
Grownups and children use swim shirts for an array of activities such as swimming, boating, playing in the sprinklers, water parks, beach trips, pool parties, river rafting, water skiing, surfing, snow skiing, sledding, skimboarding, etc. In addition to water sports, they are worn occasionally as casual wear on days when you are not exactly sure that you will make it to the water or not. The shirts serve as sun protection, and are ready for fun in the water if needed.
Which came first the rash guard or the boogie board?
Bodyboarding is a water sport in which the surfer rides a bodyboard on the crest, face, and curl of a wave which is carrying the surfer towards the shore. Bodyboarding is also referred to as Boogieboarding due to the invention of the "Boogie Board" by Tom Morey. In 1971 Tom invented the bodyboard, called in those days a Boogie Board after his love of music. The average bodyboarding consists of a short, rectangular piece of hydrodynamic foam.
As a child living by the shore and growing up in the 1970's, I know from experience that a rash guard would be very helpful when riding a breaking wave on a boogie board. I don't remember ever having a swim shirt or rash guard in the 1970's. Also, I don't remember my friends having them either. If memory serves, as our stomachs and chests became irritated by the boards, we started to wear t-shirts in the water. Either our mothers were being too cheap to buy us rash guards or they did not exist at the time. Honestly, I am not sure which. Do you know when rash guards were intended?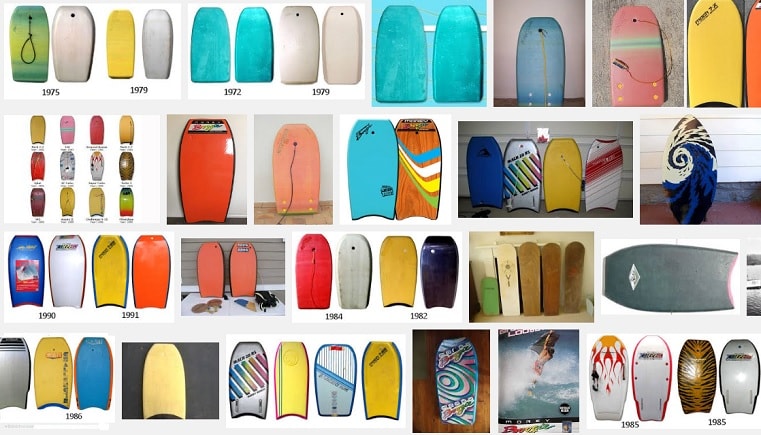 By the way, the boogie boards from the 1970's would often snap in half in the waves. And those were the small waves from the East Coast. The boards have improved over the years.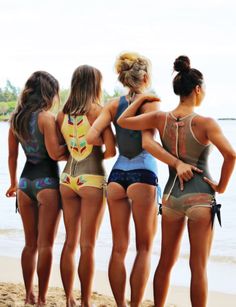 Below are a few places to possibly find rashguards.
Body Glove (Southern California) - Body Glove's history of innovation and love of the ocean challenges the company to make products fitting the needs of every waterman and waterwoman.
Birdwell Beach Britches (Southern California) - Founded in 1961 and based in Santa Ana, CA, Birdwell continues to hand-make high-quality boardshorts and other purpose-built apparel with roots in the surf.
Hurley - Hurley is an American multinational corporation that is engaged in the design, development, manufacturing, worldwide marketing and selling of surf apparel and accessories. The company is headquartered in Costa Mesa, California. Since 2002, Hurley has been owned by Nike, Inc.
Kanvas by Katin (Southern California) - Kanvas By Katin, founded in 1959, is located in Surfside, California and is one of the oldest surf shops in California. In the late 1950s, Nancy and Walter Katin were in the business of making canvas boat covers. Yet one day a young Corky Carroll came into the Katin's shop in Surfside, California, complaining of the difficulty in finding a pair of swim shorts durable enough to stand up to the then-new pastime of surfboard riding. Walter used his sewing machine and some of the sturdy boat canvas previously used for boat covers and created the first pair of Kanvas by Katin surf trunks.
Killer Dana (Southern California) - Featuring surf shirts, shorts, board shorts, trunks, jackets, hats and other surfing accessories.
O'Neill (Santa Cruz, California) - O'Neill Boardshorts and clothing from official US store, featuring the world famous O'Neill Hyperfreak and Superfreak Board Shorts.
Volcom (Southern California) - Find skate, swimwear, snowboarding clothes & more at Volcom - a creative modern lifestyle brand.
Billabong (Australia) - Sports wear and casual clothing manufacturer. Pro-active site takes a while to load, but is full of quality action movies about surf and snow board riding.
Quiksilver (Australia) - The World's leader in Surf & Snowboard Clothing, Outerwear & Accessories Since 1969.
Rip Curl (Australia) - Rip Curl is a major Australian designer, manufacturer, and retailer of surfing sportswear and accompanying products, and a major athletic sponsor. Rip Curl has become one of the largest board wear brands in Australia, Europe and South America, and is also active in North America and South Africa.
Ocean & Earth (Australia) - Ocean & Earth Mens & Ladies quality surf fashion reflecting, the waves we surf, the places we travel, the music we listen to and the art that inspires us.
Dunstan Surfwear (Sri Lanka) - At Dunstan Surfwear we create the most comfortable, handcrafted, customized board shorts and deliver them anywhere in the world.
What is the difference between a rash guard and swim shirt?
You may want to also review our swimwear products page.
Fashion Products Fashion Products M-R Fashion Products R
Return to the Influence Fashion home page.

Copyright 1999-2022 Apparel Search Company. All Rights Reserved.