Swimwear
Swimwear is clothing that has been designed and manufacturers to be used for swimming but can also be worn for simply hanging out by the water. Swimwear, swimsuits, and bathingsuits, are basically all the same type of clothes. We will get a little more into various names for this garment below. There is a very wide range of styles of modern swimsuits available, which vary as to body coverage and materials. The choice of style may depend on community standards of modesty, as well as current fashions and personal preferences.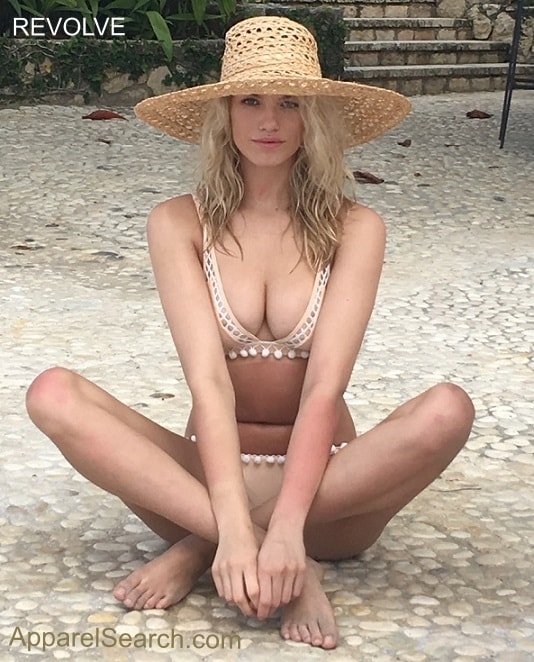 In western culture, men's swimsuit styles include boardshorts, jammers, swim trunks, briefs or "speedos", thongs, and g-strings, in order of decreasing lower body coverage. Women's swimsuits are generally described as one-piece, bikinis, or thongs (the thong category includes g-strings as well).
Swimwear Styles
While swimsuit design goes through many trends in pattern, length, fabircation, and cut there is not much modification to the original variety of suit. We are not saying that there is no experimentation, but the basic garment silhouettes remain rather consistant. Their are many differnt types of women's swimwear including the follow style options to name a few:
One-piece swimwear - Probably the most common form of one-piece swimsuit, the tank suit form is the inspiration for the tank top as a mainstream article of clothing. The name "tank suit" is also supposed to be derived from the term "swimming tank", an obsolete term for what is now called a swimming pool.
Bikini - One piece covers the breasts, the other the groin and buttocks, leaving an uncovered area between the two. Bikinis are available in stylistic variations.
Skirtini - A skirtini is a normal bikini top that is accompanied by a skirt on the lower half, built into the brief (bottom section of the swimsuit). Skirtinis are fun, feminine, and offer slightly more coverage on the upper thigh area.
Tankini - Tankinis are a newer addition to the world of swimwear, the tankini is a good compromise between a full swimsuit and a bikini. It comes as a two-piece, with briefs and a vest-type top, often with integral cups for the wearers bust. They come in a variety of style options. You may also lift the bottom part of the vest up to tan your midriff, something that is impossible with some other swimsuits.
Thong - The thong is a type of garment generally worn as either underwear or as swimwear. Viewed from the front, the thong typically resembles a bikini bottom, but at the back the material is reduced.
Halter Neck - Halter neck bikinis and halter neck swimsuits are derived from the German word 'Holder', which is a top, dress, or piece of swimwear that has straps which tie around the back of the neck, rather than over the shoulders, leaving the arms, shoulders and back uncovered.
Moulded Swimwear - A moulded cup bikini is part way between a soft cup and a padded cup. The material has a thin layer of padding built in, meaning that it can hold its own shape, but doesn't add too much fullness to your bust.
Men's swimwear includes the following styles:
Board Shorts - Boardshorts are a longer version of trunks that come to or past the knee. They usually have a non-elastic waistband, and will give a tight fit around the torso. Boardshorts were originally developed for various "board sports" such as surfing, paddleboarding, Wakeboarding. The looser fitting design provided less material that could catch as one mounted their board.
Rash Guard (rash vest, surf shirt, rashie) - A type of athletic shirt made of spandex and nylon or polyester. Rash guards may be worn as an alternative to wetsuits during warmer weather. They may also offer UV protection.
Racing Swimsuits - Swimsuits made of technologically advanced fabrics biomimetically designed with a surface that mimics the rough shark denticles to reduce drag along key areas of the body. The characteristics of the fabric improve shape retention and increase muscle compression to reduce vibration and retain muscle shape to reduce fatigue and power loss. Available in a variety of cuts such as bodyskin, legskin and kneeskin.
Fundoshi
Wetsuit or Dry Suits - Wetsuits and drysuits are insulated, close fitting suits designed for prolonged immersion, usually in the context of snorkeling, scuba diving, or surfing, and other water boardsports. Made from neoprene, they come in different thicknesses and styles depending on your interests.
Swimming trunks are a pair of shorts or briefs worn for swimming or bathing.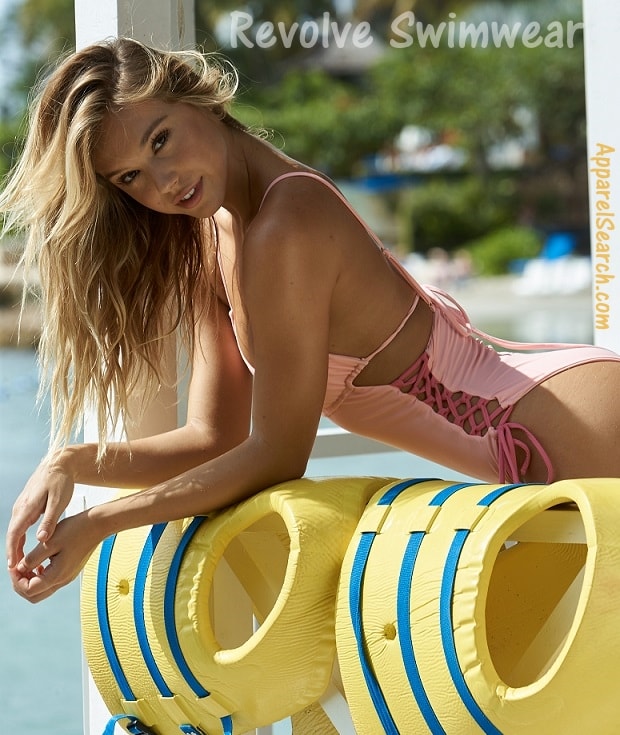 Swimwear Fabrics
Swimwear has been made out of just about every material known. Some are obviously more appropriate for swiming than others.
Rayon was used in the 1920s in the manufacture of tight-fitting swimsuits. The durability when when wet had proved to be a bit problematic. Cotton jersey and silk was also being used for swimsuits.
In the 1930s, new materials were being developed and utilized in the swimwear market. Most importantly was latex and nylon, and swimsuits gradually began hugging the body. As you may have heard some people are allergic to latex.
The fabrics and other materials used to make bikinis and other types of swimsuits are an essential element of their style and crucial modifiers of swimsuit design. Women's bathingsuit fabric may be appropriate to be form fitting so that certain elements of the body don't fall out of place, and other swimsuits for men or women worn for certain activities may be looser fabrics.
The use of cotton made the swimsuit more practical, and the increased reliance on stretch fabric after 1960 simplified construction; alternative swimwear fabrics such as velvet, leather, and crocheted squares surfaced in the early 1970s. Crochet, lace, PVC, raffia, fur, latex, velvet and other uncommon items are also used as bikini material (some of which more appropriate for staying on the beach and not going in the water).
Modern bikinis were first made of cotton jersey. Today bikinis are made with mostly made with treated fabric, having been stretched over a plastic mold, then baked in order to set its shape and create bikini brassieres. They are usually lined with fabric which is designed to stop them becoming transparent when wet. The use of cotton made the swimsuit more practical, and the increased reliance on stretch fabric after 1960 simplified construction; alternative swimwear fabrics such as velvet, leather, and crocheted squares surfaced in the early 1970s.
The stretch nylon bikini briefs and bras which complemented the adolescent boutique fashions of the 1960s also allowed those to be minimal. Women on the beaches of Rio de Janeiro and Saint-Tropez went even further, forgoing all rear-view coverage to show off their thongs.
When DuPont introduced Lycra (DuPont's name for spandex) in the 1960s,[99] a stretch fiber that allowed them to stitch tinier pieces of fabric, it completely changed how suits were designed and who could wear them. Spandex expanded the range of novelty fabrics available to designers which meant suits could be made to fit like a second skin without heavy linings streamlined athletic styles, emphasizing high-tech fabrics and finishes.
By the 2010s, a number of manufacturers came up with environmental friendly bikinis that used organic cotton, organic bamboo fibers, fabric remnants, post consumer plastic including soda bottles, discarded fishnet, recycled nylon, even soy (all of which used eco-friendly dyes).
Swimwear Summary:
Swimwear is clothing designed to be worn by people engaging in a water-based activity or water sports, such as swimming, diving and surfing, or sun-orientated activities, such as sun bathing. Different types may be worn by men, women, and children. Swimwear is described by a number of names, some of which are used only in particular locations, including swimsuit, bathing suit, swimming costume, bathing costume, swimming suit, swimmers, bathers, cossie (short for "costume"), or swimming trunks for men, are only a few. In New Zealand English and some areas of Australian English, swimsuits are often called togs.
Many uses of a swimsuit:
A swimsuit can be worn as an undergarment in sports that require a wetsuit such as water skiing, scuba diving, surfing, and wakeboarding. Swimsuits may also be worn to display the wearer's physical attributes, as in the case of beauty pageants or bodybuilding contests, and glamour photography and magazines like the annual Sports Illustrated Swimsuit Issue feature models and sports personalities in swimsuits.
Learn about spring fashion & summer fashion.
If you are planning on doing water sports such as boogieboarding or surfing, you may want to learn about swimshirt & rash guard options.
Fashion Products Fashion Products S-Z Fashion Products S
---
Return to the Influence Fashion home page.

Copyright 1999-2022 Apparel Search Company. All Rights Reserved.