Swim Shirts
What is the difference between a swim shirt and rash guard?
Swim shirts are very similar to rash guards. In fact, it is very possible that they are the same thing. If you are looking for a difference, we would say that swim shirts may have a looser fit than traditional rash guards. However, it is important to keep in mind that a swim shirt that is loose or tight can still serve as a rash guard. And a rash guard that is loose or tight can also be a swim shirt.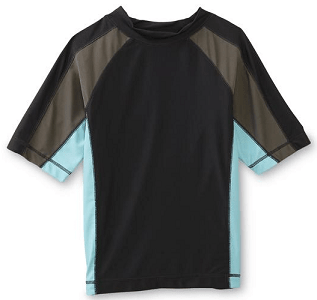 Swim shirts cut down on the need to apply sunscreen or sunblock on your torso. They are popular among vacationers and sport enthusiasts alike and can be used for water activities as well as outdoor activities on land.
Rash Guards are tight fitting athletic shirts made primarily for water sports. They can also be utilized for activities such as judo or other sports when a person's skin comes in contact with a mat or other material that can cause irritation to the skin. The water sport rash guard is typically made from textile fibers such as Lycra and Nylon. This provides stretch and other positive attributes. The primary goal of the rash guard is to protect the user from rashes developed through various water sports activities. For example, protects the skin of a surfer when paddling on a surfboard. They also have a built in UV protection that helps guard the skin from the sun. The rash guard shirts materials are generally light weight with excellent wicking properties. Rash guards are thought to have originated in Australia and at first mainly used by surfers & boogieboarders.
In recent years, the rash guard has evolved and has gained popularity due to its ability to provide sun protection. As more Americans discovered this sun protective swimwear, many folks were a little put off by the "skin tight" rashguard sizing and style. Consumers wanted looser styles that fit more like t-shirts but still had the quick drying, stretchy, breathable, sun protective fabric. The consumer desire for comfort and sun protection, helped the development & growth of a new category of swimwear. The swim shirt was born.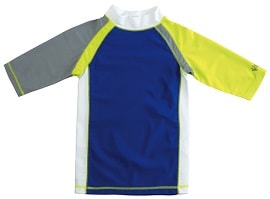 Swim shirts are an evolution of rash guards and have gained an astonishing growth rate in popularity. Swim shirts are usually more loose fitting and for some more comfortable than the traditional rash guards.
Swim shirts come in both long and short sleeve styles. They are available for men, women & kids. Some swim shirts are made with bright colors to make the wearer easy to spot if out in the ocean and the fabric is breathable, quick drying and stretchy.
In addition to protecting surfers from surfboard wax, sand, UV rays, and possibly some jelly fish, swim shirts can also provide emotional support in some ways. A swim shirt works as a fantastic cover up if you don't feel comfortable in just a swim suit or swim trunks. In other words, for those of us that don't have a rock hard six pack of abs on our stomach, the swim shirt is a nice way to cover up our excess weight. Sure, it is not an absolute fix, but some of us feel better with some of our flab covered up. At the same time, we benefit from the sun blocking properties of the swim top.
Put on a swim shirt, and go surfing, swimming, paddle boarding, or snorkeling with the confidence that you are not going to get fried by the sun. You can also play sports such as tennis, golfing, and beach volleyball in this type of top. If you prefer to you can relax with a day of sailing or simply lounge by the pool or at the beach.
Why is a swim shirt better than swimming in a t-shirt?
A shirt that is specifically designed to be a swim shirt will typically provide better sun protection for various reasons. In addition, they will hold onto less water which is very important. If a cotton t-shirt soaks up water it becomes more heavy. You don't want your clothing to be holding onto extra weight when you are in the water if you enjoy breathing comfortably. Also typical t-shirts become heavy, bulky and uncomfortable when soaking wet.
The rash shirts were designed to be skin tight so that they wouldn't float up or get in the way of surfing activities like bulky, wet t-shirts.
More about the Sun Protection
In general clothing is sun protective. UV apparel and clothes that is marketed as "sun protective clothing" typically would have more sun protective properties.
Swim shirt are tops worn by men, women, and children to help limit the exposer to the sun.
Both swim shirts and their tighter counterpart the rash guard, often provide excellent sun protection. However, it is important to note that they are not all created equal. Some fabrics will provide more protection than others. It is important to read the labeling and garment packaging carefully to determine the protective properties. Even if two shirts come from the same company or brand, they can have different levels of sun protection. If you are concerned about the harmful rays of the sun, look for a rash guard or swim shirt sun protection shirt that has been UV tested and rated 50+UPF for both wet and dry. Make sure to still use sun screen or sun block on the parts of the body that are not covered by your sun protection shirt. If you are very concern about blocking UV, it is generally OK to also wear sun block under the garment. However, it is potentially possible that the lotion could have a negative effect on the fabric.
If you are looking for sun protection, you may want to also learn more about sun hats.
When making your purchasing decision take into account the quality of construction & style of the swim shirts. In addition to providing sun protection, they can also enhance your appearance. You want the shirt to be comfortable, durable, preferably match your other beach attire. Fashionistas enjoy sun protection, but we also like to stay stylish in all situations.

You may want to learn more about swimwear on our swimwear product page.
Fashion Products Fashion Products S-Z Fashion Products S
---
Return to the Influence Fashion home page.

Copyright 1999-2022 Apparel Search Company. All Rights Reserved.