Hawaiian Shirts
A Hawaiian shirt is a short-sleeved, loose-fitting, open-collar shirt originally worn in Hawaii, made of lightweight fabric printed in colorful, often bold designs of flowers, leaves, birds, beaches, and other tropical island themes.
Hawaii is the 50th and most recent state of the United States of America, receiving statehood on August 21, 1959. Hawaii is the only U.S. state located in Oceania and the only one composed entirely of islands. Hawaii is the only U.S. state not located in the Americas. Hawaii's diverse natural scenery, warm tropical climate, abundance of public beaches, oceanic surroundings, and active volcanoes make it a popular destination for tourists, surfers, biologists, and volcanologists. More important than all of that, Hawaii is famously stylish for their Hawaiian shirts for men, women, and children.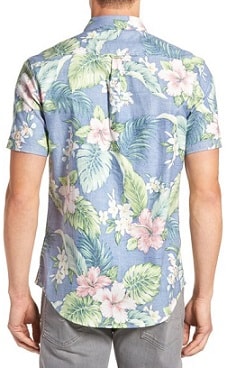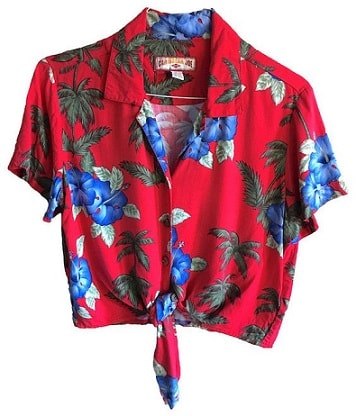 The Hawaiian shirt which is more officially called an Aloha shirt, is a style of dress shirt originating in Hawaii.
What is a Hawaiian shirt?
The dress shirts are printed, mostly short-sleeved, and collared. The design work is primarily tropical theme prints. They usually have buttons, sometimes for the entire length of the dress shirt, and sometimes just down to the chest (pullover). Aloha dress shirts usually have a left chest pocket sewn in, often with attention to ensure the printed pattern remains continuous. Aloha shirts may be worn by men or women; women's aloha shirts usually have a lower-cut, v-neck style. The lower hem is straight, as the shirts are not meant to be tucked in.
Aloha shirts exported to the mainland United States and elsewhere are called Hawaiian shirts and often brilliantly colored with floral patterns or generic Polynesian motifs and are worn as casual, informal wear. In regard to Hawaiian exports, the Aloha shirt is among the leading apparel exports. In addition to wholesaling the garments to retailers in the other states of the country, many shirts are sold directly to tourists that visit the beautiful islands on holiday.

Do Hawaiian's wear the same aloha shirts as tourists?
Traditional men's aloha shirts manufactured for local Hawaiian residents are usually adorned with traditional Hawaiian quilt designs, tapa designs, and simple floral patterns in more muted colors. Contemporary aloha shirts may have prints that do not feature any traditional Hawaiian quilt or floral designs and instead may have such elements as automobiles, drinks, sports team logos, or other elements arranged in the same pattern as a traditional aloha shirt.
Aloha shirts manufactured for local wear are considered formal wear in business and government, and thus are regarded as equivalent to a shirt, coat, and tie in all but the most formal of settings.
Malihini (newcomers living on the islands) and tourists (visiting the islands) often wear designs of many bright colors while Kamaʻāina (or those who have been living in the islands for a long time) seem to prefer less busy patterns. However, this is obviously subjective and depends on who you ask. Clearly people that have lived on the islands for a long time may also wear the bright bold colors as well.
The aloha shirts often are printed on the interior, resulting in the muted color on the exterior, and are called "reverse print". For those not familiar, it may appear to be a defect in manufacturing as the shirt appears to be sewn together inside-out.
History of the modern Hawaiian shirt style:
The modern Aloha shirt was devised in the early 1930s by Chinese merchant Ellery Chun of King-Smith Clothiers and Dry Goods, a store in Waikiki. The first advertisement in the Honolulu Advertiser for Chun's Aloha shirt was published on June 28, 1935. Local residents, especially surfers, and tourists are said to have descended on Chun's store and bought out every shirt he had. Within years, major designer labels sprung up all over Hawaii and began manufacturing and selling Aloha shirts in more significant quantities.
After World War II, many servicemen and servicewomen returned to the United States from Asia and the Pacific islands with aloha shirts made in Hawaii since the 1930s. Tourists began flocking to Hawaii in the 1950s as faster airplanes allowed for easier travel and the former U.S. territory became a state in 1959.
Alfred Shaheen, a textile manufacturer, revolutionized the garment industry in postwar Hawaii by designing, printing and producing aloha shirts and other ready-to-wear items under one roof. The tropical-print shirts for men and sundresses for women became standard.
Is it geographically irresponsible to wear Hawaiian shirts with Bermuda shorts?
If you wish to shop for this style of top, you may want to check the Hawaiian shirt stores in our retailer directory.
Are you traveling to Hawaii for vacation or possibly business? Or maybe you actually are super smart and decided to move to Hawaii but have not yet been their. If you are planning on traveling, you may want to pack your favorite novelty shirt, but you will also need other clothing suitable for travel. Learn more about travel clothing for your next trip. It is always a good idea to pack the best travel clothing if you are getting on a flight or cruise ship.
You may also want to learn about novelty t-shirts.
The "Surfs up", time to take off the novelty shirt and toss on some board shorts and a rash guard.
Fashion Products Fashion Products G-L Fashion Products H
---
Return to the Influence Fashion home page.

Copyright 1999-2017
Apparel Search Company. All Rights Reserved.