Jeans are a necessity for every women's wardrobe. Jean pants are sturdy trousers made of denim or other cotton fabric (most commonly denim or dungaree). Women's jeans are common casualwear for informal events or activities.
Prior to the Levi Strauss patented trousers, the term "blue jeans" had been long in use for various garments (including trousers, overalls, and coats), constructed from blue-colored denim. "Blue jeans", which were invented by Jacob W. Davis in partnership with Levi Strauss & Co. in 1871 and patented by Jacob W. Davis and Levi Strauss on May 20, 1873.
What is hot in denim? STRETCH. It is no secret that new stretch fabric is mixing up the denim scene. If you have not tried stretch denim, you don't know what you are missing.
Learn more about women's jeans in our fashion influence section.
Color matters when you are trying to be trendy. Here are a few colors of possible interest:
Check Jean Shorts.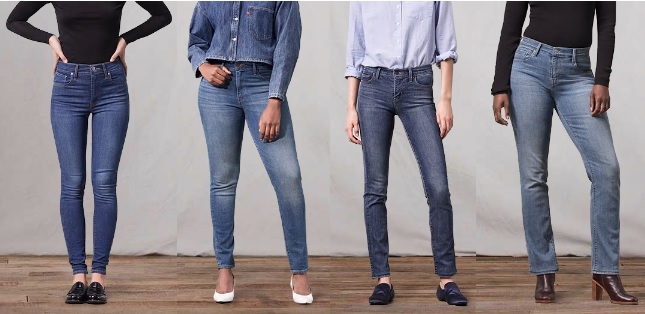 Have you seen our Fashion Designer Directory section?
Apparel Search is a leading guide to fashion, style, clothing, glam and all things relevant to apparel. We hope that you find this Women's Jeans page to be helpful.

What ever you are wearing, is in fashion.
Levis History of Women's Jeans
Learn more about Blue Jeans for women.
Learn about mom jeans in our fashion terminology section.
If you want to be even more stylish, you should wear your Women's Jeans.
Read fashion blog posts about jeans.