Are you actually looking for ladies designer jeans? Well, we hope you are because the reality is that you have found our page on the topic. In this women's clothing section of the Apparel Search directory, you will find all sorts of interesting information regarding designer jeans for women.
Welcome to the worlds greatest guide to Women's Designer Jeans.
Jeans are a type of pant which is most commonly produced from denim or dungaree fabric. Fashion design is the art of applying design, aesthetics and natural beauty to clothing and its accessories. Fashion designers often have premium quality jeans in their collection. Ladies jean designers conduct research on fashion trends and interpret them for their audience. In addition to watching consumer trends, premium denim designers research distressed looks, dyeing technologies, color options, etc. with textile designers. They work to develop new trends as well as stay on top of existing ones.
You will find that jeans come in a wide variety of silhouettes, colors, and sizes. Truly a broad variety of options.
Women's Bell Bottom Jeans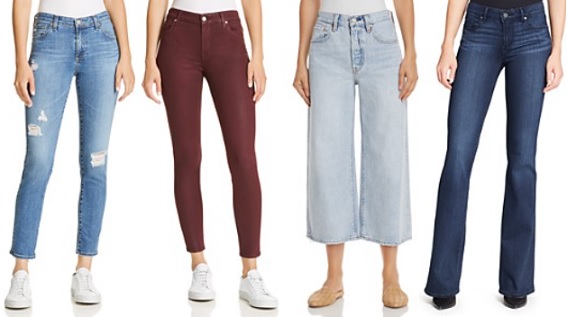 Often the term "jeans" refers to a particular style of trousers, called "blue jeans", which were invented by Jacob W. Davis in partnership with Levi Strauss & Co. in 1871.
Originally designed for cowboys and miners, jeans became popular in the 1950's among teenagers. The rest is history. Now, almost everyone has at least one pair of jeans in their wardrobe.
Women's denim jeans were a common fashion item in the 1960s hippie subculture and they continued to be popular in the 1970s and 1980s youth subcultures of punk rock and heavy metal. Nowadays, they are one of the most popular types of casual trouser.
Denim is the most common fabric for manufacturing designer jeans. It is a sturdy cotton warp-faced textile in which the weft passes under two or more warp threads. This twill weaving produces a diagonal ribbing. The most common denim is indigo denim, in which the warp thread is dyed, while the weft thread is left white. As a result of the warp-faced twill weaving, one side of the textile is dominated by the blue warp threads and the other side is dominated by the white weft threads. This causes blue jeans to be white on the inside. The indigo dyeing process, in which the core of the warp threads remains white, creates denim's signature fading characteristics.
Apparel Search is a leading guide to fashion, style, clothing, glam and all things relevant to apparel. We hope that you find this designer jean page to be helpful.
What ever type of pant you are wearing is in fashion because you are wearing them. If you want to be even more stylish, you should wear your favorite designer jeans today.
If you are not only interested in designer brand jeans, you can also check the women's jeans section for additional choices.
Have you seen our Fashion Designer Directory section?
Learn about other types of women's designer pants.

Thank you for using the Apparel Search website.