Welcome to the worlds greatest guide to Women's Denim Designer Jeans.
Are you looking for stylish, bold and fearless. Trendy designer denim jeans may be what you are looking for. Jeans are a type of trousers, typically made from denim. Designer jeans often have the name of a fashion designer, but they can also be a popular brand name.
When the economy is doing well, premium denim has been a fast growing category of the apparel business. When premium denim jeans first become popular there seemed to be no limit to what customers would pay for the latest label, fit, finish, or wash.
Like all fashion trends, designer denim has its peaks and valleys. However, you can pretty much always find a popular denim jeans brand that is hot in the market.
Designer clothing is not always created by the founder of the company. The quality of the clothing and degree of its resemblance, if any, to the designer's work vary considerably depending on the licensee and the terms of the agreement the designer has struck.
Learn more about designer jeans in our fashion influence section.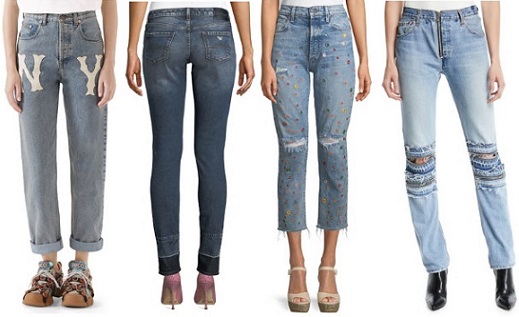 Learn about some of the popular women's jean colors.
Apparel Search is a leading guide to fashion, style, clothing, glam and all things relevant to apparel. We hope that you find this Women's Denim Designer Jeans page to be helpful.
What ever you are wearing, is in fashion.
If you want to be even more stylish, you should wear your favorite pants today.
Have you seen our Fashion Designer Directory section? Great place to learn more about popular brands.

Thank you for using the Apparel Search website.