Mom jeans is a humorously pejorative (disparaging) term for a specific type of fit of women's jeans, considered to be both unfashionable, and unflattering to the wearer's figure.
This style usually consists of a high waist (rising above the belly button), making the buttocks appear disproportionately longer, larger, and flatter than they otherwise might.
Mom jeans also to have excess space in the zipper/crotch and leg areas. The jeans are usually in a solid, light-blue color, with no form of stone washing or fading. Other attributes of the style often seen are pleats, tapered legs, and elastic waistbands. The style is often accompanied by a blouse or shirt that is tucked into the jeans. This style of jeans was popular with women in the United States until the mid-1990s, when lower rise jeans started to become fashionable.
The term gained greater prominence after a May 2003 Saturday Night Live skit for a fake brand of jeans called Mom Jeans, which used the tagline "For this Mother's Day, don't give Mom that bottle of perfume. Give her something that says, 'I'm not a woman anymore...I'm a mom!'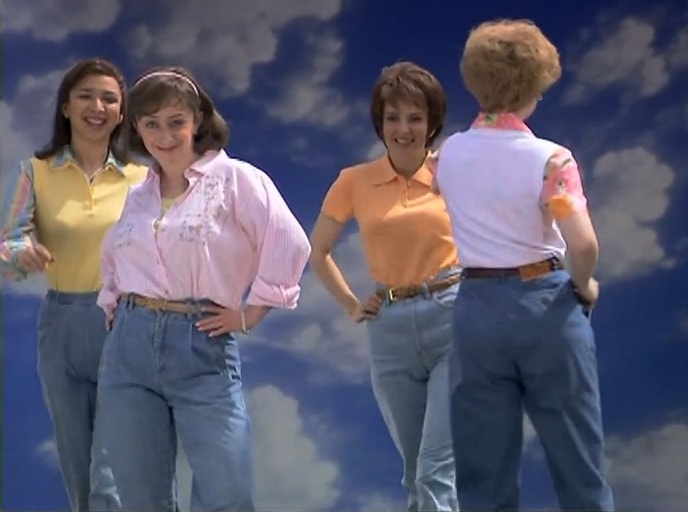 In this commercial, mothers (Rachel Dratch, Tina Fey, Maya Rudolph, Amy Poehler) wear Mom Jeans, a brand of jeans exclusively designed to fit a mom's body, even the least active moms. [Season 28, May 10, 2003]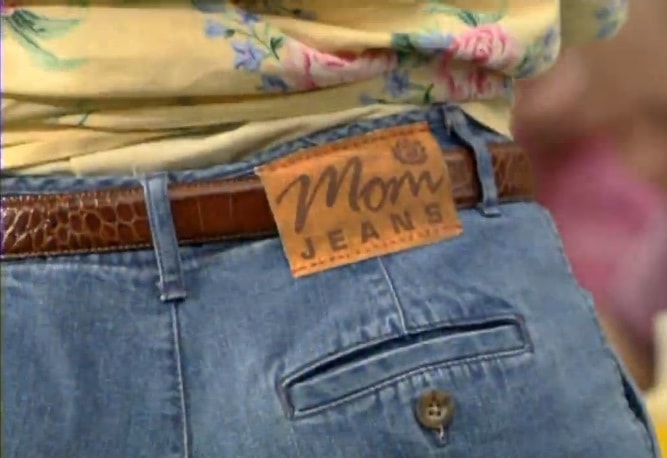 Learn more about Saturday Night Live.
Mom Jeans are definitely jeans that only a mom can love.
Learn more about jeans by reading blog posts about jeans on the Apparel Search fashion blog.
You may want to get a pair of granny panties if you wear mom jeans.
Now that you know everything in the world about mom jeans, maybe it would be a good time to learn a bit about boyfriend jeans.
Thank you for using the Apparel Search website.