You don't need to borrow from your boyfriend anymore (in fact, you may not need a boyfriend anymore at all); you can get your own boyfriend jeans that are specifically made for women.
What are boyfriend jeans?
Boyfriend fashion was originated by the concept of women borrowing and wearing their boyfriend's clothes. A prime example was wearing his distressed jeans which fit in a baggy manner. The trend expanded when many brands such as Gap, Forever 21, and H&M to name a few began to create boyfriend fashion products or men's-inspired fashion for women. The key to the concept is that the garments maintain the look of being men's jeans, but they are made specifically for women. Although they may be baggy, they are still cut to better fit a women's body.
Boyfriend jeans originated from women wearing men's jeans, but is now women's jeans that look like they were made for men.
Boyfriend jeans for women are a very popular item, and can very possibly become the most comfortable jeans that you can wear. They are trendy and depending on who you ask, they can be considered to be attractive. This style of women's jeans are available in a myriad of colors, styles, and washes. They are offered in traditional and destructed designs. Even though these jeans are inspired by men's fashion, you do not have to go to his closet to find the style. You can find plenty of pairs that will suit your style and body type.

You can shop for boyfriend jeans at many different retail locations. Nordstrom, the GAP and other fine retailers often carry this style of jean.
Many brands design and market boyfriend jeans for women. Citizens of Humanity 'Emerson' Slim Boyfriend Jeans (Blue Ridge) which was available at Nordstrom in early 2016 is a pair that is a good example of this type of jean. Whiskered and weathered denim adds well-loved dimension to these easy cropped jeans cut in a slightly slouchy boyfriend-style silhouette (pictured below as example of boyfriend jeans front view and back view).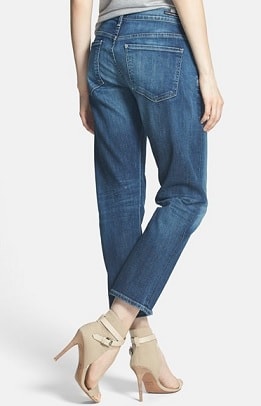 You can look casual and very feminine in the women's boyfriend jeans style. They can be worn with casual shoes or elegant high heels.
Fashion Tip for Petites: Be cautious with boyfriend jeans. If you are rather short, they can possibly make your legs look wider. Not the most flattering choice.
In fashion design, boyfriend fashion is any style of women's clothing that was modified from a corresponding men's garment. Examples include boyfriend jackets, boyfriend jeans, and boyfriend blazers, which are often more unisex or looser in appearance and fit than most women's jackets or trousers, though still designed for the female form.
The next time someone asks you, "what are boyfriend jeans?", we hope that definition helps you give them a good answer.
You may also be interested in learning about boyfriend boots here in our fashion terms section.
Would you rather wear boyfriend jeans or mom jeans?
ML13016
Now that you understand the meaning of boyfriend jeans, it might be a good time to learn more about mom jeans (and why you should not wear them).