Apparel Search is a leading guide to fashion, style, clothing, glam and all things relevant to apparel. We hope that you find this Women's Madras Pants page to be helpful.
Madras fabric has a check pattern of modified stripes consisting of crossed horizontal and vertical lines forming squares. Women's madras pants can be either long or short pants produced with madras fabric.
Madras is a strong, fine-textured cotton fabric, typically patterned with colorful stripes or checks. Madras today is available as plaid patterns in regular cotton, seersucker and as patchwork madras, meaning cutting several madras plaid fabrics into squares or rectangles and sewing them back together to form a mixed pattern of various plaids.
Authentic Indian Madras is completely handwoven from yarns dyed with native vegetable colorings. Home-spun by native weavers, no two plaids are exactly the same. When washed with mild soap in warm water, they are guaranteed to bleed and blend together into distinctively muted and subdued colorings.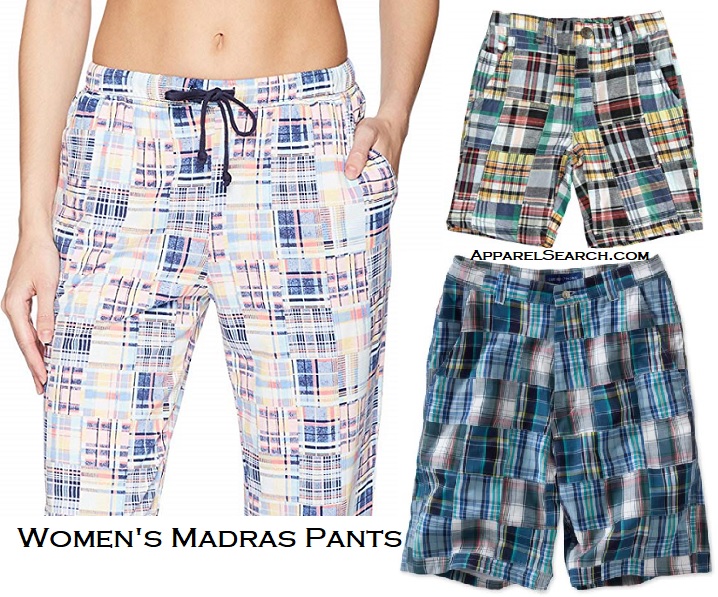 Pants are garments for the lower part of the body that cover both legs separately with a material such as madras fabric.
What ever style of pant you are wearing, is in fashion.
If you want to be even more stylish, you should wear your Women's Madras Pants.

Learn about the benefits of cotton.
Have you seen our Fashion Designer Directory section?
Return to the top of this Madras Pants page.