Sports Bras
Sports bras are a type of fitness top. They are not technically shirts because they are designed to be work as a bra which is worn to provide support. Although bras are primarily designed as undergarments, this type of bra is often worn as innerwear or outerwear (under another shirt or exposed).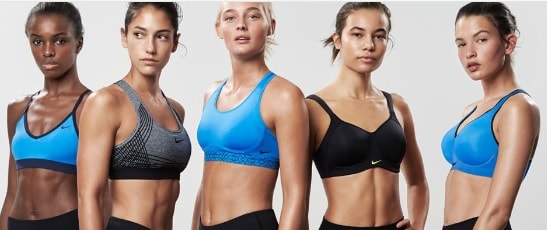 A bra or brassiere is a form-fitting undergarment designed to support a woman's breasts. A sports bra is a bra that provides additional support to female breasts during physical exercise. A good manufacturer also takes comfort to be an important aspect of the design and manufacturing process. Sturdier than typical bras, they minimize breast movement, alleviate discomfort, and reduce potential damage to chest ligaments. Many women wear sports bras to reduce pain, and physical discomfort caused by breast movement during exercise. Some sports bras are designed to be worn as outerwear during exercise such as jogging.
Sports bras are also sometimes referenced as jogbras, fitness tops, excercise bras, and a few other words and terminology.
History of the Sports Bra:
The first commercially available sports bra was the "Free Swing Tennis Bra" introduced by Glamorise Foundations, Inc. in 1975. The first general exercise bra, initially called a "jockbra", was invented in 1977 by Lisa Lindahl and theater costume designer Polly Smith with the help of Smith's assistant, Hinda Schreiber. Lindahl's sister, Victoria Woodrow, complained about her bad experience exercising in ordinary bras, having experienced runaway straps, chafing and sore breasts. During the course of Lindahl and Smith's exploration for a better alternative, Lindahl's husband suggested that what they needed was a jockstrap for women's breasts. In the costume shop of Royall Tyler Theatre at the University of Vermont, Lindahl and Smith actually sewed two jockstraps together and nicknamed it a "jockbra". It was later renamed a "jogbra".
In 1990 Playtex purchased Jogbra from Lisa and her partners.
Sports bras can either encapsulate or compress breasts. Bras that encapsulate breasts have molded cups, while compression-type bras restrict movement by flattening the breasts. Learn more about compression tops.
Popular styles of sports bra:
One of the most common sports bra styles is basically designed like a tank top with the bottom half cut off. A stitchless bra was made by Wacoal, was molded, compressed, and shaped. This helped add comfort by avoiding possible ruff stitches being compressed against the body.
A compressed bra is designed to push the breasts against the chest to reduce movement and bounce. Other bras are knitted in circular patterns, giving varying stretch and support. A common design uses a stretchable, absorbent fabric such as Lycra designed to reduce irritation by drawing perspiration away from the skin (this is the process of wicking).
Learn more about sports bras for comfort and appeal on the Fashion Blog. You may want to also review the Books uplift sports bra article.
Different physical activities require different levels of breast control. Yoga, walking and gardening require only "light" control; bicycling, power walking and hiking require "moderate" control; tennis, soccer and jogging requires "firm" control; and running, intense workouts, boxing and horseback riding requires "maximum" control. Some female athletes are concerned that a sports bra may interfere with breathing. If you have too much tension on the rib cage or experience problems with breathing or any other severe discomfort, you should obvious consider a different top. The purpose of an excercise top is NOT to cause discomfort. Please make sure that you only wear ones that are properly fitting and properly designed for comfort and support. It is rarely a good idea to wear something that is "too" tight. As the wearer, you must learn to find the proper balance for your body.
Learn about various bra styles in our apparel glossary section.
You can find sports bras from many nationally recognized fashion brands and specialty retailers.
Sports Bras & Bra Tops for workouts can offer a bounce-free bliss. Discover your perfect fitting sports bra and you may have a new best friend on your quest for a superior level of fitness and style.
It is OK to look stylish while exercising.
Don't forget to view our fitness fashion and athletic fashion pages.
Learn more about tops for women & men.
Fashion Products Fashion Products S-Z Fashion Products S
---
Return to the Influence Fashion home page.

Copyright 1999-2023 Apparel Search Company. All Rights Reserved.