Bras
Do I really have to explain to you what bras are for?
A bra is a form-fitting undergarment designed to support a woman's breasts. Common styles include backless, balconette, convertible, shelf, full cup, demi-cup, minimizing, padded, plunge, posture, push-up, racerback, sheer, strapless, T-shirt, underwire, unlined and soft cup. Bras can enhance or minimize the size of breasts, create cleavage, and in the case of nursing bras, aid breast-feeding. Learn about various bra styles in our glossary section.

Bras are complex garments made of numerous parts. Fabric, clasps, pads, elastic, etc. As a matter of fact, a bra is one of the more complicated garments to manufacture. A typical design could have between 20 and 48 bra components, including the band, hooks, cups, lining, and straps.
The bra's main components are a chest band that wraps around the torso, two cups, and shoulder straps. The chest band is usually closed in the back by a hook and eye fastener, but may be fastened at the front. Sleep bras or athletic bras do not have fasteners and are pulled on over the head and breasts. The section between the cups is called a gore. The section under the armpit where the band joins the cups is called the "back wing".
Bra components, including the cup top and bottom (if seamed), the central, side and back panels, and straps, are cut to manufacturer's specifications. Many layers of fabric may be cut at the same time using computer-controlled lasers or bandsaw shearing devices. The pieces are assembled by piece workers using industrial sewing machines or automated machines. Coated metal hooks and eyes are sewn in by machine and heat processed or ironed into the back ends of the band and a tag or label is attached or printed onto the bra itself. The completed bras are folded (mechanically or manually), and packaged for shipment.
The chest band and cups, not the shoulder straps, are designed to support the weight of women's breasts. Strapless bras rely on an underwire and additional seaming and stiffening panels to support them. The shoulder straps of some sports bras cross over at the back to take the pressure off the shoulders when arms are raised. Manufacturers continually experiment with proprietary frame designs. For example, the Playtex "18-Hour Bra" model utilizes an M-Frame design.
Most come in 36 sizes; standards and methods of measurement vary widely and up to 85 per cent of women may be wearing the wrong size. The world's best-selling bra, as of 2005, was said to be the full-cup "Doreen" by Triumph International in size 36D.
What is a brassiere?
Brassiere is another name for the same product. The term brassiere was used by the Evening Herald in Syracuse, New York, in 1893. It gained wider acceptance in 1904 when the DeBevoise Company used it in their advertising copy—although the word is actually Norman French for a child's undershirt. The French refer to it as a soutien-gorge (literally, "breast-supporter"). It and other early versions resembled a camisole stiffened with boning.
When did women start wearing bras?
Wearing a garment to support the breasts may date back to ancient Greece. Women wore an apodesmos, later stēthodesmē, mastodesmos and mastodeton, all meaning "breast-band", a band of wool or linen that was wrapped across the breasts and tied or pinned at the back. Fragments of linen textiles found in East Tyrol in Austria dated to between 1440 and 1485 are believed to have been bras. Two of them had cups made from two pieces of linen sewn with fabric that extended to the bottom of the torso with a row of six eyelets for fastening with a lace or string. One had two shoulder straps and was decorated with lace in the cleavage.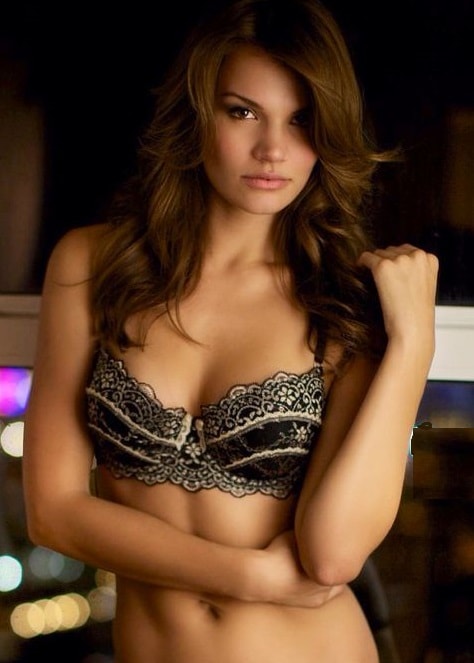 What about the bra cups?
Brassieres were initially manufactured by small production companies and supplied to retailers. The term "cup" was not used until 1916, and manufacturers relied on stretchable cups to accommodate different sized breasts. In October 1932, the S.H. Camp and Company correlated the size and pendulousness of breasts to letters A through D. Camp's advertising featured letter-labeled profiles of breasts in the February 1933 issue of Corset and Underwear Review. In 1937, Warner began to feature cup sizing in its products.
A high percentage of bras sold in the UK and US have underwired cups. The underwire is made of metal, plastic, or resin. Underwire is built around the perimeter of the cup where it attaches to the band, increasing its rigidity to improve support, lift, and separation.
Wirefree or softcup bras have additional seaming and internal reinforcement. T-shirt bras, utilize molded cups that eliminate seams and hide nipples. Others use padding or shaping materials to enhance bust size or cleavage.
Wouldn't it be a good idea for to have adjustable bands?
Adjustable bands were introduced using multiple hook and eye closures in the 1930s.
Why is it hard for some women to find a bra that fits properly?
Unfortunately, most bras are mass-produced and made to fit "standard" sizes. Using standard sizes is very complicated for trying to properly fit so many different body types, shapes, and sizes. Mass-produced bras are manufactured to fit a prototypical woman standing with both arms at her sides. The design assumes that both breasts are equally sized and symmetrical.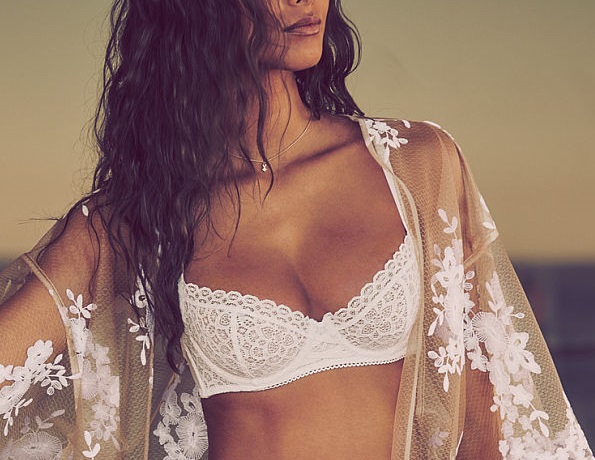 Size does matter when determining a bra to select:
Determining the correct bra size (also known as brassiere measurement or bust size) is the process manufacturers engage in to design and manufacture bras that correctly fit a majority of women, and for individual women, the process of identifying a correctly fitting bra. Bra sizes usually consist of one or more letters indicating the breast cup size and a number, indicating a band size around the individual's torso. Bra cup sizes were invented in 1932 and band sizes became popular in the 1940s. The shape, size, position, symmetry, spacing, firmness, and amount of sagging of individual women's breasts vary considerably. Manufacturers mass-produce bras as ready-to-wear garments and size them to fit standard, idealized, female torsos. Manufacturers' bra size labeling systems vary from country to country because no international standards exist.
In most countries, bras come in a band and cup size, such as 34C; 34 is the band width, which is the measurement directly underneath the breasts, and C is the cup size, which refers to the volume of the breasts. Most bras are offered in 36 sizes; the Triumph "Doreen" comes in 67 sizes, up to 46J. Bra cup size is relative to the band size, as the volume of a woman's breast changes with the dimension of her chest. A B cup on a 34 band is not the same size as a B cup on a 36 band. In countries that have adopted the European EN 13402 dress-size standard, the measurement is rounded to the nearest multiple of 5 centimetres (2.0 in).
Read more about bra measurements (Wikipedia).
What are the best bra fabrics?
Bras were originally made of linen, cotton broadcloth, and twill weaves and sewn using flat-felled or bias-tape seams. They are now made of a variety of fibers & materials, including Tricot, Spandex, Spanette, Latex, microfiber, silk, satin, Jacquard, foam, mesh, and lace, and otehrs which are generally blended in some fashion to achieve specific purposes. Spandex, a synthetic fiber with built-in "stretch memory", can be blended with cotton, polyester, or nylon. Mesh is a high-tech synthetic composed of ultra-fine filaments that are tightly knit for smoothness.
Do all women wear bras?
Obviously not. That is a rather silly question. Bras are not anatomically required to support breasts, but are worn in response to cultural influences. Bras are not worn around the world; in developing countries the cost of one may equal 10–30 hours of a woman's wages.
Swimsuits, camisoles, tank tops and backless dresses may be made with built-in support, but it is questionable if those would fall into the bra category. As a reminder, a bra is a form-fitting undergarment designed to support a woman's breasts. A tank top, swimsuit, backless dresses are not neccessarily undergarments.
What is a bustier?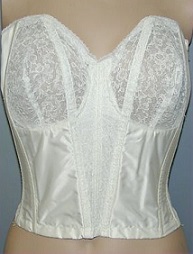 A bustier (alternately bustiere) is a form-fitting garment for women, which is traditionally worn as lingerie. Its primary purpose is to push up the bust by tightening against the upper midriff and forcing the breasts up, while gently shaping the waist. Nowadays, it might also be worn as a push-up bra under a low-backed dress, or as a camisole for outerwear. The bustier can also be worn as a half-slip under sheer upper garments if a bold display of the midriff is not desired. A bustier resembles a basque, but it is shorter. It reaches down only to the ribs or waist. Modern bustiers are often made with mesh panels rather than the traditional boning.
A bra is one of many types of lingerie.
Caution: A poorly fitted bra can cause back and neck pain.
Find bra retailers in our lingerie store section.
Suggested bra retailers:
Victoria's Secret - no need to explain to you the gloriousness of Victoria's Secret in regard to finding bras & underwear in a huge variety of shapes, colors, and sizes.
Bare Necessities - Shop over 200 of the world's best brands of bras, swimsuits, shapewear, panties & more. Over 33,000 customer reviews
Frederick's of Hollywood - Shop the world's sexiest selection of bras, panties, chemises and body stockings that turn your fantasies into reality.
Neiman Marcus - fine retailer selling all sorts of women's fashion including bras and other types of lingerie.
Bras have an influence on fashion and women that wear or don't wear bras influence most elements of mankind.
Fashion Products Fashion Products A-F Fashion Products B
Return to the Influence Fashion home page.

Copyright 1999-2022 Apparel Search Company. All Rights Reserved.