Don't forget to visit our new lingerie page to learn more about this product.
What is exotic Lingerie? The definition of "Exotic" and tips and ideas on choosing the right lingerie to wow him can be found by reading magazines, blog posts, and doing your own private investigation (conduct a case study).
Lingerie is not just for the guys, it's for the women too! As a woman, we want the very best undergarments out there. Some women want the hottest, sexiest little number that feels like melted butter next to the skin. And to top it off, most want it to slim the tummy, lift the tush and enhance the bust line! That's not asking for too much, is it?

Chemise styles have changed through out time and now have become sexier for the modern diva. Do you know the difference between a chemise and a cami?

When shopping for lingerie, you might get the butterflies in your stomach, but shopping for lingerie online or with your partner might ease your anxiety. Give it a try.
You may want to also visit our bra cases section for helpful travel ideas to keep your clothing in good shape.

Women's Underwear Stores - Lingerie Stores Directory

Bare Necessities: offers bras, panties, men's underwear, hosiery and sleepwear from100+ name brands. Their selection of over 2000 styles spans luxury designer fashions to everyday traditional styles and includes top brands like La Perla, Calvin Klein, Tommy Hilfiger, Puma, Dolce & Gabbana, Wacoal and Bali.
---

Calvin Klein: a wholly owned subsidiary of Phillips-Van Heusen Corporation [NYSE: PVH] and Calvin Klein Underwear, a division of The Warnaco Group Inc. Calvin Klein Women's.
---

Chrissy's Knee High Socks (Hosiery) : Huge variety of colors, styles and patterns. All socks at very affordable pricing. Offering worldwide shipping with free shipping available within the continental US Address 23205 Gratiot Ave Suite #364 Eastpointe, MI 48021 Phone 877-862-6267 E-mail info@kneehighsocks.org Contact: Chrissy
---

Curvysea Australia: Curvysea Plus Size Swimwear and Lingerie. Curvysea specializes in stylish and flattering plus size swimwear for full figured women. They offer quality plus size swimsuits, tankinis, swimdresses with unique Australian newest designs. Curvysea swimwear is flattering, appealing but not too revealing that makes a real size woman feel sexy and supported in all the right places! Their lingerie range is sexy, trendy and is specially made for full size divas. Address: P.O. Box 53 Moorebank NSW 1875 Australia Phone: +612 9730 2665 Fax: +612 9730 2665 Email: sales@curvysea.com Contact: Cindy Bui
Lingerie Retailer
Women's Swimwear Retailer
Plus Size Fashion Retailer
---

The Dain Shop: theirshoppe features an extensive collection of the most exquisite bridal lingerie, bras & panties, romantic intimates, comfortable shapewear, provocative lingerie, and so much more. They take pride in their personalized service and pay close attention to detail when choosing collections for the store.
---

Delicates Silk Lingerie: Silk lingerie from Delicates made to measure by top leading UK designers catering for sizes 8 to 30. Contact: Yvonne Drake e-mail: enquiries@delicates.co.uk
---

Foot Traffic (hosiery) : retailer of specialty socks, tights and hosiery.
---

Frederick's of Hollywood: lingerie retailer / catalog.
---

The Hosiery Store (Germany) Pantyhose & Stockings Hosiery - online ordering of exclusive stockings, tights and pantyhose. Distributors for high-quality products from ActivSkin, Gerbe, Kunert, Levee, Elbeo, Riese, NurDie, Oroblu, Cette und Ergee. Ernst Mende By Mail: Pantyhose Stockings Hosiery Wichmannstr. 4, Haus 10 Sd 2. Stock, 22607 Hamburg Germany By E-Mail: contact@pantyhose-stockings-hosiery.com Fax: 0049 (0)40 80 81 82 73 Phone: 0049 (0)40 80 81 82 74
---

Hanes (underwear): Hanes Panties. From brief panties to boy shorts to hipsters , Hanes Panties offer a perfect fit for every body. Fun, functional or flirty, you'll love theirvariety of trendy prints and colors. Their comfort innovations indulge your every move with breathable, soft fabrics, tag-free labels, soft waistbands and no ride up leg bands. So take comfort, fit and style to the next level with Hanes Panties.
---

Inca Fashions: Inca Fashions offers the finest selection of US designed eco friendly and sustainable Alpaca clothing, accessories, home interior products and gifts. Located in the agricultural center of California, Inca Fashions focuses on preserving the values long past in textiles. Quality is their hallmark and their fashions are crafted like garments of days gone by, when manufacturers took pride in their offerings. Inca Fashions doesn't just buy apparel and sell it! NO they design and manufacture it for the needs of the modern consumer, and have since 1999. They offer green products from sustainable and naturally luxurious alpacas, who in turn are also eco friendly, leaving the smallest footprint possible on the earth. Inca Fashions not only offers quality merchandise, they offer the finest pure alpaca fiber, certified by the International Alpaca Association. This assures you that you are purchasing an item of distinction that will serve your needs to the utmost. Inca Fashions offers hundreds of beautiful apparel designs for men women and children, including Alpaca golf sweaters and cardigans. Browse their online store to see contemporary fashions, scarves, hats, gloves, shawls, blankets, gifts and teddy bears, all hand crafted from one of natures rarest textiles; Alpaca. Experience the natural luxury of fine Alpaca clothing first hand, and enjoy the benefits of natural softness and extraordinary warmth with eco conscience style. Inca Fashions sells retail and wholesale to qualifying accounts and offers custom design services. Address 339 W. Browning Ave. Fresno CA 93704 Phone 510-868-9337 Fax 510-225-1341 E-mail info@incafashions.com Contact: Kim DeVos-Brooks
---

Isabella Oliver (Maternity): Isabella Oliver was launched in 2003, and has since become home to two fabulous women's wear collections. Mixing the classic with contemporary; the Isabella Oliver 365 collection provides multitasking ready-to-wear, whilst the Isabella Oliver maternity collection features silhouettes loved by the A-list - style for wherever life may take you. Exclusively available online, all orders are beautifully gift wrapped and delivered to your door. Phone: 1.800.961.4963 Email:TheTeam@IsabellaOliver.com
Women's Fashion Retailer

Maternity Fashion Retailer

Women's Lingerie Retailer

Women's Jeans Retailer

Women's Skirt Retailer

Women's Dress Retailer
---

Jockey (underwear) : Jockey International continues to be a privately held company, headquartered in Kenosha, Wisconsin. They employ over 5,000 people around the world. Jockey International, Inc. was founded in 1876 by Samuel T. Cooper, a retired minister who wanted to help lumberjacks suffering from blisters and infections caused by their shoddy wool socks. Consumers learned they could trust him, and his tiny hosiery business grew and then expanded into underwear. As they have grown in size and sophistication, that simple commitment to serve their customers has continued to be their hallmark and the secret of their success.
---

Lauren Silva Fine Lingerie: Online women's intimate apparel retailer offering your favorite brands of shapewear, bras, lingerie, panties, lingerie accessories and more, in regular and plus sizes. Serving their customers for over 15 years. Se habla español. Address: 80 Academy St Patchogue, NY 11772 800-935-9911 email: info@laurensilva.com

---

L'eggs (Hosiery): division of Hanesbrands Inc.
---

LegSmart (Hosiery) : Leg Smart is the best resource for compression stockings, support socks and support hose. Compression socks and stockings help support your legs to boost circulation and leave you feeling better with more energy at the end of the day while also keeping unwanted swelling down. Their compression stockings are specially designed for people with diabetes as well as control swelling in ankles, spider veins and varicose veins that occur during pregnancy. Call today and their customer service team will be happy to answer any questions as well as assist you in choosing the proper compression for your needs. Email: david@legsmart.com Contact: David
---

Lingerie by Jean Lesley: As a retail online lingerie store they provide a wide selection of lingerie, nightwear, hosiery and swimwear, including babydolls, body suits, body stockings, tights, stockings, camisoles, slips, bikinis, beach cover-ups and much more.
---

Maidenform : Underwear, Lingerie and sleepwear. Maidenform, Lilyette and Flexees are registered trademarks of Maidenform, Inc. Address: 154 Avenue E Bayonne, New Jersey 07002
---

My Diva's Closet: they specialize in daring and unique styles of platform shoes, clubwear, bikinis,t-shirts, lingerie, stockings, bellychains, chokers, sexy adult costumes, cowgirl hats. Address: 13337 South St. Suite 296, Cerritos, CA 90703 Phone - 562-366-1564 E-mail - webmaster@mydivascloset.com Contact - Petra
---

No nonsense (Hosiery): No nonsense is one of the most recognizable apparel brands in America today. For over 30 years, they have been a major supplier of women's legwear to food, drug, mass and club outlets. Today, in addition to their wide variety of hosiery, tights and dress socks, they also offer high-quality No nonsense sleepwear, panties, sporty style socks, novelty socks and foot comfort products, as well as socks for men and children. No nonsense is owned by one of the most successful legwear and intimate apparel manufacturers in America, the Kayser-Roth Corporation.
---

Nordstrom Lingerie, Hosiery: lingerie, hosiery & Shapewear for women at Nordstrom.com. Find your right fit and shop for bras, panties, shapewear, lingerie, socks, …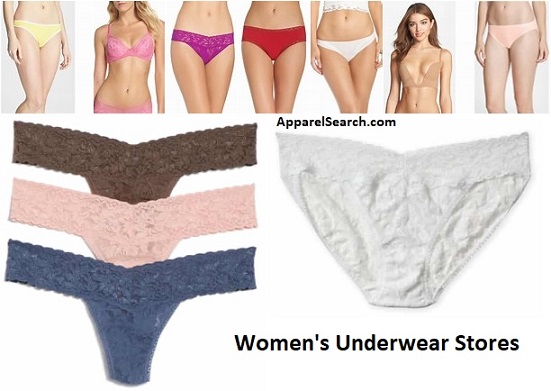 You may have interest in the intimate apparel on eBay section.