What is the difference between a camisole and a chemise?
Primarily, the camisole is shorter.
In modern usage a camisole or cami is a loose-fitting sleeveless woman's undergarment which covers the top part of the body but is shorter than a chemise. A camisole normally extends to the waist but is sometimes cropped to expose the midriff, or extended to cover the entire pelvic region. Camisoles are manufactured from light materials, commonly cotton, satin or silk, or stretch fabrics such as lycra, nylon, or spandex. It can also be produced with blended fibers.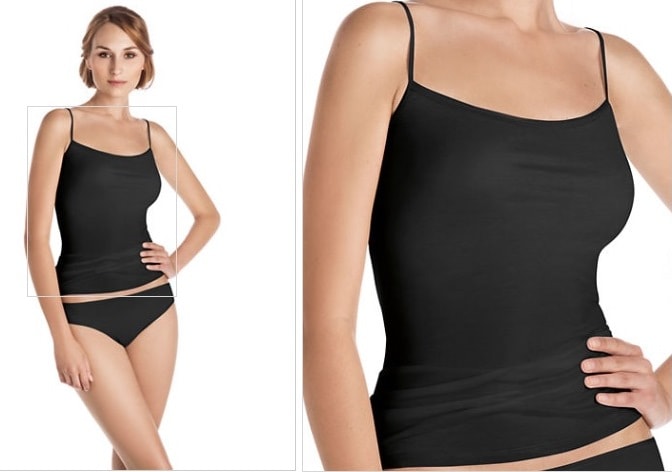 The chemise pictured above is from the Hanro brand sold at Lord & Taylor 2015.
View camisole blog posts here on Apparel Search.
In modern usage, a chemise is generally a woman's garment that vaguely resembles the older shirts but is typically more delicate, and usually more revealing. Most commonly the term refers to a loose-fitting, sleeveless undergarment or type of lingerie which is unfitted at the waist. It can also refer to a short, sleeveless dress that hangs straight from the shoulders and fits loosely at the waist. A chemise typically does not have any buttons or other fasteners and is put on by either dropping it over the head or stepping into it and lifting it up.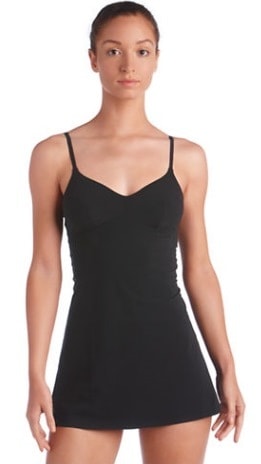 Chemise pictured above in black is La Perla brand Empire Chemise sold at Lord & Taylor 2015. The light blue chemise pictured above is an Oscar De La Renta which was referenced as a precious pleats chemise.
As lingerie, a chemise is similar to a babydoll, which is also a short, loose-fitting, sleeveless garment. Typically, though, babydolls are looser fitting at the hips.
You may want to visit the clothing definitions section to learn more about camisoles and chemise.
Thank you for using the Apparel Search website.