Welcome to the worlds greatest guide to Women's Blue Shorts.
Shorts are a type of pant. They are short pants that reach only to the knees or thighs. They are not long enough to reach the wearers ankles for sure. This garment is worn over the pelvic area, circling the waist and splitting to cover the upper part of the legs.
Women's shorts come in a wide variety of styles, fabrics and colors.
There are a wide variety of shorts, ranging from knee-length short trousers that can in some situations be worn as formal clothes to beachwear and athletic shorts.
Blue is one of the many color options available.
Surveys in the US and Europe show that blue is the color most commonly associated with harmony, faithfulness, confidence, distance, infinity, the imagination, cold, and sometimes with sadness. In US and European public opinion polls it is the most popular color, chosen by almost half of both men and women as their favorite color.
Blue is one of the three primary colors of pigments in painting and traditional color theory, as well as in the RGB color model. It lies between violet and green on the spectrum of visible light. The eye perceives blue when observing light with a dominant wavelength between approximately 450 and 495 nanometers. Most blues contain a slight mixture of other colors; azure contains some green, while ultramarine contains some violet.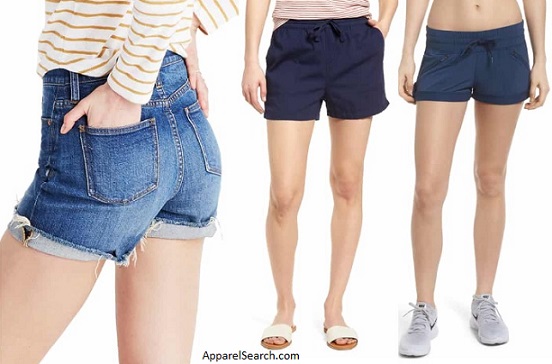 Let's be honest, you would probably look fantastic in blue shorts. Truth be told, you look good in any color.
Here are a few of the many style options.
Jean Shorts - keep in mind blue jeans are not always blue.
Learn more about shorts in our fashion influence section.
Apparel Search is a leading guide to fashion, style, clothing, glam and all things relevant to apparel. We hope that you find this women's blue short page to be helpful.
What ever type of bottoms you are wearing are most certainly in style. You are clearly a trend setter. If you want to be even more stylish, you should wear your favorite short pants today.
Check out more women's shorts.
You may also want to learn about skorts which happen to by a type of short.

Thank you for using the Apparel Search website.