Hobo Bags / Hobos
What is a hobo bag?
Hobos are shoulder bags that typically feature a slouchy posture, scooped center, and long shoulder strap.
A handbag or purse is a medium-to-large bag that is often fashionably designed, typically used by women, to hold personal items. The hobo bag is a style of handbag or purse that is typically large and characterized by a crescent shape, a slouchy posture and a long strap designed to wear over the shoulder.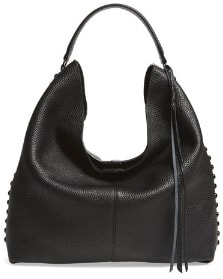 This style of purse is called a hobo bag because it resembles the shape of the bindle on a stick that hobos are portrayed as carrying over their shoulder in drawings and cartoons. A bindle is the bag, sack, or carrying device stereotypically used by the American sub-culture of hobos. A bindlestiff was another name for a hobo who carried a bindle. The bindle is essentially a stick with cloth or a blanket tied around one end for carrying items, with the entire array being carried over the shoulder, allowing for force to be transferred to the shoulder and so leading to a more long lasting and comfortable grip, especially with larger heavier loads. Particularly in cartoons, the bindles' sacks usually have a polka-dotted or bandanna design. However, in actual use the bindle can take many forms.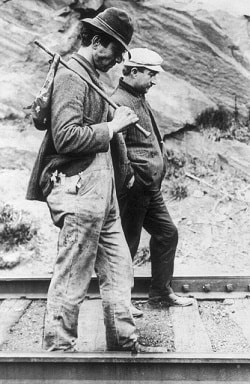 A hobo is a migratory worker or homeless vagabond, especially one who is impoverished. The term originated in the Western or Northwestern region of the United States around 1890. Unlike a "tramp", who works only when forced to, and a "bum," who does not work at all, a "hobo" is a traveling worker.
In modern popular culture, the hobo bag is no longer like a bindle. The modern hobo handbag can be made of various materials and does NOT include a stick. This type of handbag sold at many different price points from stores from Walmart to Neiman Marcus. Hobo handbags are often of high quality and sold at the finest luxury retailers. This is far from the original roots of being carried by a "hobo".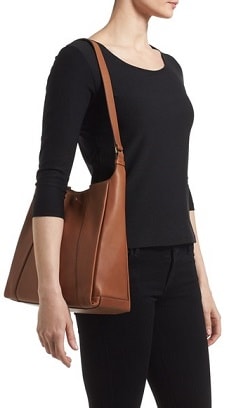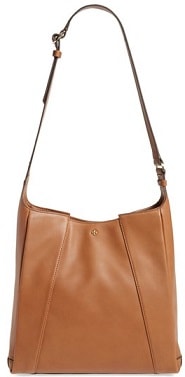 Hobo bags are made out of soft, flexible materials and tend to slump, or slouch, when set down. However, they do not always slouch. For example, when they are made of a sturdy leather. There are many different sizes and shapes of this popular woman's fashion accessory.
You may want to also learn about satchels & totes which are other types of handbag.
Learn about different types of handbags.
As a fashion accessory, handbags can be categorized according to the silhouette of the bag, as well as the type of handle. It is a good idea to pick a handbag for your body type.
You can shop for hobo handbags at excellent fashion accessory retailers such as Nordstrom, Bloomingdale's, and Neiman Marcus.
Fashion Products Fashion Products G-L Fashion Products H
---
Return to the Influence Fashion home page.

Copyright 1999-2017
Apparel Search Company. All Rights Reserved.