Leather Pants - tap into the confidence.
Add a stylish edge to your casual lineup. Leather has a way of adding an edgy breath of confidence and strength to a wardrobe. Biker pants or leather pants in general are often thought of as sleek and sexy. Whether you're on the prowl or just prancing around town, leather leggings can provide a perfect fit, form and function.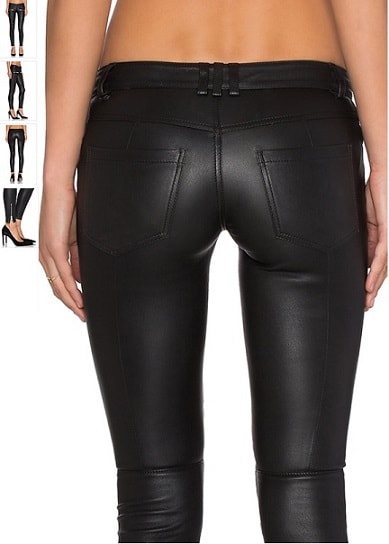 You don't have to be a biker or a heavy metal band member to enjoy leather.
Leather pants come in variety of shapes and sizes, but are all made of the same material (leather). You can find chic leather pants with side cuts, pants with side zippers, suede leather trousers, etc. It has been said that leather pants are a perfect combo of style and comfort.
Leather is a durable and flexible material created by tanning animal rawhide and skin, often cattle hide. It is used to make various products including clothing (e.g., trousers, shorts, pants, and belts). Trousers are an item of clothing worn from the waist to the ankles, covering both legs separately. Pants come in many different styles and fabrications.
Fill the closet with enticing leather pants by boosting the wardrobe with fresh inspirations that thrive in any season. Unleash your inner bad girl. The wearer can play up the cool moto vibe of go-to black pants expertly crafted from smooth lambskin leather.

Leather pants come in many different grains, textures, & finishes. Learn about types of leather grain.
Leather leggings and pants come in many colors, but black appears to be the most popular. A basic zip fly often styles edgy leather leggings with a shapely silhouette. Sleek lambskin leather lends urban polish to skinny five-pocket pants or other stylish siluettes. Many designers create expertly proportioned trousers for a perfect curve-hugging fit. However, you should definately investigate a good brand or retailer. If the leather or manufacturing is not proper, you would not be happy. You will want a supple lambskin leather for a second-skin fit that provides comfort and style.
Similar to jeans, you can find purchase leather pants in many varios silhouettes, leg lenghts, and waistlines. You can find leather pants in low rise, mid rise, hi rise, etc. You can also buy ones with manufacturered rips already in the pants at the time of purchase.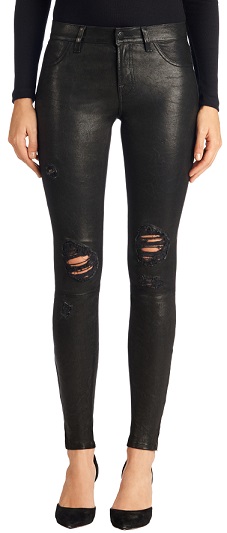 Due to its excellent resistance to abrasion and wind, leather found a use in rugged occupations. The enduring image of a cowboy in leather chaps gave way to the leather-jacketed and leather-helmeted aviator. When motorcycles were invented, some riders took to wearing heavy leather jackets to protect from road rash and wind blast; some also wear chaps or full leather pants to protect the lower body.
Many rock groups and musicians are well known for wearing leather clothing.
Some pants are made to appear as leather but are made of artificial materials. Artificial leather (Bicast leather) is a fabric or finish intended to substitute for leather in fields such as upholstery, clothing, and fabrics, and other uses where a leather-like finish is required but the actual material is cost-prohibitive, unsuitable, or unusable for ethical reasons. Synthetic leathers, at times made from plastics, are often used in clothing and fabrics. Artificial leather is marketed under many names, including "leatherette", "faux leather", "vegan leather", "PU leather" and "pleather".
History of leather pants:
Republican Rome viewed the draped clothing of Greek and Minoan (Cretan) culture as an emblem of civilisation and disdained trousers as the mark of barbarians. As the Empire expanded beyond the Mediterranean basin, however, the greater warmth provided by trousers led to their adoption. Two types of trousers eventually saw widespread use in Rome: the Feminalia, which fit snugly and usually fell to knee or mid-calf length, and the Braccae, a loose-fitting trouser that was closed at the ankles. Both garments were adopted originally from the Celts of Europe, although later familiarity with the Persian Near East and the Teutons increased acceptance. Feminalia and Braccae both began use as military garments, spreading to civilian dress later, and were eventually made in a variety of materials including leather, wool, cotton and silk.
You may want to also read the brief history of leather pants article from Marie Claire magazine.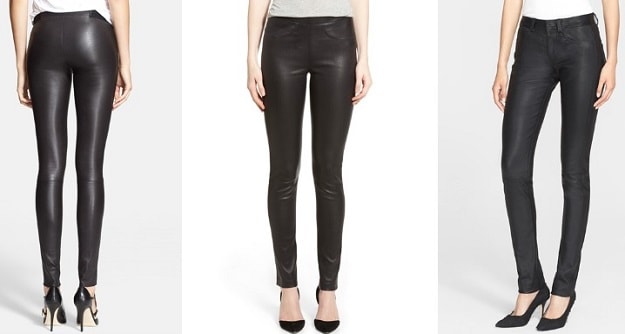 When we think of leather pants, it is hard not to mention Jim Morrison of The Doors. Musicians like Jim Morrison gave other musicians a dedonistic edge to strive for if they tried to pull off the leather pant look.
Places to buy leather pants: Shop this season's designer leather trousers from top brands.
Bloomingdales Leather Pants: Shop Leather Pants for Women at Bloomingdales.com
Fashion designers & brands that often manufacturer leather pants (they some times have this product, but not always):
See more leather clothing on the Fashion Blog. You may also want to learn about leather jackets which are also rather trendy.
We suggest that you never confuse leather pants with yoga pants. Yoga pants are better with stretch materials.
Fashion Products Fashion Products G-L Fashion Products L
---
Return to the Influence Fashion home page.

Copyright 1999-2023 Apparel Search Company. All Rights Reserved.