Summer Dresses
Summer dresses are the ultimate wardrobe must-have for warm weather seasons of the year and warm weather locations. Just throw-on and go have some fun.
A dress is a garment consisting of a skirt with an attached bodice (or a matching bodice giving the effect of a one-piece garment). In Western culture, dresses are more often worn by women and girls. The hemlines and other aspects of the dresses silhouette vary depending on the whims of fashion and the modesty or personal taste of the wearer. The fabrications vary for many different reasons. One of which being the weight & breathability of the fabric.
A summer dress or sundress is a dress intended to be worn in warm weather. Typically, it is an informal or casual dress in a lightweight fabric. This type of dress is most commonly cotton, and usually loose fitting. However, the sundress can be made in other fabrics as well. The sundress is generally intended to be worn without a layering top.
The sundress provides a feminine look that may be lighter and more comfortable than a skirt and blouse or another type of dress. The fabric is often printing with a summery print that gives the vibe of comfort & coolness.

Sundresses can be of any neckline and hemline. The design can be from risqué to rather modest in style. They come in a variety of print patterns or solids. Sundresses are made in a variety of closure types, including back zippers, side zippers, front buttons, back buttons, back ties and pullover style.
This type of dress is often sleeveless.
What is the difference between a sundress & summer dress?
The sundress can also be referred to as a summer dress. Summer dresses are the easiest way to perfect your warm seasonal style. When the weather is warm to hot, you don't want to get overheated worry about coordinating complicated outfits. Selecting a dress made in a lightweight breathable material is often the way to go. This is one of the reasons why we love suggesting a good summer dress or two for every wardrobe.
If you are planning a vacation in a warm weather climate, you most definitely want to pack a summer dress. Easy to manage for a comfortable dress that can be casual or a bit dressy if needed. A summer dress can be part of your resort wear preparation. Make sure you have at least one in your closet at all times.
You may also want to learn the meaning of resort wear and cruise wear. While you are at it, if you are planning a day in the sun, you may also want to learn about sun hats.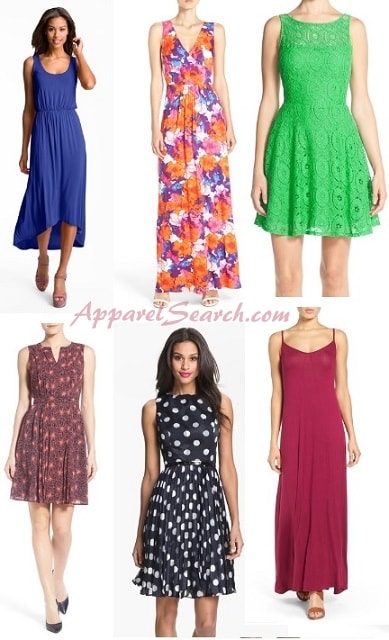 If you are interested in shopping for a nice summer dress, you can shop at fine clothing retailers such as Nordstrom, Bloomingdale's, and Lord & Taylor. They often have a nice selection, but it may depend on the time of year that you are shopping.
Learn about summer fashion.
Fashion Products Fashion Products S-Z Fashion Products S
---
Return to the Influence Fashion home page.

Copyright 1999-2022 Apparel Search Company. All Rights Reserved.