Vintage Clothing
It is more than just old clothing.
Vintage clothing is a generic term for garments originating from a previous era.
Generally speaking, clothing which was produced before the 1920s is referred to as antique clothing and clothing from the 1920s to 20 years before the present day is considered vintage. However, as more time passes, so may the year that qualifies as antique.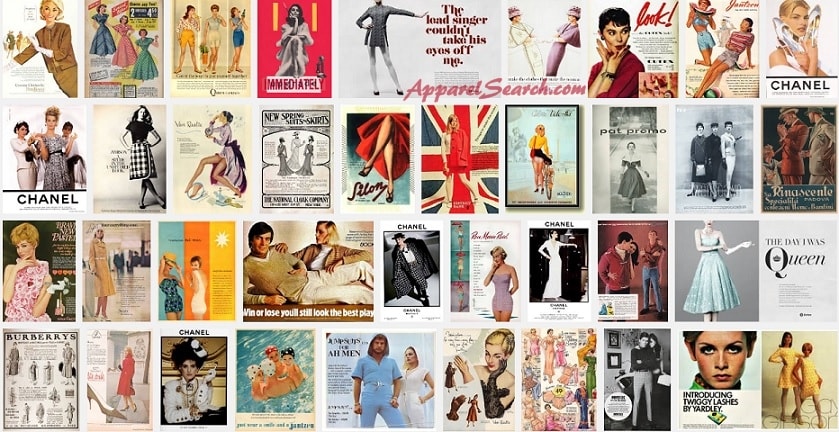 What is the difference between retro fashion and vintage fashion?
Retro, short for retrospective, or "vintage style" usually refers to clothing that imitates the style of a previous era. Reproduction, or repro, clothing is a newly made copy of an older garment.
In summary, Vintage clothing is clothes, footwear or accessories that was actually manufactured during a past era. Retro clothing is more recently manufactured to imitate the appearance of clothing, footwear, or accessories from a past era.
Retro styles can also be referred to as "vintage style", "vintage inspired" or "vintage reproductions".
What is the difference between vintage clothes and used clothes?
Well, that is a question of semantics (semantics is the study of meaning). Some people may think that used clothing is different, but it can also be the same if certain criteria are met. Basically, some used clothing can be vintage clothing, but some used clothing is not vintage. It really depends on when the used clothing was created. If it was from a past era, it is technically vintage clothes.
Most vintage clothing has been previously worn. So technically it is "used clothing". However, it is also possible to find vintage clothing that has never been worn. For example, clothing could have never been worn yet stored away in a closet or warehouse for decades. If that is the case it is vintage clothing, but not used clothing.
Vintage Clothing Sizes:
Evolutions, over eating, steroids fed to livestock, etc., have led to changes in human growth over the decades. If you are interested, you can read the Scientific America article about "why are we getting taller"
In the United States, due to changes in clothing sizes, vintage sizes often are smaller than the corresponding contemporary size. For example, a garment from the 1970s labeled as Medium (M) might be similar in size to a 2010s Extra Small (XS). As obesity was far less common prior to the 1980s, larger plus sizes of vintage fashion are typically more rare. Vintage sewing patterns offer an option for those who want a historically accurate garment but cannot find one in their size. But producing new clothing from a vintage sewing pattern would mean the garment would be "retro" not vintage.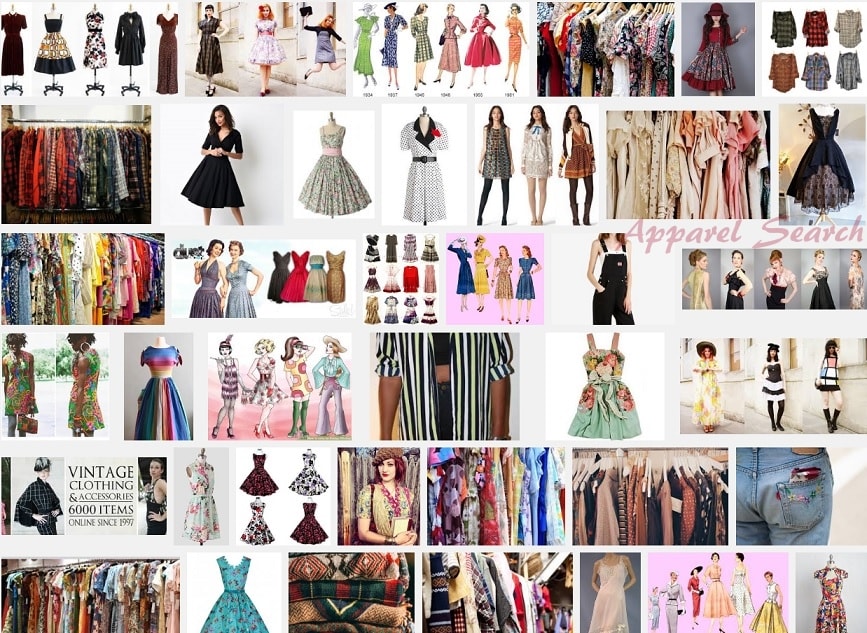 Where can we buy vintage clothing?
As discussed above, vintage clothing can be never worn or previously worn fashion from a previous ear. It is very possible to find this type of clothing in thrift stores, garage sales, or high end fashion boutiques.
Popular places to buy vintage clothing include charity-run second hand clothing shops, consignment shops, yard sales, flea markets, antique stores, estate sales, auctions, and vintage clothing shops. Vintage fashion & antique textiles can be found at collectible fairs or specialty shops. Either way, they are usually a great find for fashionistas that have an interest in historical fashion trends.
Vintage clothing shops are often found in trendy or artsy neighborhoods of cities. You can search for vintage clothing stores in the Apparel Search retail directory. If you happen to own a vintage boutique, you may want to also visit our wholesale vintage clothing section to find potential suppliers.
The popularity of the internet and growth in online shopping for clothes has provided a great boost to the vintage clothing industry. It has increased the availability of specific and previously hard to find items. Online market places such as eBay, Etsy, and Craigslist are also helpful tools for enthusiasts of vintage apparel & accessories. Most brick & mortar clothing shops with physical locations now also sell their goods online.
Can wearing vintage clothing save the planet?
It may not save the planet but it certainly can't hurt. Wearing vintage clothes is essentially a method of recycling apparel.
With all the talk of global warming, saving the rainforest, and reducing carbon emissions, there is an ongoing interest in environmental sustainability. Reusing, recycling and repairing rather than throwing things away is usually a good thing for the planet. In addition to wearing previously worn clothing, vintage items in poor condition can also be salvaged for reuse as part of a new garment.
Sometimes vintage items are upcycled via changing the hemline or other features for a more contemporary look.
Fashion design, throughout history has turned to previous eras for inspiration. Based on the condition, vintage clothing possibly retains and can potentially increases in value due to the fact that it is genuinely from a past era.
An important segment of the vintage clothes market is the category of vintage jeans. You should most definitely take a few moments to learn more about the vintage jeans market.
Learn more about vintage clothing in our fashion terms section.
You may want to also review the second hand fashion term.
Fashion Products Fashion Products S-Z Fashion Products V
---
Return to the Influence Fashion home page.

Copyright 1999-2022 Apparel Search Company. All Rights Reserved.