Crocs Inc.
A world leader in innovative, casual footwear, Crocs, Inc. is dedicated to the future of comfort. Their original and most famous style, the Classic Clogs, are instantly recognized around the world, and for good reason: since 2002, they have sold more than 300 million pairs in over 90 countries!
They know that smart doesn't need to mean complicated; they achieved our status as a global leader in the casual footwear category by taking an inherently simple approach to uniting style, modern comfort and value.
Headquartered in Niwot, Colorado
Learn more about Crocs at their website.
Crocs™ shoes are sold in more than 90 countries – the brand now does business in more than 30 languages. That means you can spot Crocs whether you are walking the streets of New York City, Hong Kong or London.
Crocs, Inc. (NASDAQ: CROX) is a world leader in innovative casual footwear for men, women and children. Crocs offers a broad portfolio of all-season products, while remaining true to its core molded footwear heritage. All Crocs™ shoes feature Croslite™ material, a proprietary, revolutionary technology that gives each pair of shoes the soft, comfortable, lightweight, non-marking and odor-resistant qualities that Crocs fans know and love. Crocs celebrates the fun of being a little different and encourages fans to "Find Your Fun" in every colorful pair of shoes.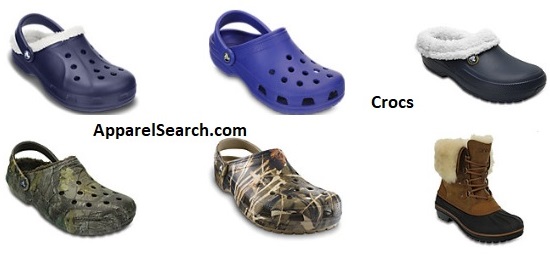 Thank you for using the Apparel Search website.
Since its inception in 2002, Crocs has sold more than 300 million pairs of shoes in more than 90 countries around the world.
Copyright © 1999-2019 Apparel Search Company. All Rights Reserved.