Groz-Beckert USA, Inc.
Address: 3480 Lakemont Blvd, Fort Mill, SC 29708
Phone: (803) 431-2746
E-mail: contact_gbu@groz-beckert.com
Web address: https://groz-beckert.com/en/
The company, founded in 1852, employs around 7,700 people and turned over about 665 million euro in 2016.
150 countries – one textile world Groz-Beckert is the world's leading provider of industrial machine needles, precision parts and fine tools, as well as systems and services for the production and joining of textile fabrics. All around the world, the products and services support the textile processes of knitting and warp knitting, weaving, felting, tufting, carding and sewing.
Everything comes together at the headquarters in Albstadt, Germany. The family-owned company also has further production sites in Germany, Belgium, the Czech Republic, Portugal, the USA (located in Fort Mill, SC), India, China, and Vietnam. Numerous sales affiliates and sales partners complement the international presence.
Groz-Beckert offers its customers a comprehensive partnership – without boundaries and on site in over 150 countries.
Additional information regarding Sewing Needles.
Additional information regarding Knitting Needles.
Additional information regarding Tufting Needles.
Additional information regarding Felting Needles.
Additional information regarding Carding.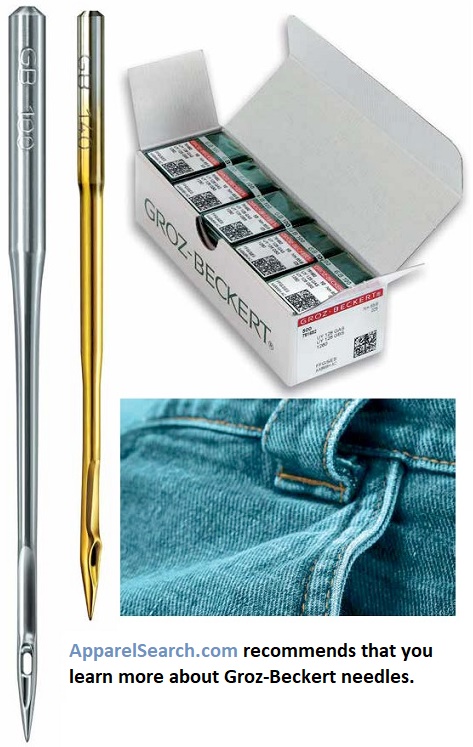 The technology surrounding industrial sewing has remained practically unchanged over many centuries. The machines used have made tremendous strides in development, but the process of stitch formation itself has remained unaffected by any major change – and this applies also to the function of the single most important spare part in any sewing machine: the needle. Under these conditions, the starting point for your sewing success is the tool. Groz-Beckert's innovations support sewing operations to adapt to the continuous changes and ever more stringent requirements imposed on producers and on the end product: with a needle which provides impressive precision and performance.