Whenever it's used in fabrics, LYCRA® fiber transforms garments into better fitting, durable clothes that move with our bodies, delivering fit, shape and comfort that lasts. Day after day. Wash after wash. Run after run. Swim after swim.
Since its invention nearly sixty years ago, LYCRA® fiber set the standard as the world's best-known elastane fiber brand. Lightweight and nearly invisible, LYCRA® fiber became the active ingredient in our clothes and revolutionized the way we wore them.
As a fiber technology brand, innovation has always been at the core of the LYCRA® brand. The LYCRA® team is continually developing our portfolio of products to provide lasting performance and support wherever you need it, whether that's on a run in the park or a night out on the town. That's why today you'll find there's a versatile range of LYCRA® fibers inside everything from cycling apparel to swimwear, denim to hosiery, sneakers to suits, haute couture to socks.
Watch the following video to learn a bit about how Lycra fiber is made.
What's the difference between Lycra® Fiber, Spandex and Elastane?
LYCRA® fiber is the trademarked brand name of a class of synthetic elastic fibers known as spandex in the U.S., and elastane in the rest of the world. Spandex and elastane are interchangeable terms that mean the same thing, but only INVISTA produces authentic LYCRA® brand fibers.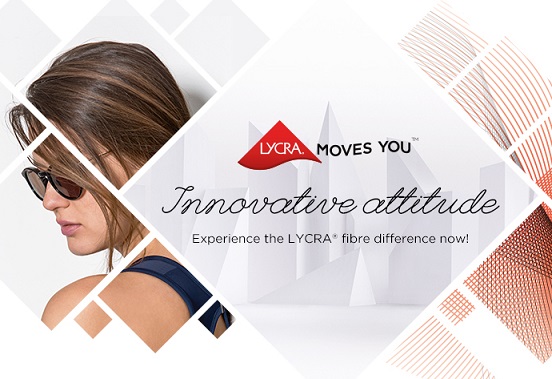 While LYCRA® fiber was the first elastane invented, it didn't stop there. The LYCRA® brand has grown to include a family of over 200 differentiated fibers designed to improve fabric aesthetics and performance. Building on this heritage of innovation, today INVISTA has nearly 1,000 granted U.S. patents for its unique technical offerings, and holds corresponding patents in nearly all of the countries where it has a business presence. In addition, you can rest assured that each and every LYCRA® fiber innovation and fabric certification program has been thoroughly tested, and all claims can be vigorously supported.
One example of innovation includes LYCRA® COOLING technology addresses the problem of shapewear discomfort due to body temperature. Fabrics combine outstanding shaping performance with moisture management to help keep the wearer cool and dry. They're made with LYCRA® fiber and X6300 nylon from INVISTA, which has a four-channel cross-section designed to wick moisture away from the body and disperse it for more efficient evaporation. No application of a wicking agent is required during processing, and the moisture transport properties are permanent. Learn more about Lycra Cooling Technology from this Youtube video.
Lycra fiber is used for athleisure, activewear, lingerie, hosiery, underwear, socks, performance swimwear, fashion swimwear, denim, ready-to-wear, and more.
Learn more about Lycra at their website at https://www.lycra.com/
Thank you for using the Apparel Search website.